Campus News
Renovated lounge now a refreshing refuge for busy students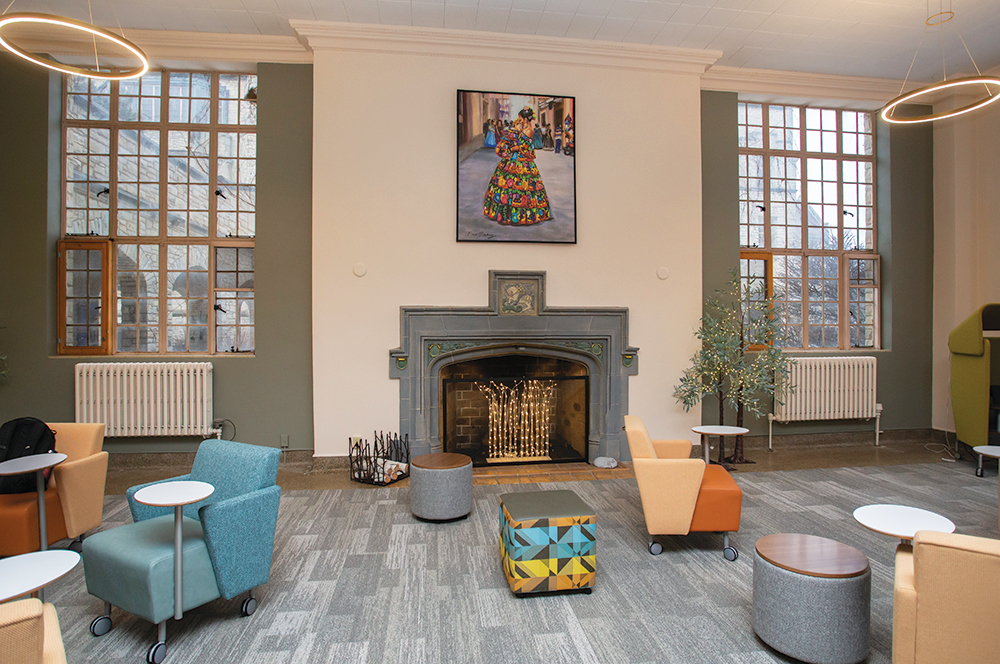 In a campus-wide effort to increase a sense of belonging, Mount Mary University is reconceiving and renovating student spaces.
Students who commute to campus need a relaxing place where they can study, socialize or just have a few moments to themselves.
Likewise, students who live on campus need a place to hang out and maybe watch a movie at the end of the day.
While the Caroline Student Lounge has always been bright and spacious, the space has been refreshed through a redesign funded in part through Mount Mary's "Proyecto Descubrir," or Project Discover grant. Proyecto Descubrir is a five-year, $4.7 million grant that is based on building a sense of community through a number of projects all designed to increase retention and completion for Hispanic and low-income students.
Student voices drove the conception of the new space. Students asked for warm colors, nature-themed décor, and multicultural art. They wanted a clean yet warmly decorated space that recognizes the diverse backgrounds on the Mount Mary campus.
The student lounge also now provides requested amenities such as a large TV/computer with sound system, furniture that is easy to move so students can frequently reconfigure it to serve their needs, roomy lockers for backpacks and coats, and, of course, lots of charging stations for electronic devices.
A generous donor also provided funds for a refrigerator/freezer so that students can store packed lunches, dispense cold water and ice, and a microwave to heat their food.
To walk into the room today is to be immersed in the space – a bubbling fountain provides the soothing sounds of falling water, a striking painting of a mother and child hangs above the immense fireplace, and tables and booths provide intimate spaces for sinking down and settling in.
These federal funds along with private donations are also converting the Ewens Center, a meeting space in Caroline Hall, into the Center for Culture, Identity and Belonging for student groups. This project is led by Vice President of Mission and Justice Andrea Stapleton, Ph.D., with input from the campus Diversity, Equity and Inclusion Council, and is scheduled to be completed later this summer.

Both projects were managed by VJS Construction. Thanks to Barbara Beix '71 for her support of the Caroline Student Lounge. Thanks to the Class of 1970 alums in honor of their 50th reunion, and to the Opus Prize Foundation for their gifts to the Center for Culture, Identity and Belonging.
This project was funded in part by the Title III HSI STEM award # P031C210115 project titled "Proyecto Descubrir (Project Discover) – Academic and student support as a foundation for full inclusion of Hispanic and low-income women in the STEM workforce," Program Director Cheryl Bailey, Ph.D.