Alumnae
Feature Story
Tradition of change inspires forward-facing vision for our alumnae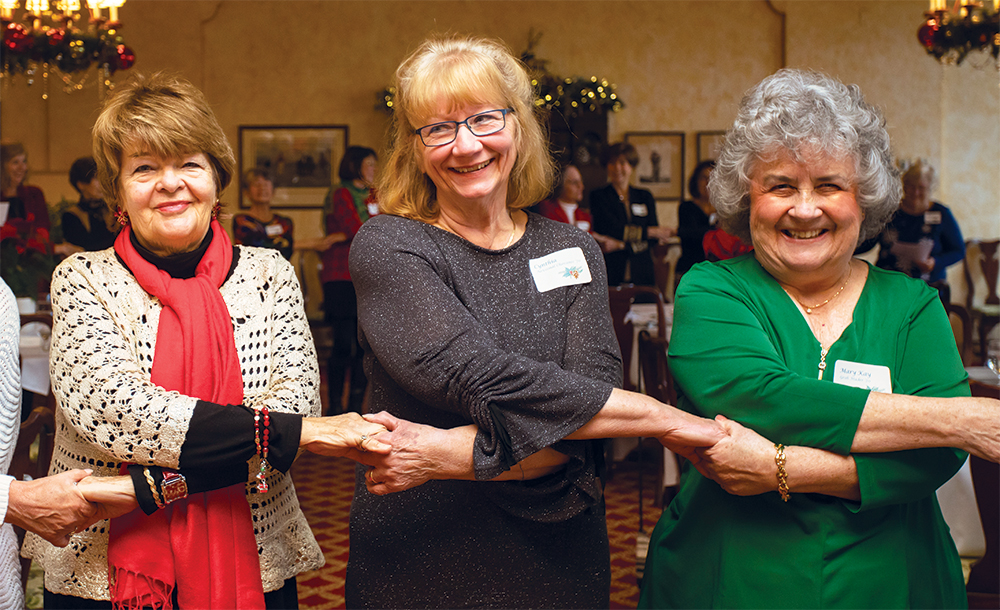 by Pam Owens
As I reflect on the amazing history of our School Sisters of Notre Dame, the more I appreciate the many leaps of faith taken to move their impactful and much-needed mission forward.
Today's efforts mirror those of Mother Theresa and Mother Caroline, as the journey into the future continues.
So many of our alums have been innovators, have challenged the norms and not stood for stagnation. We draw inspiration from them as we continue to
navigate the "new normal."
The university administration charged the alumnae and donor relations staff to begin developing a plan for the future, a plan that would build upon the strengths and dedication of the alums from the '50s, '60s and '70s and be of interest and value to our diverse alums from the more recent decades as well.
With the vision of creating a more inclusive and accessible alum community for all, the formal governing board of the Alumnae Association (consisting of an executive committee, as well as chairs for events and other types of engagement) was officially disbanded as we entered 2023. A preliminary meeting was held with the executive committee of the association to begin discussing the challenges and opportunities of a new structure. On February 18, nearly 60 alums gathered in-person and on Zoom to get a glimpse into the reimagined structure, the future goals and the ever-evolving needs of our alums.
The events you have all come to know and love will remain in place and grow even stronger. The reunion, holiday luncheon and annual awards celebration will still be our cornerstone events, held throughout the year as a chance to gather in celebration as community.
You'll begin to see new opportunities, too! Professional development offerings will increase, with continuing education and career readiness being top-of mind for many recent graduates. Professional development is about connecting Mount Mary alumnae and students (soon-tobe alums) to networks of like minded, industry-specific individuals who can support one another in myriad ways.
We also plan to highlight our alums, their experiences and successes by inviting them to participate in panels, in the classroom, with student organizations and more to be the shining examples of Mount Mary alums truly transforming the world. Students are hungry for support through mentorship, coaching and friendship. Our alums are the best examples of what a Mount Mary education can prepare them for.
As many alums have expressed the importance of relationship-building with fellow alums, a variety of social events will provide opportunities to spend time
with classmates or fellow alums while exploring new things and simply enjoying the special bond of the sisterhood of Mount Mary alumnae.
We look forward to the evolution into a more broad and robust Alumnae Network led by an alumnae advisory council. There will be opportunities for more conversation and input as we create the new structure and goals for the future. Watch the monthly e-newsletters for more information on how to be involved.
This is truly an exciting time. Working together and being open to new ideas, new people and new activities, we hope to bring an even deeper sense of commitment and connection to every alum, to one another and to the mission of Mount Mary for generations to come.
Pam Owens is the vice president for alumnae and donor relations. Watch the monthly e-newsletters for more information on how to become involved.