Feature Story
Exhibit entwines threads of art and fashion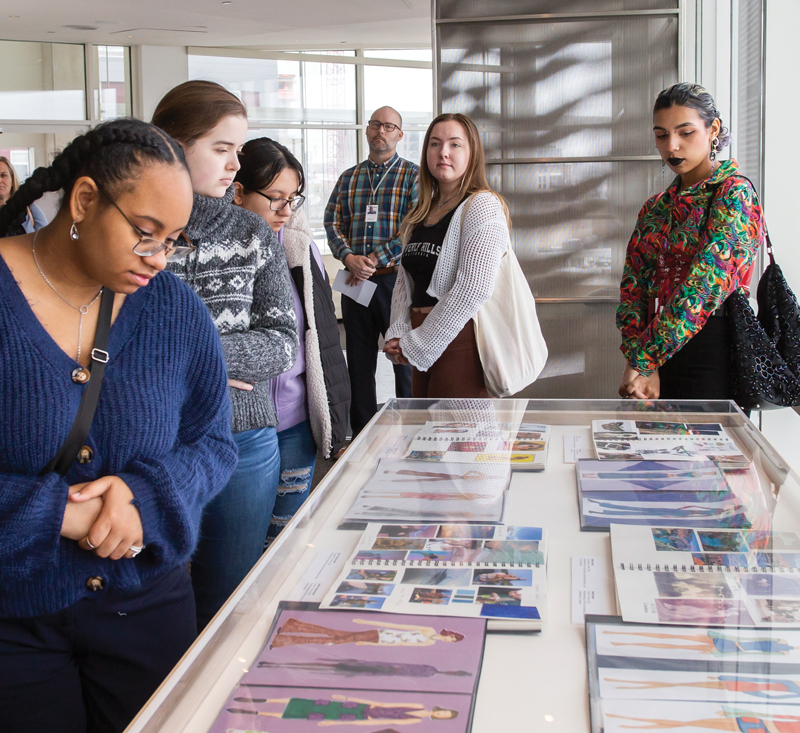 Student and alumnae designers featured as contemporary artists
The summer before her senior year, Maka Muhidin '22 (known also as Mako Shahdid), traveled to Kenya to the UN refugee complex in Dadaab, Kenya, where she was born and lived until the age of six.
When she returned to finish her final year in Mount Mary's fashion design program, the sights and the colors of that experience infused her work. The earth tones reflected the landscape and a tiered skirt was inspired by the huts where people lived. She titled her senior collection "Homecoming."
The concept of home is a common inspiration among artists of all types and it's a creative prompt that fashion instructor Elena Pitts uses with her design students in creating materials that reflect their personal or cultural heritage.
In fact, Christina Brungardt, the Gabriele Haberland Director at the Madison Museum of Contemporary Art (MMoCA) was planning an exhibit of internationally acclaimed contemporary artist on this topic when she saw a TV news story featuring the designs of Muhidin and other student designers.
She reached out to Mount Mary and a creative partnership was born. This winter, MMoCA mounted a monthlong pop-up exhibit of Mount Mary fashion design work that accompanied the museum's larger exhibit, "Home."
"Students took their family histories deeply to heart. They went through all the emotions and expressed them through their design lines. It's stunning."

Assistant Fashion Professor Elena Pitts
Asma Dasan '22, Anastasia Gouchtchina '20, Muhidin and Shoua Xiong '20 were represented by their junior and senior collections and preparatory materials. Current students May Martinez-Gonzalez, Ro Storrs, Kailey Stout and Leann Monika Wolf shared their process books, presentation folders and sketches.
"The Mount Mary designers found inspiration in the places and people that define home for them, resulting in creations that not only transport viewers, but also promote greater understanding of belonging, origins and even displacement," said Brungardt.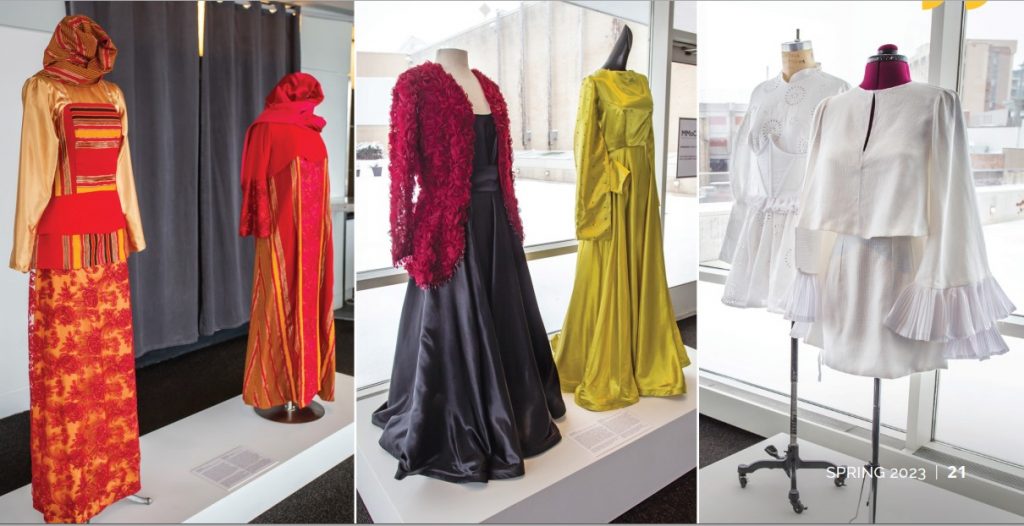 Current students who are in the early stages of finding their creative identities spent the fall semester producing the designs that were on display.
"I'd never thought about what home meant to me, but being biracial I've struggled with identity," said Storrs, whose designs included denim fabric, jewel tones, crystal embellishments and tarot motifs. "This has been my chance to explore what home means to me and what makes me feel safe."
Stout found inspiration in the orange bricks of Poland and the flowing waterfalls of Croatia, while Wolf drew upon her family bonds and fishing excursions with her father to create designs with plenty of pockets. Martinez-Gonzalez said that for her idea of home, she incorporated her heritage from the perspective of the colorful Chicano murals and culture of Chicago's Little Village neighborhood.
"It's a different version of what it means to be Mexican in a more modern time," she said. "I fell in love with the boldness with a feminine touch."
In late January, Mount Mary fashion students were invited to Madison for a private tour of the exhibit. They were accompanied by a television reporter for another feature about the exhibit. By seeing their work on display, they realized the impact of their vision, and how inspiration can be both universal and deeply personal all at the same time.
"I see my name on a plaque and it's hard to believe it's me," said Storrs.