Living our Catholic Identity
Commitment to environment rooted in faith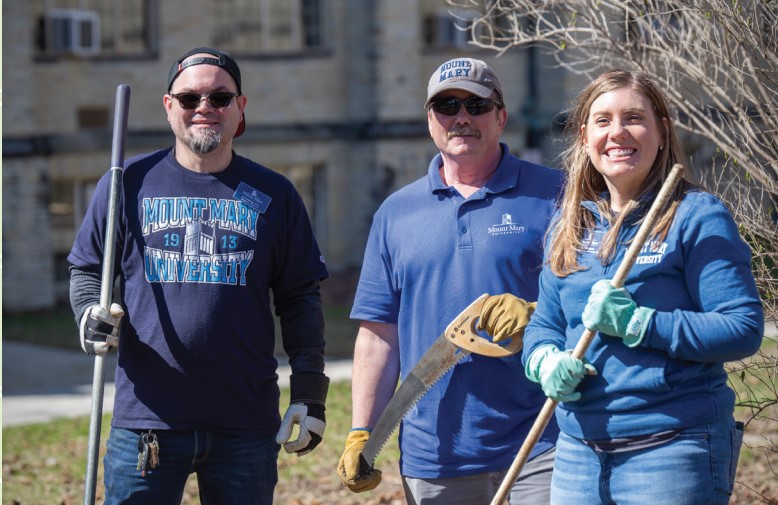 By Vice President for Mission and Justice Andrea Stapleton, Ph.D.

Commitment to the environment is a top priority for everyone from schoolchildren to world leaders. For Catholics, care for the Earth is more than good habit-building, but also a spiritual practice.
In 2015 Catholics and non-Catholics warmly received Pope Francis' encyclical, "Laudato Si," in which he urged all people who share our common home, Earth, to adopt a change of heart and committed action to care for our planet.
This encyclical took an interdisciplinary approach to environmental concerns while grounded in theological principles and Catholic spirituality. He appealed to Saint Francis of Assisi, patron saint of ecology, opening with words from the Canticle of the Creatures: "Praise be to you, my Lord, through our Sister, Mother Earth, who sustains and governs us, and who produces various fruit with colored flowers and herbs."
Praise, thanks and urgency
The document concludes with two prayers written by Pope Francis, "A Prayer for our Earth" and "A Christian Prayer in Union with Creation." From beginning to end, Francis grounds his work in words of praise and thanks
for God the creator.
Care for creation is not a new principle of Catholic teaching, but is rooted in the earliest books of the Bible with the story of creation. Stewardship of creation has taken shape theologically and has inspired numerous spiritual practices over the centuries. Now it is deemed a moral imperative in response to the urgent problems that people around the globe are experiencing due to the climate crisis.
Many Catholic organizations have responded to this principle of Catholic social teaching. Organizations like the Catholic Climate Covenant and Laudato Si movement have become resources for education and support for Catholic churches and institutions. These organizations serve to mobilize institutions, churches and individuals to work together to improve the environment and to inspire the change of heart called for by the Pope. Catholic campuses are eager participants in this, especially since the environment is a top concern of college students.
Our response to the call
Mount Mary is joining other universities in responding to Pope Francis' call to conversion and action through prayer, education, action and reflection.
In 2019, Mount Mary faculty and staff established the Sustainability Committee, consisting of staff, faculty and students. It is led by Carol Julin, registrar's assistant for advising technology. The Mount Mary land manager, Colin Goyette, is very involved in the group as well. The sustainability group meets regularly to set strategic priorities and plan opportunities for the Mount Mary community. We have a Laudato Si liaison to ensure that our efforts connect our community to the spirituality of environmental consciousness. Our efforts are often accompanied by educational opportunities, outdoor prayer and activities that offer eco-spirituality and nature immersion.
Most of our activities build awareness of environmental issues. In spring of 2022, we hosted monthly sustainability challenges, which raised awareness while also offering some fun and community building. This spring we will have a campus-wide environmental service day and a workshop on the Laudato Si movement.
Campus makes improvements
We have a compost area on campus where we can leave trimmings for a partner company to pick up and reuse into garden-grade compost. We are avoiding thousands of gallons of gasoline on removal and have almost planted 200 seedlings through our waste diversion. We are thus reducing landfill while creating fertile composts that can be used in gardens and prairie restoration.
We have plans to begin units of prairie on campus. This will deter pests from inhabiting our buildings, reducing pest control costs (and many panicked
students)! Prairie grass root systems will hold soil in place to prevent runoff into the Menomonee River basin.
Our campus forest is being managed by our wonderful land management staff to increase biodiversity of plants and animals. We have cut back on the use of herbicides to restore soils back to their former strength and to simulate the native environments that once thrived on our campus.
We utilize indoor and outdoor recycling, which reduces landfill while increasing mindfulness towards Earth-healthy habits. We utilize refillable water stations to reduce single-use plastics and encourage people to bring reusable containers to events.
We are living out our call to care for our common home; every act showing care for our human family and all of God's creations around the planet.