Alumnae
Feature Story
Alumnae rise to the challenge of designing dresses for the inauguration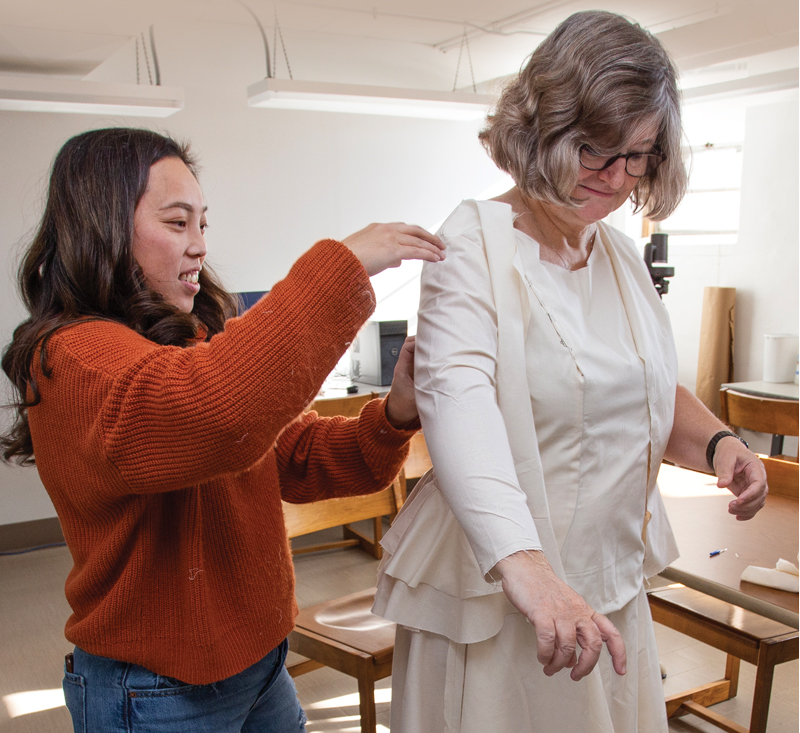 One of the first questions Isabelle Cherney asked the fashion department when she came to Mount Mary was if someone from the program could design a dress for her inauguration day.
Executive Fellow Donna Ricco, Fashion Department Chair Ashley Brooks and Associate Professor Elena Pitts met with Cherney to get some details about her design style and created a design competition for students and recent alumnae. Five finalists shared sketches and mood boards with their ideas.
When the time came to select a dress, Cherney chose two.
She would start the day in a classic sheath dress and matching jacket designed by Gigi Wagener '22 and change into an evening dress with a long, flowing skirt
and jacket designed by Shoua Xiong '20 for the reception.
Both designers knew that with all eyes on Cherney, the dresses would need to communicate her signature style: Classic, timeless and practical.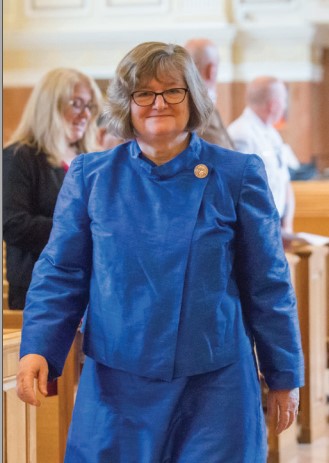 During the process, neither of them saw the other's design, which gave each of them the creative freedom to pursue their own vision.
"I based the dress on what she liked to wear," said Xiong, who specializes in eveningwear and dresses. The top consists of a simple boatneck collar and three-quarter sleeves in black suiting material, paired with an elegant satin skirt in Cherney's signature color, cobalt blue.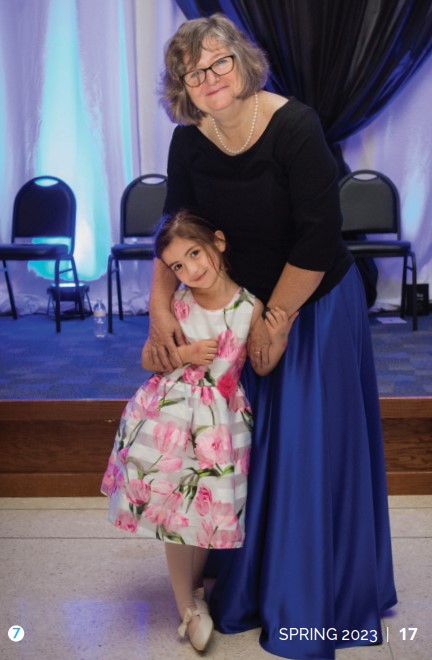 Since her graduation, Xiong has been teaching flat pattern-making at Mount Mary and working in bridal alterations at Eva's Bridal. She is also starting her own clothing line, Shoua Xiong, LLC.
Wagener drew inspiration from the vintage dresses worn by her mother and aunt in the 1960s, one of which her sister still wears to this day. She graduated with a post-baccalaureate certificate in May and said that Dr. Cherney is her first custom client.
"This is Dr. Cherney's day, and I want this dress to represent the lady she is," Wagener said.
Having the right look contributes to a special day, said Ricco, who created her own designer brand of dresses for many years.
"It means a lot to have Dr. Cherney reach out to fashion students to design a unique, made-to-measure dress for this important occasion," Ricco said. "It's a terrific opportunity for any designer and I'm so proud of Shoua and Gigi for stepping up to the challenge!"
Read the story about Dr. Cherney's inauguration dresses in the Milwaukee Journal Sentinel.