Faculty
Beloved professor "made Mount Mary a better place"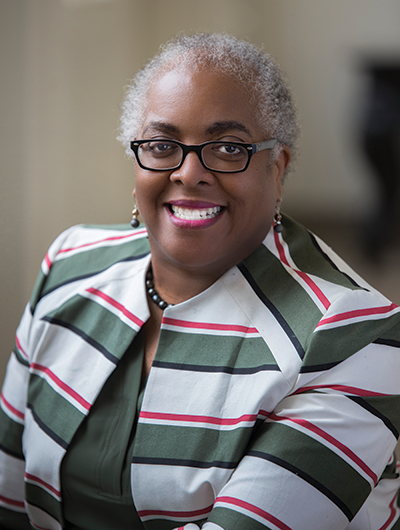 Posted on December 8, 2022
Read the university's tribute page to Shawnee Daniels-Sykes, Ph.D., here.
On October 31, a beloved member of our university community, theology professor Shawnee Daniels-Sykes, Ph.D., passed away peacefully after a heroic battle with cancer. Shawnee's influence on Mount Mary's community, particularly on the students she worked with and taught during her 16 years here, was transcendent.
A noted expert on ethics, morality and Black Catholic studies, Daniels-Sykes was recognized with the 2019 Black Excellence Award from The Milwaukee Times.
Recently, she was awarded the Outstanding Educator Chapter Award for her sorority, Alpha Kappa Alpha Sorority, Inc.

At an employee recognition event in 2021, theology professor and colleague Don Rappé described her as "our moral compass, the voice of conscience informed by reason and faith."

"Shawnee was a fierce champion for our students and their creative endeavors," said Karen Friedlen, vice president for student affairs. "Her passion for ethics, human rights and the desire to share it with generations of students made her an adored teacher, sought-after mentor and valued friend and colleague.

"The grief we feel today is a testament to her immense presence in this community. Mount Mary is without doubt a better place because of Shawnee."