SSND
Values In Action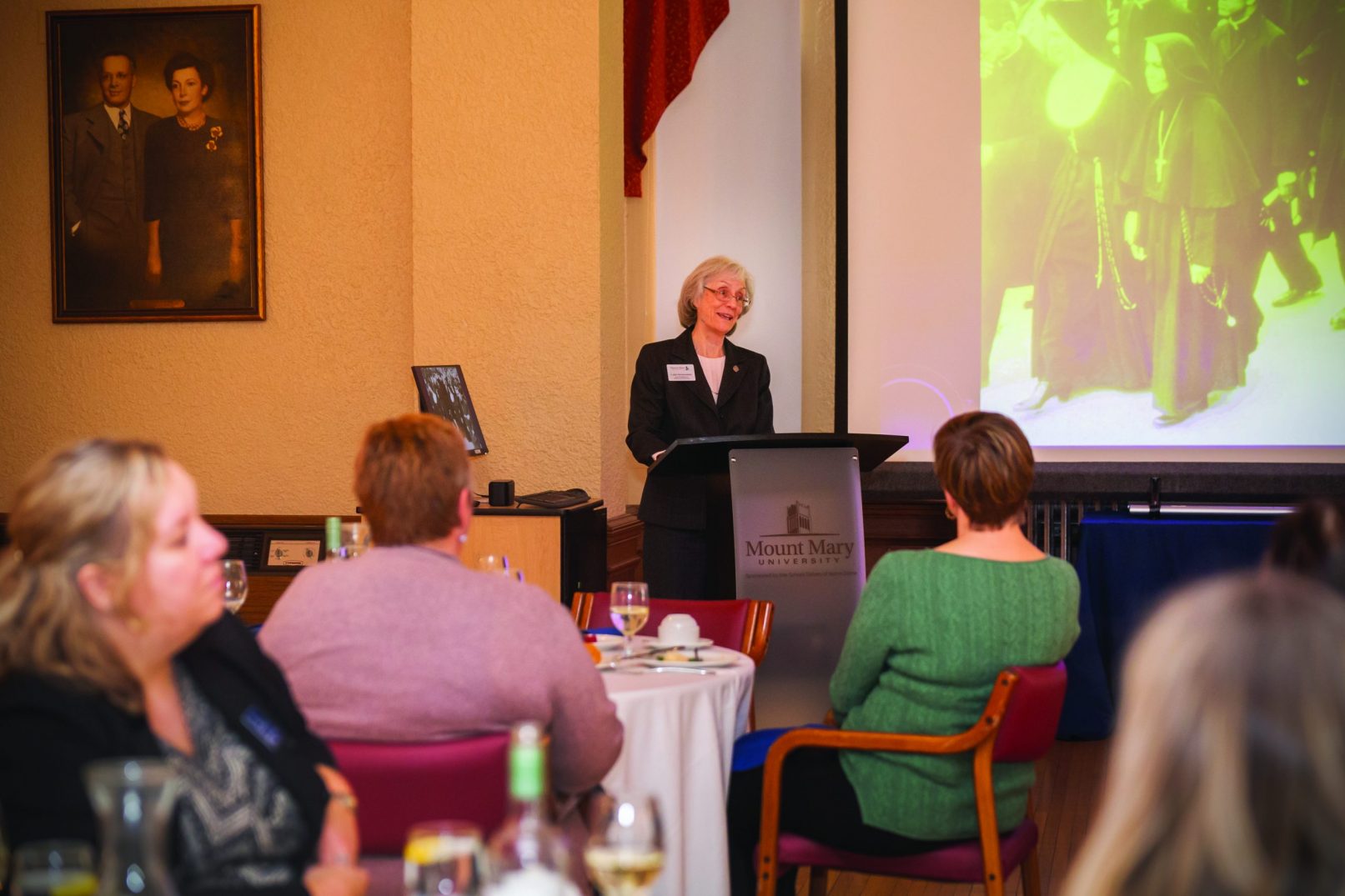 As we move into the future, Mount Mary embodies the SSND spirit
From the very beginning, the School Sisters of Notre Dame established Mount Mary as a place to support women for whom an education was not always easily accessible.
In Mount Mary's earliest days, this meant assisting families, often first-generation immigrants, who dreamed of making a values-based education a reality for their daughters.
Alumnae often share stories about the family sacrifices made to attend Mount Mary, and the support that helped families achieve their hopes for a better future for their daughters.
"Time and time again I hear stories of gratitude, for opportunities that were otherwise out of reach," said Marilyn Kesler, SSND, a planned giving officer for Mount Mary who meets regularly with alumnae.
With the renewed presence of the SSNDs on campus, Mount Mary and the SSNDs continue to inspire one another in moving the mission forward.
Ministering to new groups
Over the years, Mount Mary has changed to become more diverse in nearly every perspective – racially, socioeconomically and religiously – and through it all, SSND values have been a steady guiding light.
Today, as Mount Mary ranks among the most diverse institutions in the Midwest, this mission work for both Mount Mary and the SSNDs is centered upon diversity, equity and inclusion, as well as social justice efforts, said Provincial Leader for the Central Pacific Province Debra M. Sciano, SSND.
"We totally support and encourage diversity-related programs at Mount Mary; they are in line with who we are," she said. "Our focus has been women and children forever, keeping up with the times and changing demographics, and helping others transform the world."
Among the order itself, SSND leadership is working with a consultant group, Team Dynamics, to integrate diversity, equity and inclusion principles within its organizational structure.
"Addressing systemic inequities is foundational to who the SSND are and what they are called to do."

Director of Shalom Office for the Central Pacific Province, School Sisters of Notre Dame, Tim Dewane
"Now more than ever, we understand that our mission is structured within the times we live in," Sciano said. "We must respond to the urgent needs that are presented."
Mount Mary leads the way
There has been a growing intention among the SSNDs to shift their understanding of community, and Mount Mary has led by example.
Sciano explains this as a movement from a multicultural perspective, in which one teaches another about their culture, into one that is intercultural, a two-way, relationship-based understanding of culture.
"We need to go in and not just provide or say we will give or do something for others, we need to go in with an understanding that we will interact with and learn from others, too."
Mount Mary serves as a model for this paradigm shift. This renewed understanding of diversity among the SSNDs reflects Mount Mary's diverse student population and is present in Mount Mary's diversity, equity and inclusion initiatives (DEI) that range from newly adopted inclusive hiring practices to the establishment of a DEI office on campus and a focused effort to bring diversity into leadership positions, such as the Board of Trustees.
SSND values rooted at heart
In all facets of institutional life, from traditions to practical matters, SSND beliefs are in constant practice at Mount Mary.
From the beginning to the end of the student experience, these values are called forth. Each August, new students are welcomed into the community with an investiture ceremony that sets forth the features of an SSND-inspired transformative education.
All students take Search for Meaning, a required course designed by Ellen Lorenz, SSND, in the 1970s and still relevant today. Through her work as a curriculum developer, S. Ellen, a preeminent scholar and Mount Mary leader, helped students understand the intersectionality between scholarship, service and community need.
Before graduation, students reflect upon their Mount Mary experience at the Mass and Light of Learning ceremony, in which they pass along their light to another who has made an impact or whom they hope to influence, an active reminder of the transformative nature of a Mount Mary education.
Employees, too, are encultured in the spirit of Mount Mary. For the past few years, Vice President for Mission and Identity Joan Penzenstadler, SSND, and Vice President for Enrollment Services Dave Wegener have led a missioncentered onboarding program; over the course of a new employee's first year, they participate in seminars outlining the history and mission of the School Sisters of Notre Dame and Mount Mary University.
Sister Joan has also recorded a module on employing mission in courses for faculty, which is posted on the employee portal and available to reference at any time. All full-time faculty and many adjunct faculty members have completed this course.
New this year is an initiative to keep the SSND mission alive. At mission dinners, colleagues come together for an evening meal to discuss their personal connection to Mount Mary's mission.
"In the past year, a question has surfaced several times: When did Mount Mary become involved in social justice issues? I pondered that question, especially in light of the expanding consciousness of the SSNDs over the years," Penzenstadler said. "At the dinners, this question is a way to invite our community to reflect upon what draws them to the difference Mount Mary has made in their lives."
SSNDs extend their mission
The social justice work of the SSNDs is a natural extension of their role as educators. Today they work to educate and raise awareness of social justice issues, advocate to legislators, and build collaborative, local partnerships.
These social justice engagements, which SSND refers to as Shalom, focus on dismantling racism; supporting migrants and refugees; promoting Gospel nonviolence and just peace; caring for creation; and addressing human trafficking, said Tim Dewane, director of Shalom office for the Central Pacific Province. Dewane, who has worked with the SSNDs for 24 years, also serves as the North American representative for global SSND Shalom Network engagements.
"The School Sisters of Notre Dame educate with the conviction that the world can be changed through the transformation of people," Dewane said. "Their experience walking with the poor and marginalized have helped them recognize that for individuals and families to reach their fullest potential, they must make establishment of a just society a concern of all their ministries. Addressing systemic inequities is foundational to who the SSND are and what they are called to do," he said.
This same purpose is what sustained Mother Caroline and the pioneering efforts of the SSNDs to educate America's underserved women since her arrival in 1847.
"We have Mother Caroline's DNA in us," Sciano said. "We focus upon how we are serving others and encouraging others to be their best selves."
"I think she'd [Mother Caroline] be happy with how we – and ministries such as Mount Mary – are moving forward."

Provincial Leader for the Central Pacific Province, SSND, Debra M. Sciano