Feature Story
Uncovering hidden treasure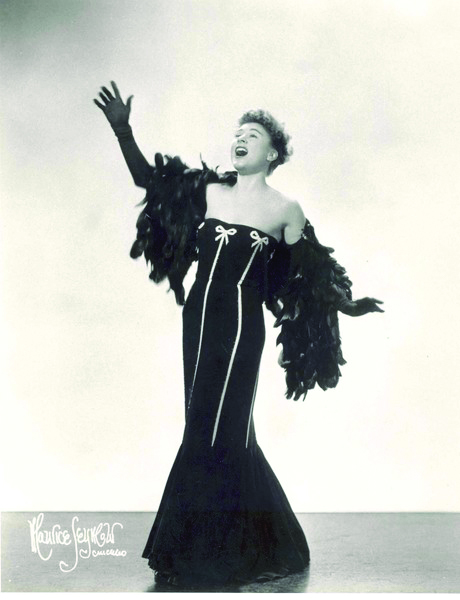 Packed in rooms under Notre Dame Hall, shelved in boxes and hung on racks, lie 10,000 hidden gems – garments, hats, shoes and jewelry designed by the brightest fashion luminaries of all time, along with illustrations, playbills and newspaper clippings telling the back story. Without a full-time curator for a number of years, faculty and staff have tenderly cared for the collection between their regular duties, but this treasure trove remained largely out of sight, until now.
A prestigious grant from the Council on Library and Information Resources (CLIR) set work in motion. With two-year funding for a curator, professional photographer, student interns and new equipment, the fashion archive digitization project begins.
Important fashion artifacts are revealed in high-quality 360-degree images, uploaded to a website and accessible to students, scholars, artists, designers and anyone else from around the world for research and inspiration. Meanwhile, each precious item is cataloged, tended and mended,
its storage upgraded.
"We have an incredible collection of 20th century garments and accessories that is important historically and valuable financially," said Dean for the School for Arts & Design Bob Schwartz. "This grant gives us the opportunity to catalog and preserve it better, digitize it and make it available to the entire world as a scholarly resource and inspiration."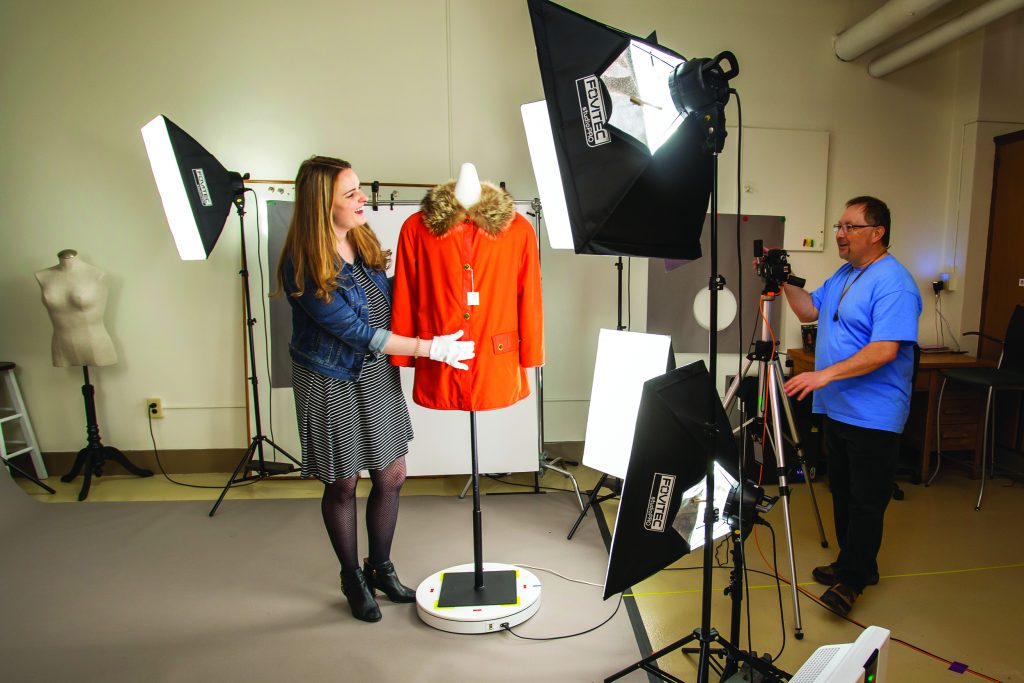 Securing the grant
Library Director Dan Vinson led a team seeking resources to digitize Mount Mary's exceptional Fashion Archive and helped put together the proposal for the CLIR grant.
A separate, earlier grant in 2018 from the Stella H. Jones Foundation had started the momentum by purchasing gear, outfitting the room and beginning the photography process, but the competitive CLIR grant was particularly elusive. "We spent dozens and dozens of hours to prepare the application
in 2019, but we did not win," Vinson said.
They tweaked it and tried again in 2020. An email arrived last spring announcing they were awarded the nearly $250,000 Digitizing Hidden Special Collections and Archives Grant, one of only 16 institutions among 151 from the United States and Canada that applied.
Digging up treasure
Below Notre Dame Hall, fashion students and archive interns Mary Safranski and Asma Dasan sit at tables surrounded by shirt boxes. Each box holds clothing, some dating back to the mid-18th century. "I never knew we had all this," Dasan exclaimed.
They check tags, sew in labels used for tracking, fold, wrap in acid-free tissue paper and repack each item. Some days they pad hangers or dress mannequins for a photo shoot.
Enter grant-funded curator/stylist Amanda Cacich, tasked with determining the archives' strengths, a challenge with a collection of both couture and ready-to-wear garments from designer superstars. Will she choose Cristóbal Balenciaga, Coco Chanel, Christian Dior, Norman Norell, Bonnie Cashin, Oscar de la Renta, Jean Patou or Karl Lagerfeld? How about Valentina, Hubert de Givenchy, Pauline Trigere, Pierre Cardin or George Peter Stavropoulos? Calvin Klein? Arnold Scaasi? Or gowns worn by Wisconsin celebrities like designer Florence Eiseman, chanteuse Hildegarde or actress Lynn Fontanne?
"We're shooting Bonnie Cashin today," Cacich said. "She did a lot of ready-wear starting in the 1950s, things we take for granted today. She was ahead of her time.
"We have 90 Frank Olive hats. I haven't found another collection as big as ours." The Milwaukee hatmaker designed clothing and millinery in the 1960s. People liked his hats, so he decided to drop clothing. "At the same time, women stopped wearing hats. He still had an illustrious career. It's been fun to discover these stories."
Founder of Mount Mary's fashion design program, Aloyse Hessburg, SSND, started the program in 1965 and the Fashion Archive soon after. She also began Mount Mary's Friends of Fashion. The group raised funds to maintain, preserve and exhibit the Fashion Archive. Much of the collection is based on donations Sister Aloyse received from her industry contacts, with a very significant portion coming from the estate of designer Charles Kleibacker.
Going digital
In the studio, photographer Marshall Lee carefully grooms a Cashin jacket. "A stray thread will show up when you zoom in," he said. He snaps a picture of the jacket worn by a mannequin on the turntable before him. It rotates 10 degrees and stops. He shoots again and patiently continues the process. Lee looks at the screen on his left and checks the quality of the image.
Six months into it and collections by Valentina, garments from the Ebony Fashion Fair, Pauline Trigère, Irene, Hattie Carnegie and Hildegarde are online. It's a good start on many years of work to be done.
Like a treasure map, the digital fashion archive leads people in. Faculty members see pieces to show students. A photo may inspire a budding designer or a historian interested in outfits representing the zeitgeist of their times.
"Entrepreneurial designers need a jumping off point," said Donna Ricco '81, an alumna with her own label who's back as the Fashion Department's executive fellow. "A sleeve might catch your eye and you say to yourself, 'I'd love to use that technique.'"
On campus, the Fashion Archive serves as inspiration for the future and a reminder of the past. Sophomore class designers use garments from the collection as a starting point for their final project in their draping class,
based upon a technique or theme they've observed from the collection. This year's garments will be shown at CREO on May 14.
As these garments see new light, some are also selected for display. Today the Academic Showcase in Notre Dame Hall features Mount Mary's collection of Ebony Fashion Fair garments, a groundbreaking platform for social justice from the 1960s.
The Ebony Fashion Fair was a traveling exhibit from the 1950s-2009 that helped redefine style, beauty and empowerment for African American women. Its social justice themes convey "the broader foundation on which Mount Mary operates," said Schwartz.
This peek into Mount Mary's acclaimed fashion collection is but a glimpse of the treasures buried below.
"Our Fashion Archive is colorful, visual and just plain fun," said Fashion Department Chair Ashley Brooks. "It will be impactful to let everyone see it."
VIEW MOUNT MARY'S DIGITAL FASHION ARCHIVE at mtmary.edu/digitalfashionarchive