Then and Now
A look at art-making through the years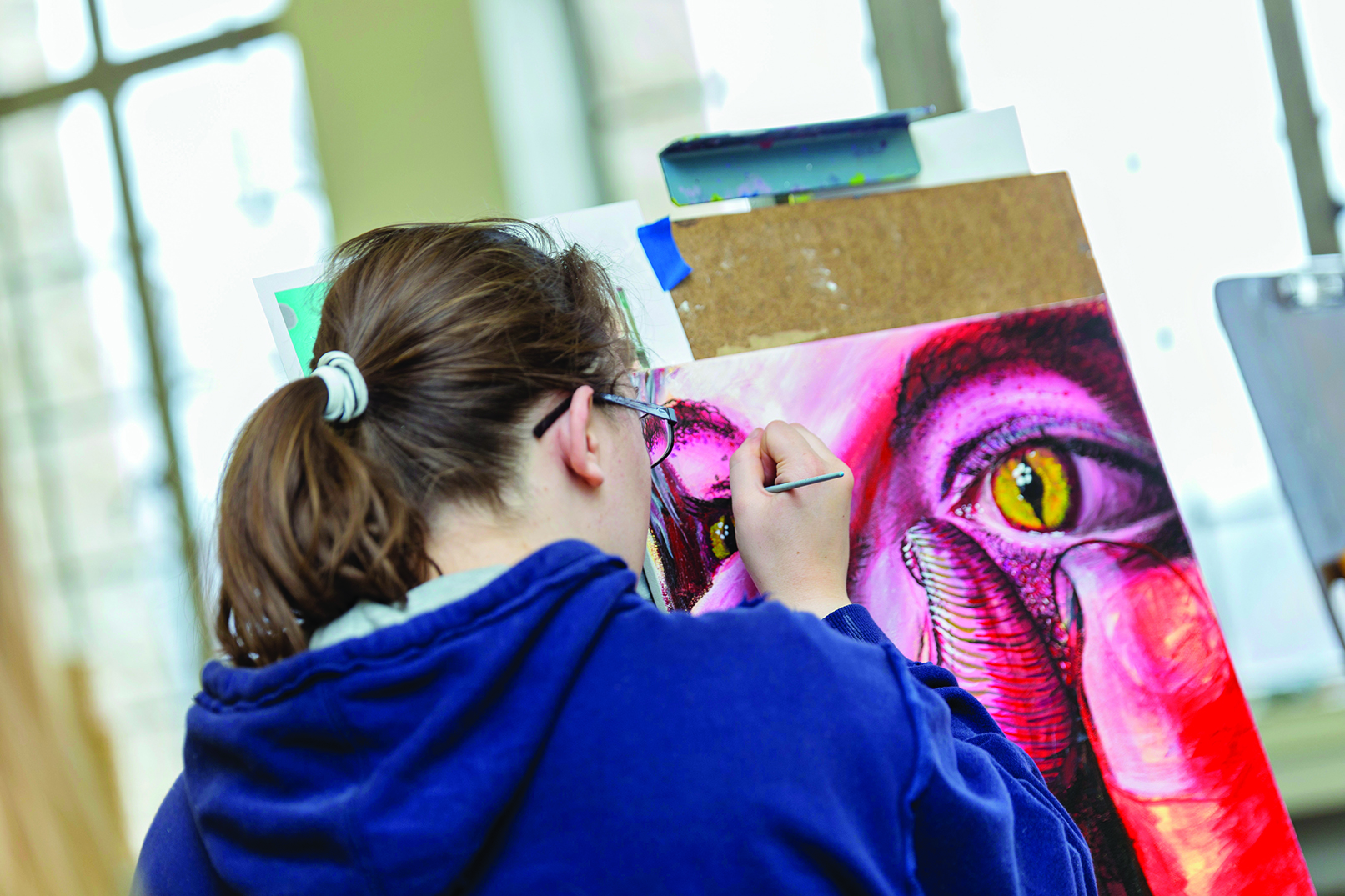 When artists Jordan and Josh Anderson came to Mount Mary to lead its art programs more than a dozen years ago, the couple waded into a creative stream that began when Sister Stanisia established the Art Department in 1929.
An important artist, Stanisia Kurkowska, SSND, (1878- 1967) helped define an American Catholic art, with its own icons and style. A prolific painter of portraits and murals, the renowned artist created altarpieces for three historic Chicago churches.
Through the years, notable artists infused new talents and perspectives. Mary Augustine Hatch, SSND, (1896-1974) inspired colorful murals in Mount Mary's dining hall with her abstract paintings. Internationally regarded Mary Leo Hartgarten, SSND, (1935-1956) painted Stations of the Cross for Our Lady Chapel (see page 8), as well as for St. Theresa Church in Appleton. She used an innovative technique of mixing tempera and oil, painting on metal, to create brilliant colors.
Mary Remy Revor, SSND, (1914-1998) created "elaborate textiles … printed with colorful patterns and textures from batik, linoleum block and silkscreen techniques," says American Craft magazine.
Her "method of silkscreening was taught when we joined in 2008," and her silkscreen wall hangings and tapestries still add colorful touches all over campus today, noted Jordan Anderson, Art & Design Department chair.
"We have an attachment to the historical past thankfully transferred to us through the people we encountered here when we were hired," she continued. Among the Andersons' first colleagues were artist-teachers who had been at Mount Mary for decades: Angelee Fuchs and biological sisters Rosemarita and Mary Carla Huebner, all SSNDs who integrated spiritual life and artistic practice.
Sister Angelee drew subjects from nature in colored pencil and pastels, and taught two-dimensional design. Sister Rosemarita practiced jewelry-making and metalsmithing. As department chair for 15 years, she led the formation of the art therapy, graphic design and communication design programs. The Wisconsin Art Education Association recognized both Sister Rosemarita and Sister Carla as dedicated educators. It seems everyone remembers their humor.
The nuns and their colleagues taught art as a way of addressing social issues and exploring faith. As Bob Schwartz, dean of the School for Arts & Design, puts it, Mount Mary is "no ordinary higher education institution. It conducts itself on a mission platform of social justice."
"They brought their activism to the classroom," Josh Anderson said, "something we both still work toward."
"We teach that art is beyond the decorative," agreed Jordan Anderson. "Whether students choose a contemplative practice or an activist practice, through their art they find connections to issues and topics."
The Andersons divide their duties by dimension. Jordan focuses on 2D – painting, printmaking and drawing; Josh works in the 3D realm – sculpture, ceramics and metalsmithing.
Both find meaningful ways for art students to showcase what they learn. A collaboration with Mount Mary's Women's Leadership Institute created a platform for students to present their work during its Voices of
Leadership lecture series and, with it, the chance for students to interact with some of the nation's most influential people. "They find this very meaningful," Josh Anderson said. Another opportunity allowed murals created in the painting studio to be rotated into a community exhibit where students used their work to speak to the surrounding community.
As Marian Art Gallery director, Josh Anderson brings regional artists to exhibit work and offer public lectures. "By meeting artists, art students can imagine different ways of navigating in the world."
They hope their influence flows beyond art students into the whole campus community. "Many others move through our classrooms and programs. We hope they all leave with the ability to see the world from an artistic point of view," Josh Anderson said.