Women's Leadership Institute
Brown shares multiple perspectives as nurse and cancer patient, author and mother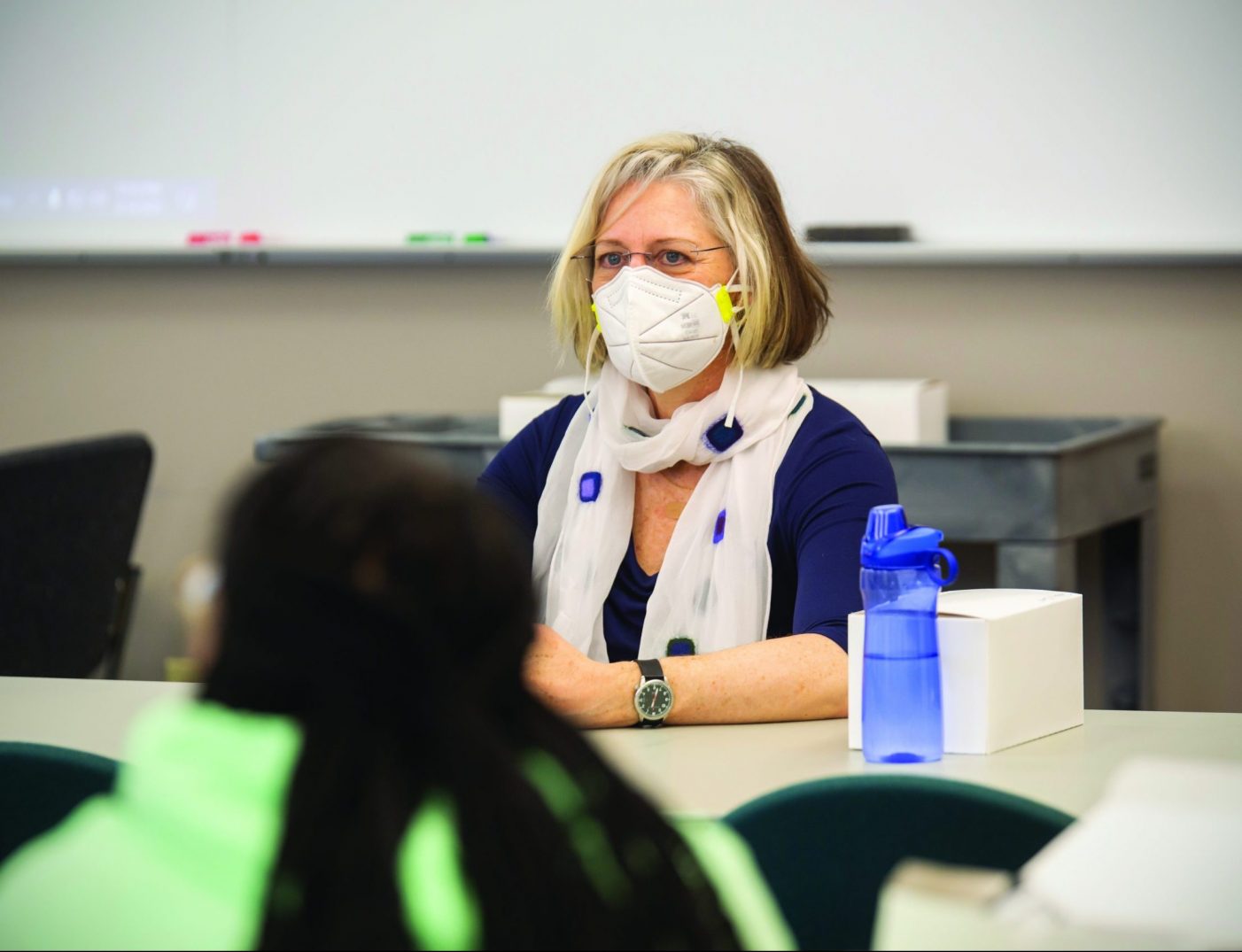 Visiting Fellow Theresa Brown engaged the Mount Mary community in discussions about American health care and more during a week-long visit in March.
Brown is a registered nurse with a doctorate in English, a frequent contributor to the New York Times and author of three books drawing on personal experiences in health care. She speaks nationally on topics like nurse-to-patient ratios, health care reform, bullying by physicians and nurses, and the importance of end-of-life care. Her talks and writings are informed by her experiences as an oncology nurse, a hospice nurse and a cancer patient.
Mount Mary's Women's Leadership Institute brought Brown to campus through the Council of Independent Colleges' Visiting Fellows Program, which brings prominent leaders to participate in substantive dialogue with university communities.
During her week at Mount Mary, Brown met with students and faculty, and a variety of classes, from nursing and occupational therapy to English and psychology. She delivered a public keynote focused on healing the health care system and joined Mount Mary employees to reflect on mission.
Here are a few highlights from her visit
During her keynote, Brown described the state of American health care, where during the crisis of the COVID pandemic, sick patients are turned away, nurses are quitting in droves and many Americans continue to refuse the vaccine. She asked the audience to consider how renewed dedication to health care's core mission of "caring" could help heal our broken system.
In an interview after her talk, she elaborated on problems in American health care. "The health care system focuses too much on making money. Compassion for patients doesn't get the weight it needs," Brown said.
And about the nursing shortage, "part of the problem is a pipeline issue. There are not enough places in nursing programs to meet the demand. That's why I'm excited to see Mount Mary has a BSN program now."
In the Introduction to College Writing, the New York Times bestselling author shared her writing experiences and the process of drafting, re-drafting and editing. She emphasized the importance of receiving feedback.
In the Developmental Psychology class, Brown talked with 17 students, several already working in health care, about the importance of treating the whole patient, including taking their age into account.
"What if you are a 30-year-old diagnosed with a terrible disease? You may have small children at home or a new job, no strong family support system. You're pulled out of your very busy life, told you have a disease that can kill you. Just like that, your whole sense of how you imagine your future changed. It is certainly different when you get a bad diagnosis in your twenties vs. your seventies."
"Students really appreciated hearing her firsthand experiences," said instructor Nan Metzger.
At the end of her visit, Brown shared a few observations about Mount Mary:
• People at Mount Mary really do embrace the mission. Faculty care about students as people.
• Mount Mary's impact is evident in the confidence of the students, their attentiveness in class and in its genuinely supportive atmosphere.