LEADING LADY
A vision of mission, Joan Penzenstadler, SSND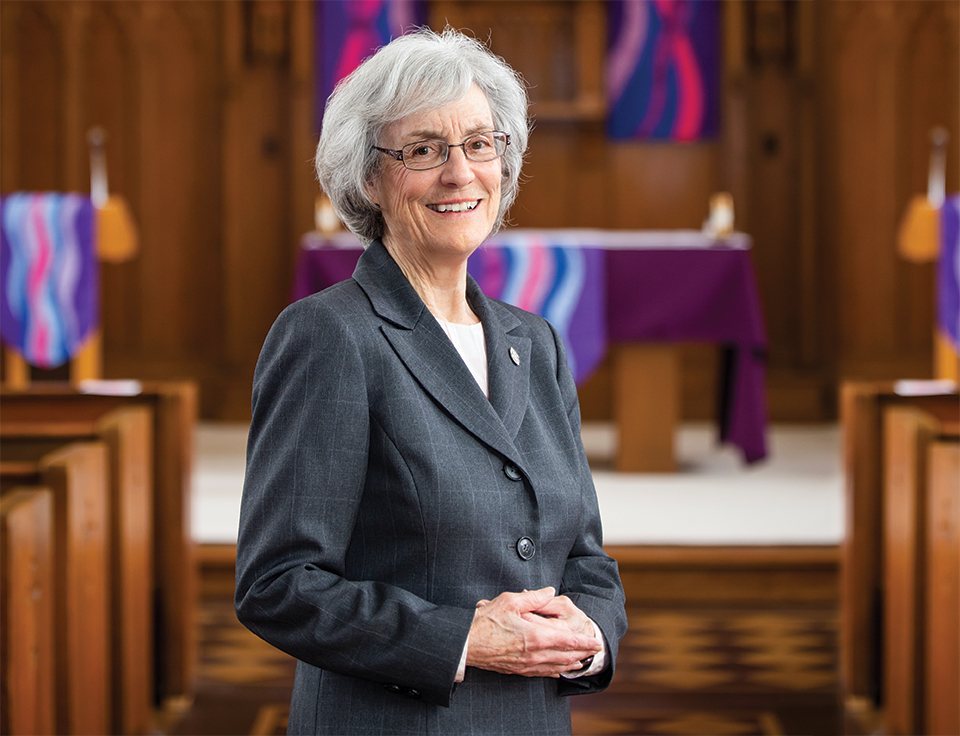 As one walks through the halls of Mount Mary, the reminders of our mission and identity are like guideposts, from the 4 C's (Competence, Community, Compassion and Commitment) adorning the main hallway in Notre Dame Hall, to the beautiful mural outside of the Alumnae Dining Room, and the quilted tapestry in the foyer of the Haggerty Library.
Vice President for Mission and Identity Joan Penzenstadler, SSND, has brought innumerable graces to campus. This spring, as Penzenstadler steps away from her role, she leaves a commitment to the SSND legacy that is tangible and enduring.
"I knew there needed to be something in the very structure of Mount Mary to help us reflect on the mission," she said.
As one of the few remaining SSNDs to hold a leadership role, Penzenstadler has created a framework for passing along the culture and spirit of our founders. A robust Campus Ministry program provides spiritual programming for students and the entire campus. New employees engage in a yearlong onboarding program. A course titled "Infusing the Mission" is available for faculty members and adjuncts. On Founders Day the campus community comes together to honor the SSNDs, and celebrate employees and students who exemplify the SSND spirit.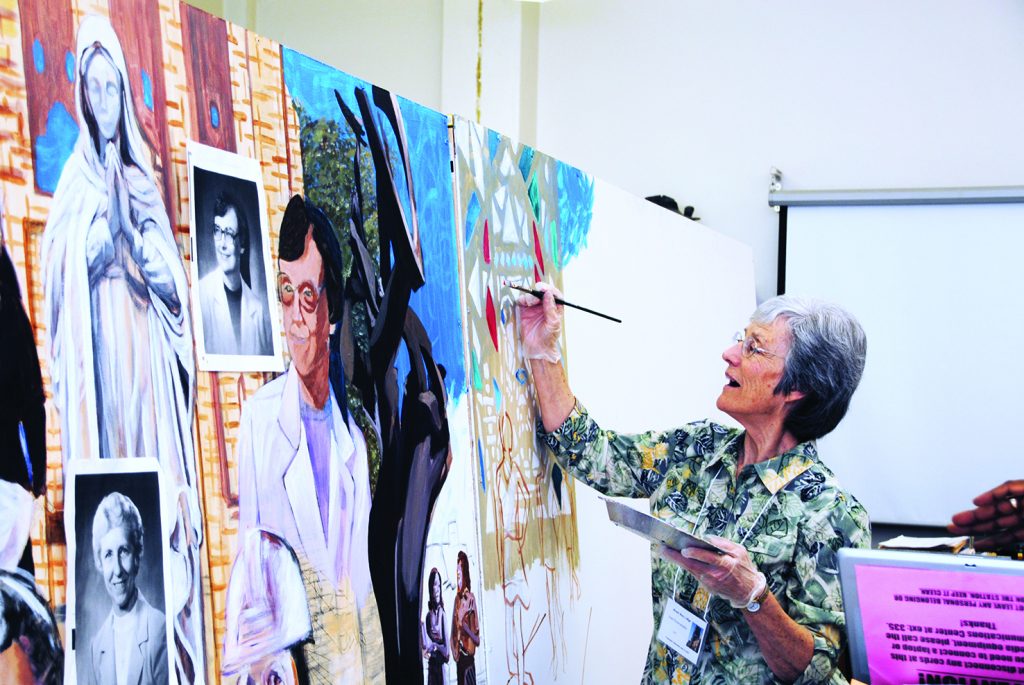 This spring, Penzenstadler also hosted a series of mission dinners, opportunities for employees to break bread together and discuss the spirit that continues to enrich Mount Mary.
"When I came in 1981, there were 60 sisters who lived in Fidelis Hall. The president, administrators and faculty were all SSNDs," she said. "We didn't have to talk about the mission, people were just breathing it!"
Penzenstadler began her work as an educator at Messmer High School teaching French, then furthered her studies in theology, earning a M.A. from St. John's University in Collegeville, Minn. She joined the theology department at Mount Mary and led the program for 15 years, earning a Ph.D. in theology and education shortly after arriving.
By 2004, there were 30 sisters left, and President Pat O'Donoghue recognized that the presence of SSNDs was diminishing and so she wanted someone to very intentionally lead the charge for the mission. At that time, O'Donoghue asked Penzenstadler to become the special assistant to the president for mission and identity.
The intricate and thoughtful implementation of Catholic identity of MMU is woven throughout so much of what we do that it is an organic way of life for our community now. Other leaders have taken note of how the mission lives through Penzenstadler.
Stories of her generosity, wisdom, enthusiasm and reverence for God are in no short supply. Professor of Theology Donald J. Rappé sums up Penzenstadler's impact in just one word: "Immeasurable."
When challenging situations arise, Mount Mary President Christine Pharr, Ph.D., reflects on how she can count on Penzenstadler to center the President's Council decision-making on perpetuating the University mission.
"I have worked in multiple higher education institutions and I have to say that Mount Mary has a very strong mission – the strongest I have ever seen and I do attribute that to the gentle and compassionate leadership that I see in Penzenstadler.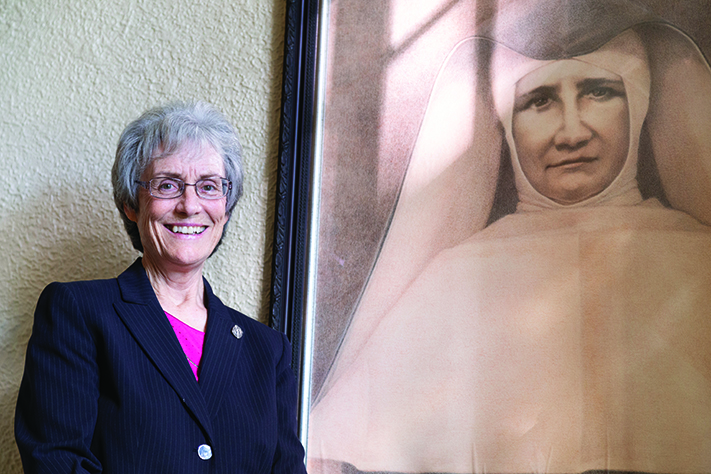 "They say preach the gospel always – use words only when necessary," Pharr said. "Penzenstadler embodies those words every single day!"
When asked what comes next for her, Penzenstadler looks to the SSND Constitution and way of life titled, "You Are Sent." It states: "We are educators in all that we are and do." She said, "I want to focus on the being part of this phrase."
"When I think of a leading lady, I think of Mothers Caroline, Kostka, Fidelis and Sister Ellen Lorenz; I'm doing my best to be true to their spirit."

Joan Penzenstadler, SSND