A grateful farewell to President Pharr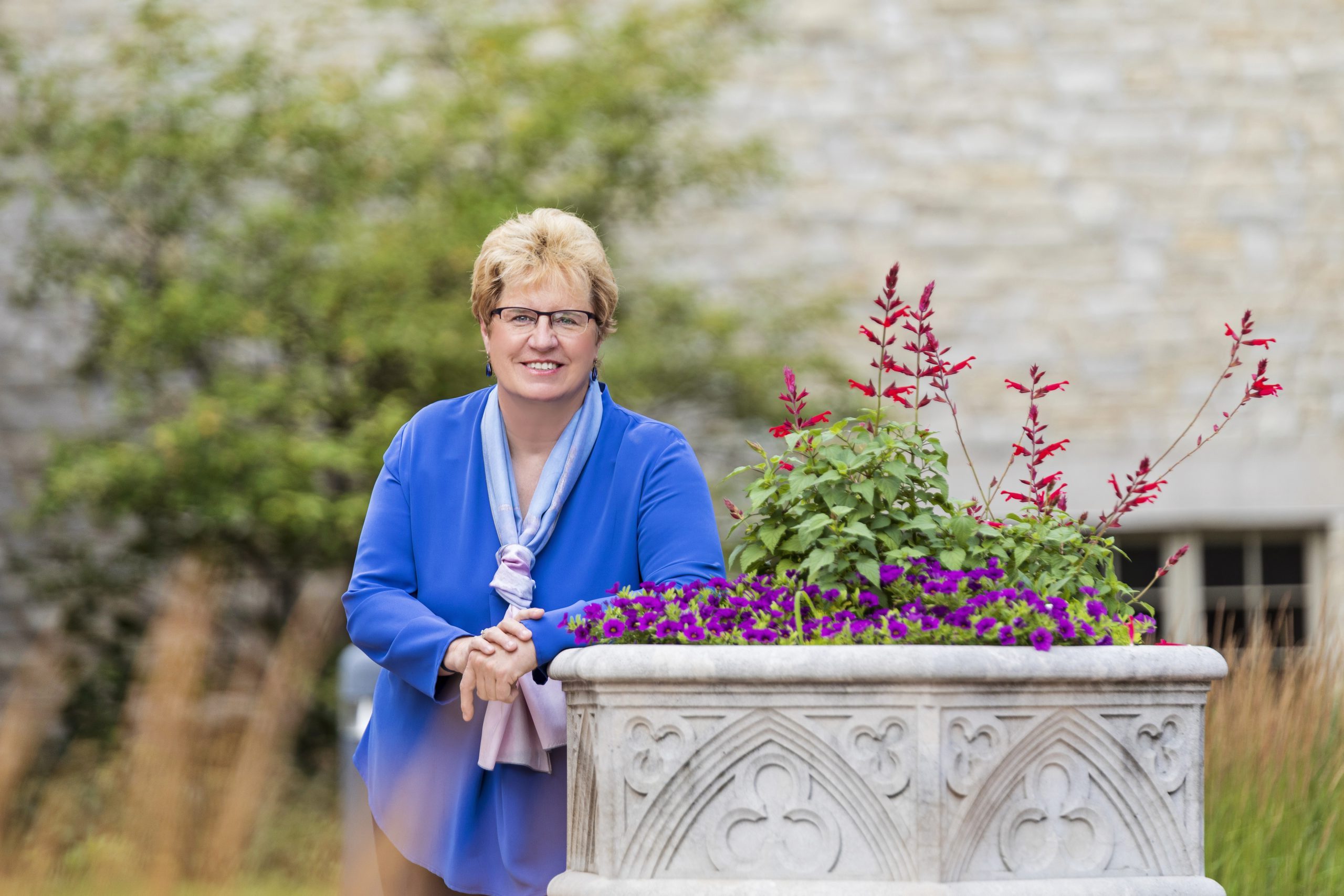 Whether interacting with students, pitching in on campus cleanup days or welcoming alumnae back to campus, Christine Pharr, Ph.D., engaged in her work with legendary enthusiasm.
"It has been a pleasure for me to collaborate with Dr. Pharr, particularly as partners with Milwaukee Catholic Home in the creation of Trinity Woods on the Mount Mary campus.

Her enthusiastic approach to building up the University and creating a sense of unity, even during the COVID-19 pandemic, has been remarkable and appreciated by all who have interacted with her. All of the SSND community hold her in prayer and wish her many blessings as she enters into the next phase of her life's journey."

Debra M. Sciano, SSND

Provincial Leader, School Sisters of Notre Dame Central Pacific Province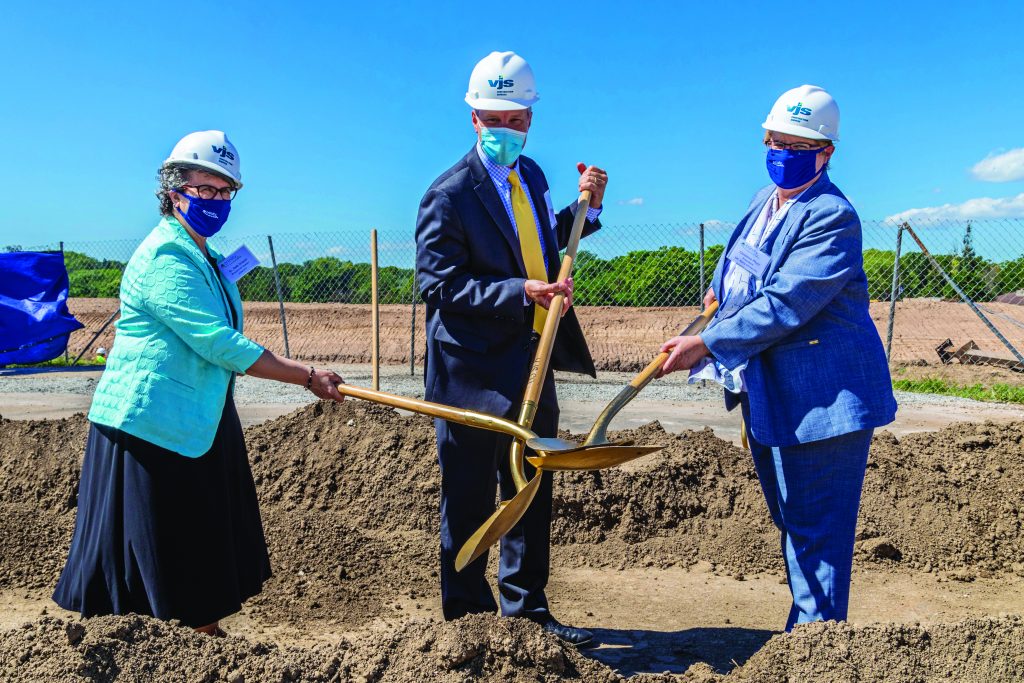 Breaking ground
This fall alone, the university experienced record breaking new student enrollment, and Trinity Woods, Mount Mary's three-way partnership with the School Sisters of Notre Dame and Milwaukee Catholic Home, opened in late 2021.
Mount Mary has experienced significant programmatic growth, such as the Compass Year program for undecided students. This first-year program designed to help students explore career paths and identify a major has grown over 300 percent since it began three years ago.
The 2022 U.S. News and World Report ranked Mount Mary #1 among all regional universities in the Midwest for social mobility, which measures the success rate of graduating low income students based upon six-year graduation rates.
Under Pharr's stewardship, Mount Mary moved up more than 20 spots to 51st in the best-of rankings of regional universities, and was recognized for having the greatest economic and ethnic diversity in the Midwest. In 2020, Mount Mary became one of only two Hispanic Serving Institutions in Wisconsin.
Mount Mary's four-year, fully on-campus Bachelor of Science in Nursing program opened in 2021 after an extensive, $2.5 million renovation of the swimming pool and locker room into a Health Sciences Center.
Expanded graduate offerings include a Ph.D. in counseling and a doctorate in occupational therapy, and extensive revisions to existing programs in dietetics and business (MBA). A new undergraduate program in exercise science opens in fall.
"We have instituted a multitude of new programs and initiatives, which led to a record number of new students this fall. I am confident that I will leave Mount Mary in an excellent position with a bright future."

President Christine Pharr, Ph.D.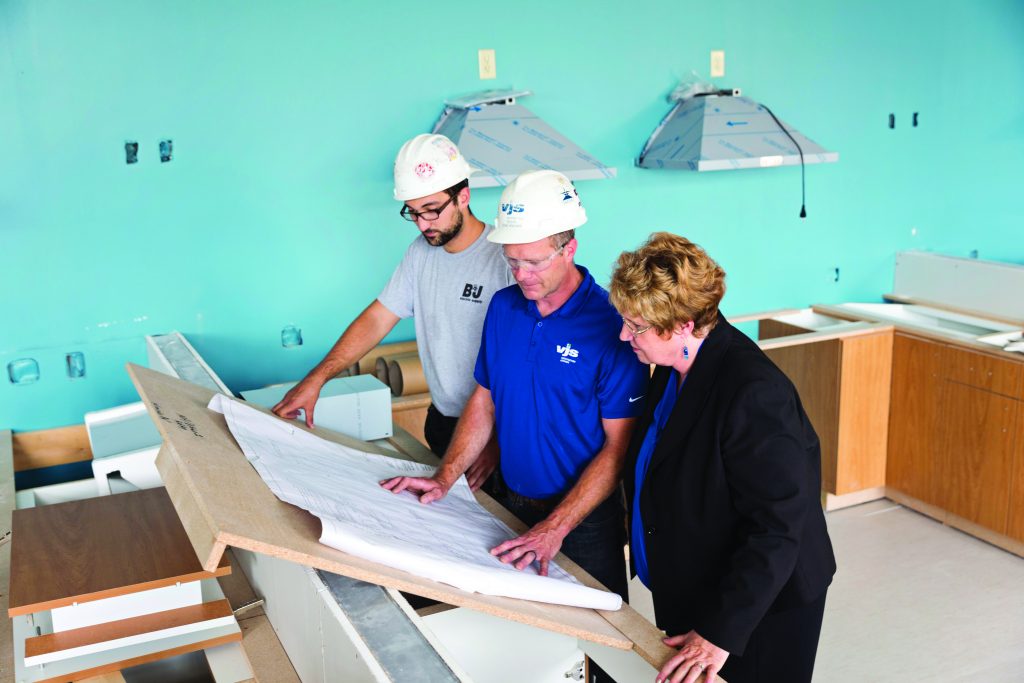 Making connections
"Dr. Christine Pharr has faced monumental challenges as Mount Mary's 12th president. We have seen her empathy and support for our community after the murder of George Floyd in 2020, her appreciation of the Latina Taskforce's role in becoming recognized as Hispanic Serving Institution, her concern for our health and safety during the COVID-19 pandemic, and her successful role in opening the Trinity Woods intergenerational housing community. Dr. Pharr's work has positioned the Mount Mary faculty and larger community to explore collaborative opportunities that will refresh our commitment to the mission and vision and invite us to continue to live out our core values."

Jason Meyler, Chair, Faculty Assembly
When Pharr came to campus in 2017, it didn't take her long to get involved, and her reputation as an advocate for others became recognized both on- and off-campus.
In summer 2021, she led the university in establishing the Office of Diversity, Equity and Inclusion and named Julie Landry as the university's first vice president for DEI.
A tireless fundraiser deeply sensitive to the needs of Mount Mary students, Pharr and the Alumnae and Donor Relations department raised $2 million for Trinity Woods. She has also established a $100,000 endowment for food resources and increased the President's Emergency Fund as a significant support to students during COVID. She is now raising money for the Madonna Fund to sustain single mothers' resources long into the future.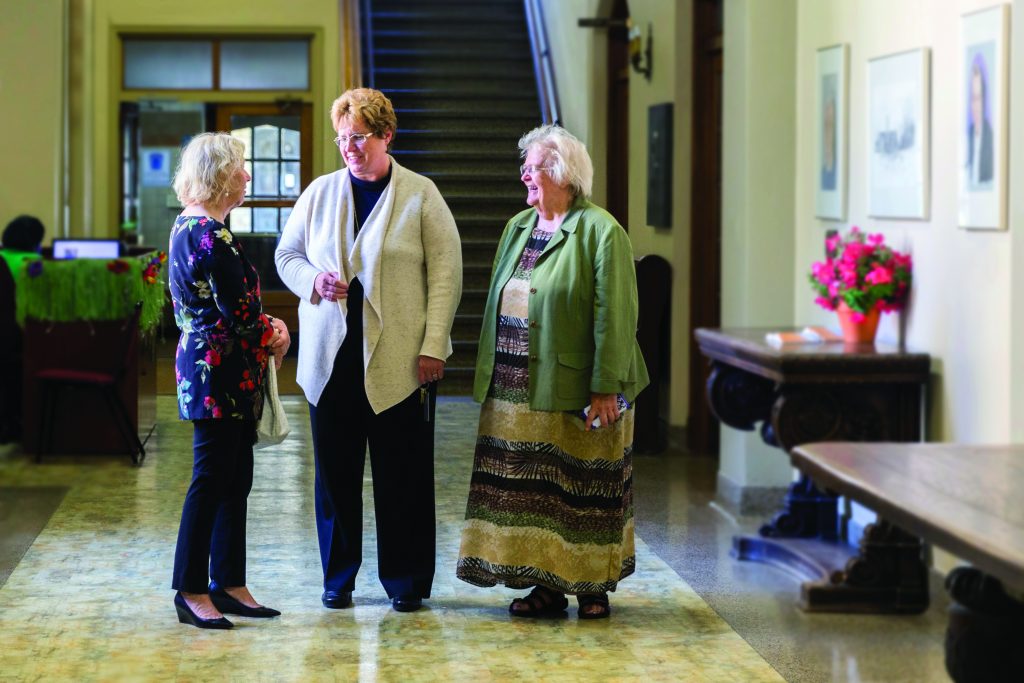 Pharr has assumed multiple leadership positions within the local and state higher education communities. She co-chaired goal two for the Higher Education Regional Alliance (HERA), and serves as vice chair of the Wisconsin Association of Independent Colleges and Universities (WAICU). She is also a member of the Milwaukee downtown Rotary, TEMPO and Milwaukee Women, Inc.
In August, she was recognized by the Biz Times as a Notable Woman in Education for 2021.
"Christine Pharr is a joiner. From the first time I met her, right down to today, she has proven herself as one who would not just stand by and let things happen, but who steps up and is making a difference throughout the community and country. She gets things done, and we will miss her."

Rolf Wegenke, President of the Wisconsin Association of Independent Colleges and Universities (WAICU)
Acting upon faith
True to her spirit, Pharr exhibited faith in action through her deeds great and small.
Acting upon this forward-facing faith, she led the construction of the Place of Peace, an interfaith space for all students, and helped create a Muslim prayer room where students could gather, prepare and pray their daily prayers.
This same spirit helped guide Mount Mary through an extensive strategic planning process, leading to "Living, Learning and Working in a Thriving Community," a multifaceted plan that identified visionary goals in five planning areas through 2025.
"Dr. Pharr has a deep love for the Mount Mary community, as was evident in everything that she did for it. We know that every decision she made during her presidency she made with love and concern for the whole Mount Mary community and she has made such a positive impact on the university that she will be remembered for years to come. We would especially like to thank Dr. Pharr for her commitment to listening to student voices."

Mount Mary University 2021-2022 Student Government Association Board
Generations growing together
It is more than a place to call home for sisters and seniors, mothers and children. From the moment the concept was introduced, Trinity Woods has garnered national attention as a landmark example of care and community.
"Intergenerational living is about being open to what you can learn from others, and acknowledging the importance of human connection and interaction in every possible way," said Mount Mary President Christine Pharr, Ph.D., who was greatly involved in the development of this living community.
Trinity Woods provides an educational and supportive housing option for single mothers who are students at Mount Mary University and a vibrant, intergenerational living environment for School Sisters of Notre Dame and seniors. All buildings are fully interconnected by a Town Center that incorporates numerous spaces to bring people together in friendly conversation, dining, prayer, learning and socialization.
This one-of-a-kind intergenerational housing community opened its doors in late 2021, and also includes an early childhood education center for up to 100 children managed by Wauwatosa Daycare. The facility also provides myriad opportunities for internships, clinicals, practicums and relationship building for all Mount Mary students as a place for educational immersion and professional practice.
"At Trinity Woods a landmark revolutionary program was created. The trajectory and future success that Mount Mary has had in creating Trinity Woods will and should be a model for other Catholic higher education institutions with a need to increase the quality of lives in the campus community."

Geneva B. Johnson, Mount Mary University Trustee Emeritus
The addition of Trinity Woods to the Mount Mary campus has been an identity shifter for the university, welcoming the Sisters and seniors into the Mount Mary community.
There are ample opportunities for students and their children to interact with the SSNDs and senior residents at Trinity Woods. The community lounges on each student floor feature reading nooks for children and play areas. Many of the SSNDs enjoy eating meals and interacting with the children whenever possible.