Students
Voices of Leadership
Projects showcase student learning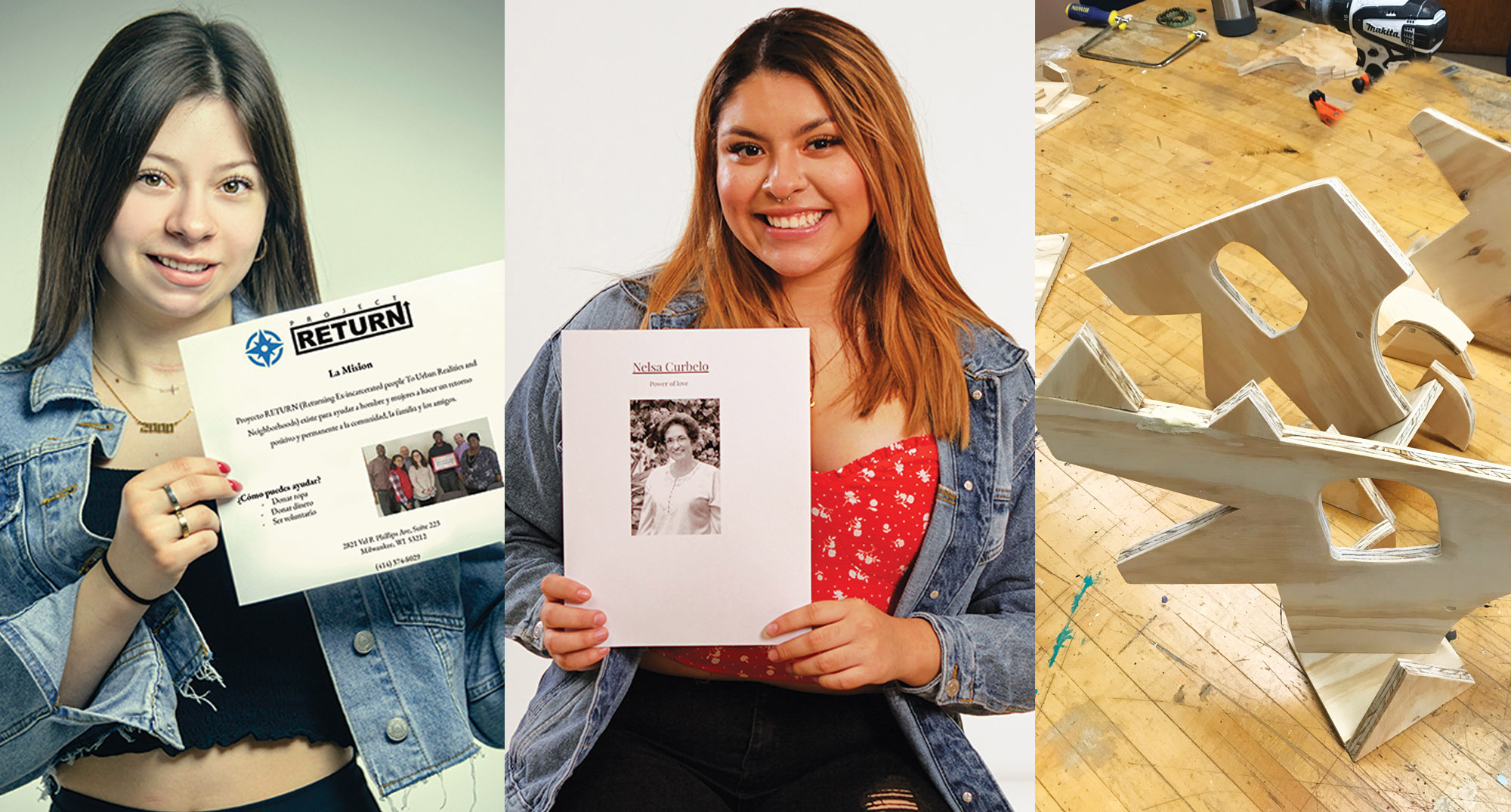 Posted on December 14, 2021
Mount Mary's annual Voices of Leadership is not only an event that brings to campus a groundbreaking woman leader, it provides an opportunity for vibrant student learning at the same time.
This annual event enhances curriculum and the educational experiences for students through student projects that align with course learning objectives and also incorporate the themes from the keynote address.
On November 4, Mount Mary welcomed barrier-breaking businesswoman Linda Alvarado to campus. The courses represented in the student projects this year include dietetics, interior architecture and design, human resources in business, world languages, Spanish, studio art and fashion, and the event included displays that showcased the breadth and depth of these projects.
The dietetics students started off the day by creating a breakfast buffet specifically designed to combat stress. The menu included seven tested and modified recipes, and the students sourced, priced and prepped many of the ingredients themselves for the event. Among the menu were selections like the Midwest Bake and Morning Glory Muffins, rich in vitamins A, B, C, and D, which are beneficial because they assist in producing dopamine and serotonin and positively influence anxiety and academic performance, among other things.
Interior architecture and design students drafted activity and education centers for women, known as "Women's Houses," in Senegal, Africa to promote gender equity. They created spaces that will encourage local meetings to discuss equality and human rights through designs filled with symbolism and local traditions that are also ecological and sustainable.
Student Catherine Starosta describes the project as influencing her educational experience by showing the power of collaboration between the Women's Leadership Institute and Mount Mary.
"Such a fitting team; it would almost be silly if opportunities like this were not created!" Starosta said.
Students in the business department researched human resource topics such as the Americans with Disabilities Act, trailblazers who were the first in a specific career, and industry shifts that have broken barriers within the business field. They created infographics as a visual representation of the facts on topics such as how things have changed since the Civil Rights Act of 1964, why paid parental leave is important, and the use of social media in human resources.
The World Languages program students chose to write aspirational pieces for their class project. Those double-majoring in Spanish wrote essays about how they will break barriers with college degrees in a language that will support their goals to bridge the communication gap in their career.
The Leadership for Social Justice students put a spin on the required class text, "Great Peacemakers," and wrote chapters on some peacemakers of their own choosing, based on what the class learned about race, gender, class and intersectionality. Their entries included information about their peace leader, as well as 10-20 notable quotes in a format that mimics the text. 
Three-dimensional design students discussed the social impact of Alvarado's leadership. Students learned woodworking skills to create a series of three sculptures. In the process of research, students discussed equity and the importance of access to resources in our communities.
Fashion design students, inspired by the story of Ana Kraft, founder and CEO of the Milwaukee company  Xena Workwear, chose to research and design items for either tradeswomen or professional women. They researched the challenges women face when shopping for functional workwear. and went through the steps of the design process to develop one complete look and an outerwear piece that address at least three key issues for their target customers.