Powerful impact
Immersive programs for high schoolers provide powerful experiences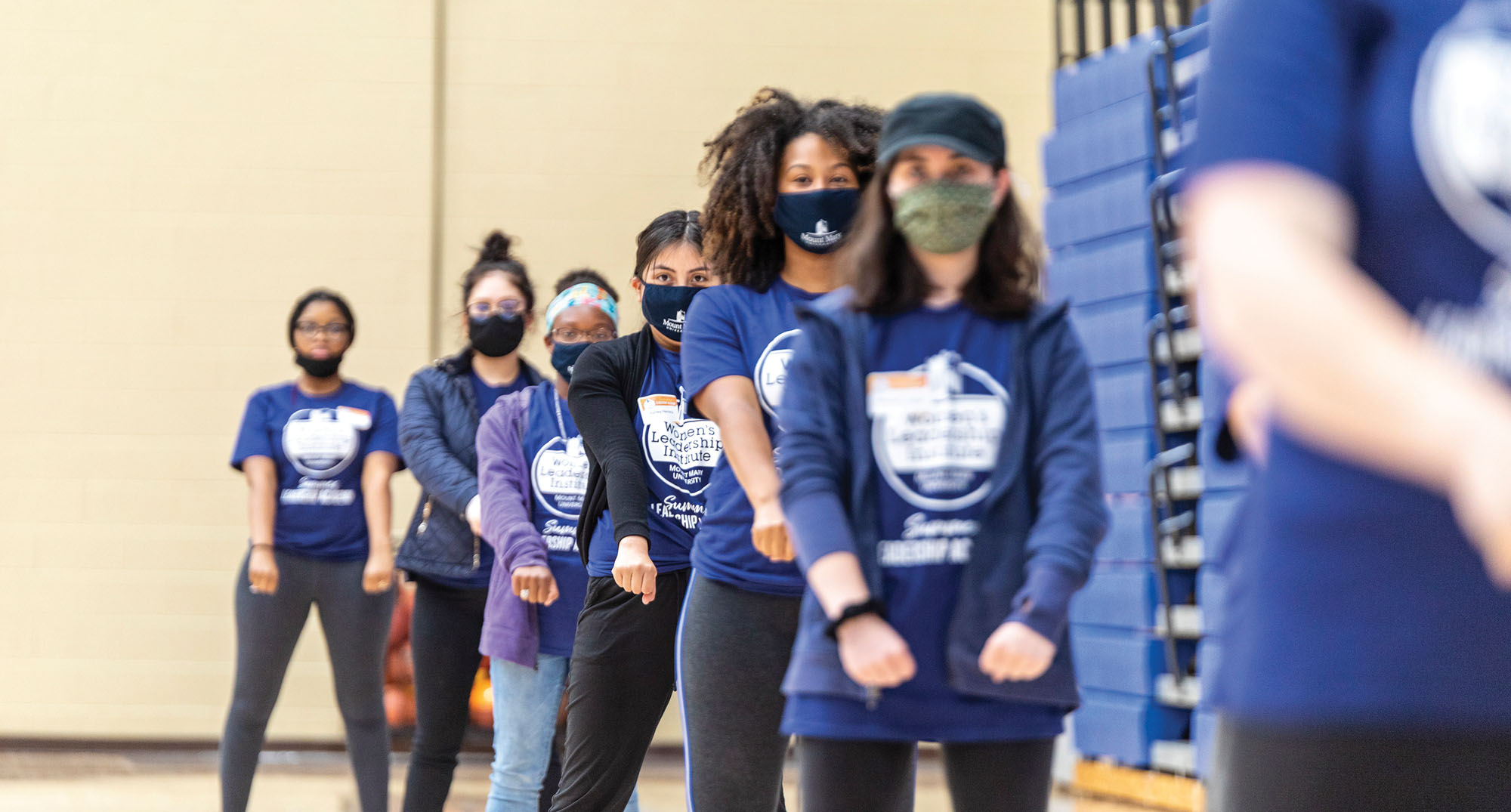 Posted on December 14, 2021
Without any knowledge of the college experience, young people might wonder whether a college degree is worth the time and expense.Others are firmly committed to college, and are interested in finding ways to get a head start.
Mount Mary believes that this investment certainly is worth it, and has recently implemented several creative offerings to demonstrate the value of a bachelor's degree to students and their families.
Through the university's new dual-credit offerings and expanded residential Summer Leadership Academy, high school students can get a jump-start on discovering their professional path and personal calling before committing to a college or declaring a major.
These experiences provide both preview of what's to come, and an early familiarity with the power of a Mount Mary education.
Students can earn college credit
This fall, Mount Mary is offering 10 dual-credit classes, which allow high school students the option to take college-level courses. These students earn credits that count toward both their high school degree and future bachelor's degree, and at the same time get a sneak peek at the university experience before having to make their college decision.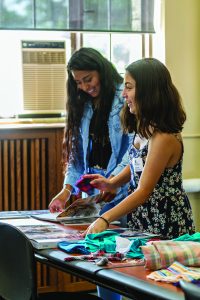 Knowing that there were opportunities for curriculum enhancements at the high school level that Mount Mary could help to fill, Karen Friedlen, vice president for academic affairs, and Dave Wegener, vice president for enrollment services, reached out to several area high schools. Some schools, such as the Elmbrook School District, were seeking opportunities to offer enhanced content and expertise within their fashion, interior design and food science career exploration strands.
Others, like Messmer High School, wanted to give students the benefit of earning credits toward both high school and college through their calculus and British literature classes, and Mount Mary is supporting these programs.
Mount Mary's resulting dual-credit enrollment program answers the unique needs of several high school partners, and exemplifies the university's strength at offering immersive career exploration opportunities for pre-college students.
All dual credit students on campus and off have access to Mount Mary student support services and academic resources.
Depending on the school's particular arrangement, students may discern which path best fits their interests, skill sets and personalities, and often times gain exposure to distinctive academic programs that are not offered at their high schools. In other instances, they earn college credit during high school that fills general education requirements accepted by most colleges and universities.
Students learn new subjects and more
Mount Mary's "Fashion Concepts and Careers" class is a great match for the program, as the course provides a broad overview of the fashion industry and is required for all Mount Mary first-year fashion students. Students learn about career options, key business vocabulary, and sustainability concerns.
Instructor Ashley Brooks felt confident from the start that the high schoolers would fit in well with their college peers and be able to manage the course load.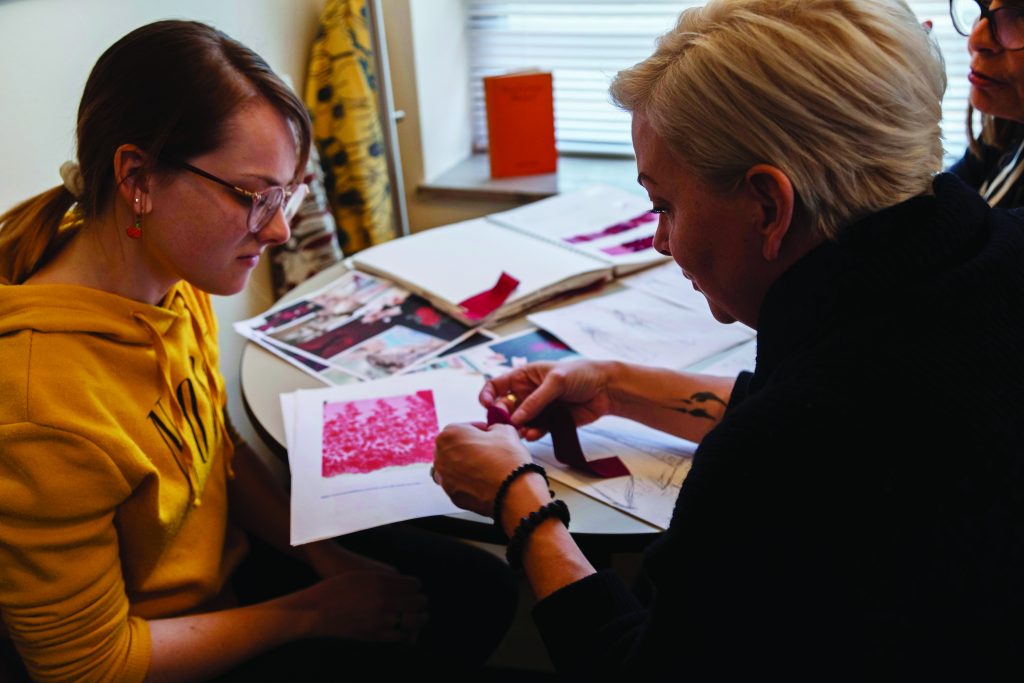 "Since it's a 100-level class, it's not tremendously difficult. Students just have to keep up and pace themselves in order to succeed," she said. "This class offers the high school students a great chance to practice the time management skills that are crucial at the university level."
Brooks reveals that her dual-credits students are often surprised by how many paths are available to them.
They tend to think their career options with a fashion major are just designer or buyer, but this class illustrates how many directions are actually possible. Building this foundational knowledge before formally enrolling in college is invaluable, and saves students money and time, as these classes are paid for by each student's school district.
Projects engage all
One of the most popular class projects involves researching fashion influencers from modern history, which media-savvy high schoolers and college students appreciate.
"We try to relate things in the industry to what high school and college students are already familiar with – and right now that's the Instagram influencer," Brooks said. "So I ask my students to research a 20th century influencer."
Students then create a visual presentation that details the era their fashion icon impacted, describes their signature look and reveals where their influence can still be seen today.
"It's important that they look to the past to understand fashion as well as being able to forecast future trends," Brooks said.
"Our dual-credit students are highly motivated and engaged in class," Brooks said. "They're great contributors; it's nice to have a mix of students in this class who are set on their future career goals and some who are still undecided. They all learn from one another and have the opportunity to understand that it's okay to have your mind set, and it's also okay to still be finding your path."
Summer program re-envisioned for 2022
To further fill the community need for early career exploration, Mount Mary will offer a re-imagined and expanded Summer Leadership Academy in June 2022.
This is an additional option for high school students who don't have the time to take a semester-long course or can't find a dual-credit class that meets their interests.
The Academy, presented annually by the Women's Leadership Institute, brings together girls from across the United States to develop personally and professionally into tomorrow's leaders.
Students attend programming on campus and stay overnight in the residence halls from Sunday, June 19 through Friday, June 24.
The 2022 Academy's creative new format offers leadership development activities in the morning and in-depth career exploration sessions in the afternoon. Students can choose from the track that best fits their interests—arts & design, humanities and business or STEM—and will learn from Mount Mary faculty about the exciting programs and pathways available within each area of study.
Program built on successful foundation
Past participants in the Academy have left the experience with deepened confidence and resilience, stronger networking skills and a greater ability to engage with and advocate for others from diverse backgrounds.
"The Summer Leadership Academy was right up my alley. I loved every minute of it and honestly it really made me feel closer to becoming someone who will be able to make those important decisions as to what I want to do," said 2021 participant Eva Billeb, who is now a sophomore at Hartford Union High School in Hartford, Wis.
Another compelling benefit for the 2022 Academy, thanks to its rigorous curriculum, is the ability to earn two college credits upon program completion.
Today's needs, tomorrow's students
Though students and parents are increasingly eager to get a realistic preview of potential professional pathways, Mount Mary is well equipped to meet this need and encouraged by the positive feedback from the students themselves. The university is proud to provide them with meaningful resources, clarity and reassurance.
"Our dual-credit courses and the Summer Leadership Academy allow students to have an outstanding experience on our campus and with our faculty, and to picture themselves attending Mount Mary in the future," said Vice President for Enrollment Services Dave Wegener.
"We continually strive to make each student's transition to college easier and more successful."

Vice President for Enrollment Services, Dave Wegener