A place for all
Mount Mary's inaugural vice president for diversity, equity and inclusion shares her vision of a welcoming environment for all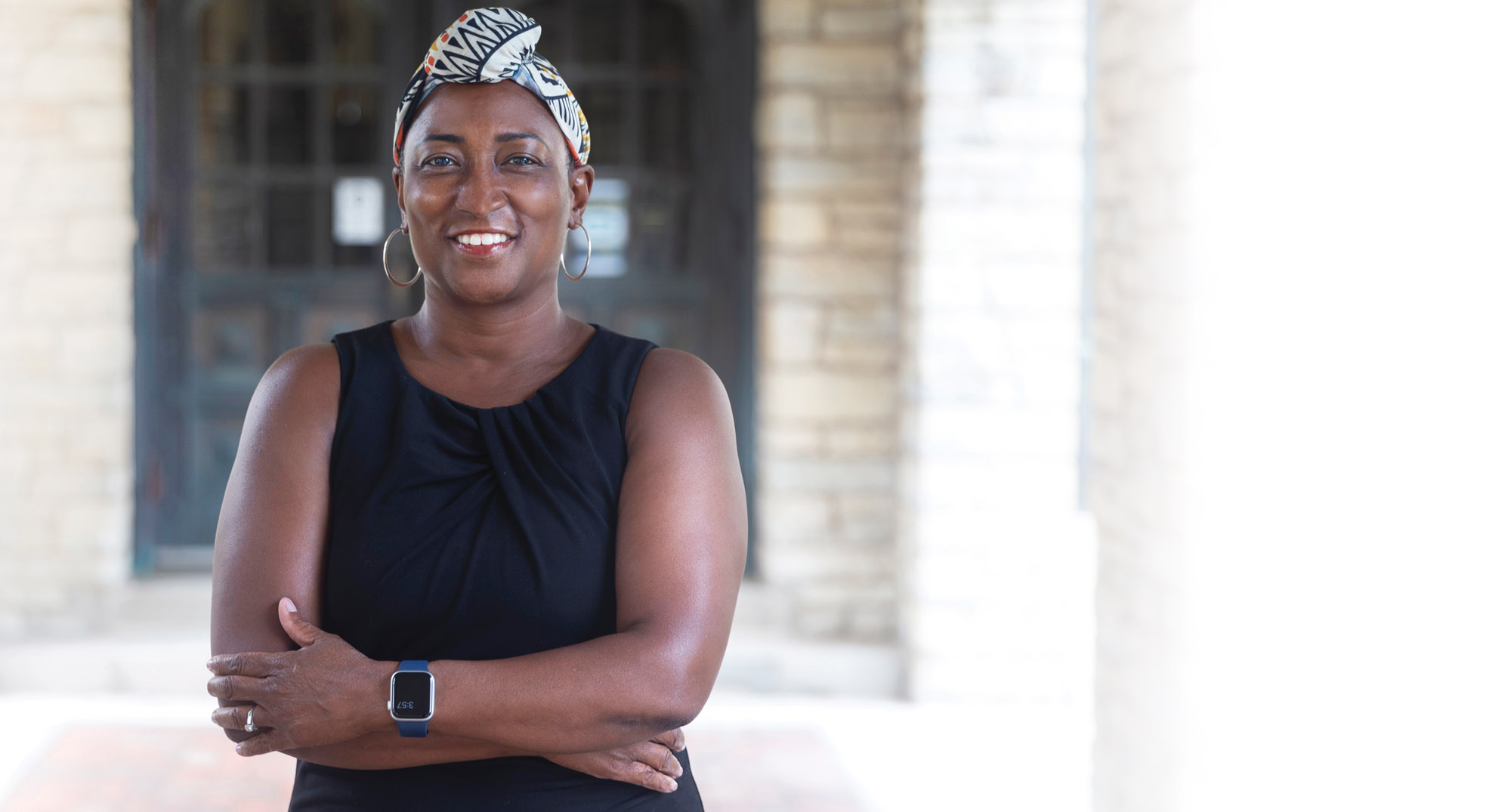 Posted on December 14, 2021
In every email that she sends, Julie Landry signs off with three simple words: You belong here. 
Landry established Mount Mary's first Office of Diversity, Equity and Inclusion shortly after she joined the campus community on June 1, 2021.
The creation of this office marks another milestone in both Mount Mary University's mission and strategic efforts, and Landry has moved with purpose in ways both great and small.
"Everyone has their own definition of 'inclusion' and that causes confusion," said Landry. "Inclusion is not initiatives that strive to make marginalized groups feel included or when marginalized groups assimilate. Assimilation is not inclusion."
Instead, she says, inclusion is a deep and enduring sense of belonging for all.
Creating a safe place
Landry has set the context for her work by sharing her broad view of inclusivity with campus during information sessions where she explains the idea of "living above the line," to take ownership of one's actions and create a culture of purpose and kindness. This concept, she said, serves as a means to integrate psychological safety across campus in all of our interpersonal and professional work relationships.
Living above the line is a practice Landry has adopted in her professional and personal relationships as a way of calling out an individual's potential for greatness. This will, in turn, inspire us all to show up as the best version of ourselves.
"It's about social justice, it's about kindness, it's about treating others as we want to be treated, and being Christ-like," said Landry. "These things should come naturally to our campus culture. Grace will take us to greatness."
Living above the line, she said, "is a call to action for our campus community to be empowered through ownership, accountability, and responsibility; the opposite of which is disempowerment  through blame, excuses, and denial."
Supporting our diverse community
Certainly, Mount Mary has demonstrated a deep commitment to supporting all women, a commitment that spans years and has resulted in a vibrant and diverse student population. According  to the most recent institutional numbers, 83% of Mount Mary undergraduate students are either first-generation, eligible for Pell grants (need-based federal financial aid), or a person of color;  21% of students fall under all three categories.
Since 2020, Mount Mary has achieved status as a Hispanic Serving Institution. It is one of two institutions in Wisconsin with this designation. In fall 2021, 31% of undergraduate students identify as Hispanic. This designation opens opportunities for federal funding based on our ability to serve diverse student populations. (See page 29 to read about $7.6 million in federal funding based upon this HSI status.)
Furthermore, U.S. News and World Report ranked Mount Mary number one in the Midwest for social mobility, which measures the success rate of graduating Pell students based upon six-year graduation rates, and rated it among the top schools in both economic and ethnic diversity.
While these student numbers demonstrate great commitment, they only tell part of the story. Mount Mary's creation of the DEI office will coordinate and institutionalize the strategic efforts necessary to support a diverse community.
Bringing campus together
Initiatives to support students and build an environment of equity abound across campus, and campus leaders say that having a DEI office provides a greater sense of direction and purpose.
Some of Mount Mary's signature programs, such as the Grace Scholars Program and Promise Program, operate with the direct goal of providing students with academic, personal and financial support. Interdepartmental groups, such as the Latinx Task Force, come together to examine the enrollment process with an eye toward equity.
"I take ownership of DEI strategy, but also collaborate with the directors in Enrollment Services by ensuring our recruitment practices are culturally, socioeconomically and linguistically inclusive," said Gabriela Barbosa, director of visitor services and a leader of the Latinx Task Force.
Additionally, operational departments are purposefully putting strategies in place to increase DEI practices. Human resources has new measures to actively recruit diverse candidates, and new purchasing practices across campus encourage the support of relationships with Minority and Women Owned Businesses (MWBEs).
"The idea of 'living above the line' brings forth the humanity in the work that we do," said April Forray, senior director of human resources. "I lead with the intention of creating fair policy so that all community members can thrive."
Building true engagement
In order to create an environment that is truly supportive of all, people must engage with one another in the spirit of positive intent, take responsibility for actions and words, and hold one another accountable to high standards of conduct.
"Successes of living above the line model makes courageous conversations much easier," said Landry.
Building this culture of inclusivity rests upon every member of the campus, and this awareness resonates around campus.
"In order to feel included, it is important to know that you belong and that you matter, based on how you experience the environment and your interactions with others," said Andrea Greer, director of the Grace Scholars Program.
By drawing upon the foundation of the School Sisters of Notre Dame and the experiences of Mount Mary's diverse community, Mount Mary will become an even more caring place.
"I feel most safe when I'm with Black, Indigenous People of Color (BIPOC) folks and the LGBTQ+ community," said Barbosa. "I especially feel this with fellow women of color who naturally understand the pressures and struggles that come with intersectionality.
"I also feel safe when I'm in spaces that visually signal inclusion in some way. I look for both subtle and explicit indicators that diverse folks are welcome and can bring their authentic selves to that space," Barbosa said.
Barbosa said she supports DEI efforts that continue to grow Mount Mary into a place "where students and employees can be celebrated and bring their authentic selves, regardless of socioeconomic background, religion, age, sexual orientation, gender identity, neurodiversity and cultural background."
Landry has set her vision for Mount Mary, to become the most sought-after university for Latinx and BIPOC students in southeastern Wisconsin.
Leadership through action
In this new role at Mount Mary University, Landry serves as a member of the president's council and the campus leadership team.
Previously, Landry has worked with some of the largest public sector employers in Wisconsin. She holds a bachelor's degree in English and a license in elementary education. She holds a master's of science in administrative leadership, and has over 20 years of human resource cabinet-level leadership.
Landry oversees Mount Mary's Diversity, Equity and Inclusion Council, and has restructured the group's focus to align with her objective of building psychological and emotional safety for all. She also leads monthly campus "huddles," or short meetings for all employees to hear updates directly from the leadership team.
She teaches a certificate course in DEI practices in Mount Mary's newly restructured MBA program (See the inside cover of this magazine for details.) And she makes sure to find time for thoughtful outreach to students, in the form of welcome treats during the first week of school and organized activities for Hispanic Heritage Month.
"I would do anything for this organization because I am committed and feel a connection here, and being here makes me feel like I'm making a positive contribution."
Faith will lead the way
The act of embracing diversity also involves uniting around our commonality.
Faith, Landry believes, is a primary source of strength and it should set the cultural tone of standard for our campus.
"This is a Catholic campus with strong faith traditions, but we recognize and appreciate the commonalities that all faiths bring to campus," Landry said. "We must acknowledge the School Sisters of Notre Dame as an foundational asset and a strength to create the culture we want to have," she said. "This is our opportunity."
It is through community and through faith that we lift one another up and realize our goal; it is the one Landry sends with each email that she writes, that every person belongs in this place.
"Every voice matters," said Landry.