Margaret leads the way
Tourguide uses many platforms to engage with new students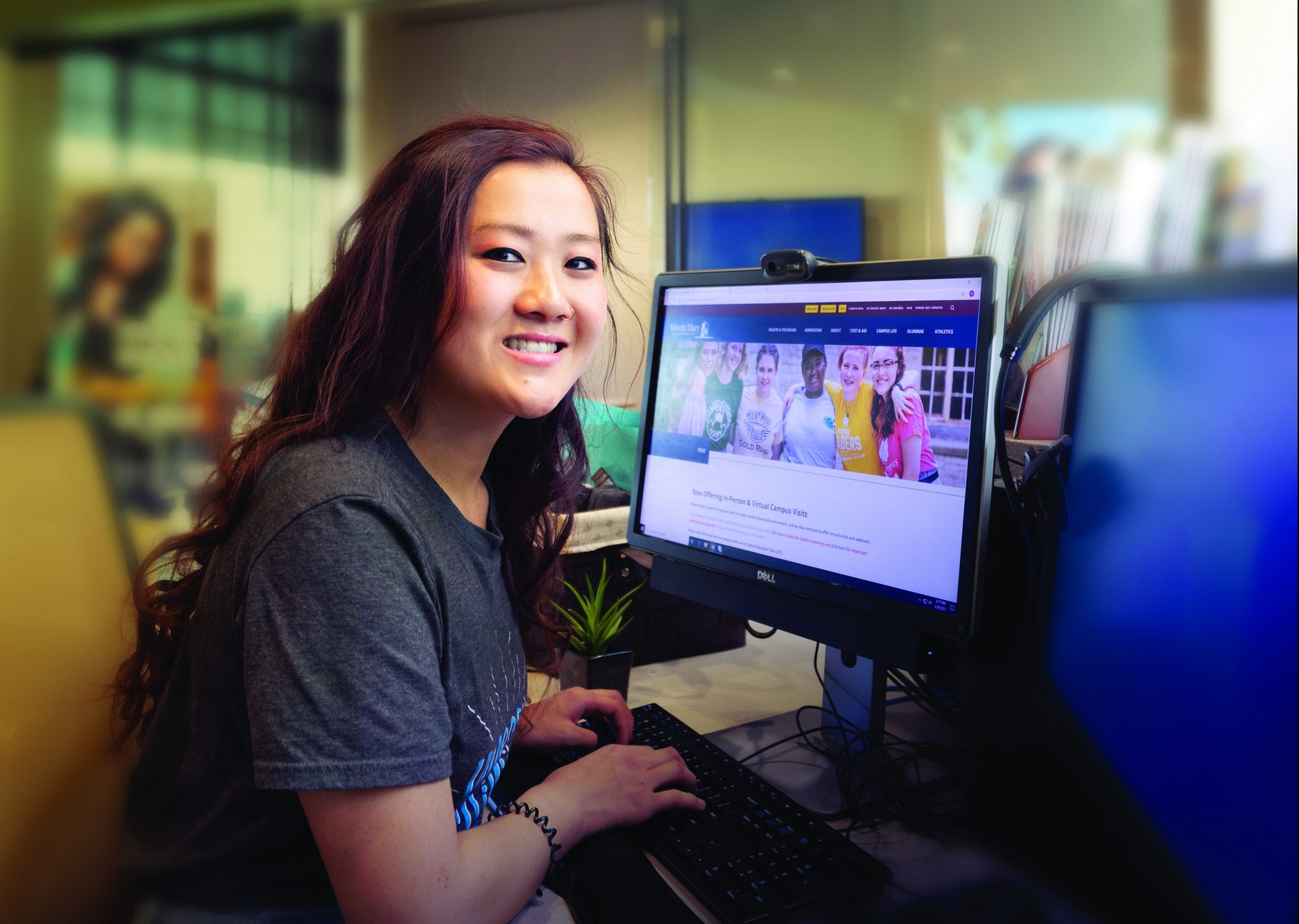 Margaret Dishaw is virtually everywhere, making new students
feel welcome, whether they're on a campus tour or building a network
of friends online.
Dishaw is one of the friendly faces in the campus Welcome Center, and on virtual tours, videos, webinars and ZeeMee, a new social networking platform for incoming students to get to know others before coming to campus.
As a student ambassador and tour guide for all four years of college, Dishaw is quite experienced at helping prospective students feel at home from the moment they step on campus;
"I've probably done hundreds of walking tours of campus so far,"
she said. While the pandemic closed campus last spring and created some challenges in conveying Mount Mary's friendly and close-knit environment firsthand, Dishaw's new roles reflect the creative thinking and resourcefulness the admissions team has put forth in building connections.
Even though Mount Mary has been able to safely re-open for on-campus visits, many new virtual options give students who live far away or those who aren't yet ready to visit campus several more opportunities to explore the university.
Dishaw has helped coordinate over 60 informational webinars this
school year alone, so prospective students can learn about specific academic programs, financial aid and affordability and student life,
all from the comfort of home.
Dishaw also helped pilot a new live virtual tour option last November, so that students can check out campus in real time from wherever they are located. She conducts live virtual tours throughout the week, allowing participants to join her online to check out campus and ask questions.
Once her work in the Welcome Center is done for the day, Dishaw heads back to the dorm, where she works as a senior resident assistant (RA), helping other RAs with scheduling and creating fun and engaging programming. It's not unusual for these residents to have first met Dishaw on their first campus tour.
As a food science major, Dishaw spends much of her school time in science labs, and some of her programming for residents reflects her love of science – weekly viewing parties for Grey's Anatomy, and a DIY event where participants learned to make their own Dippin' Dots.
"I had to ask food service to provide me with ice cream that was already melted," she said. "They thought that was a really odd request!"
Her work in the admissions department has opened her eyes to another career, in higher education administration. "I've worked in higher education for 40 years, and Margaret is one of the best students I have ever worked with," said Undergraduate Admissions Director Jim Wiseman. "Her ability to connect with prospective students and their families is fantastic."
"My roles on campus have made me realize how much I enjoy working with students and this specific age group," said Dishaw. "I love being a resource and mentor."
During a year that has brought stress and turmoil to many, Dishaw finds ways to bring the Mount Mary spirit to others. For her social posts on ZeeMee, she's led dance breaks in the Welcome Center and mini workouts, too.
"I love being part of each student's journey as they explore schools. The best part is seeing their excitement when you tell them something about Mount Mary that piques their interest."