Science
Leaders at heart
New nursing program focused on mission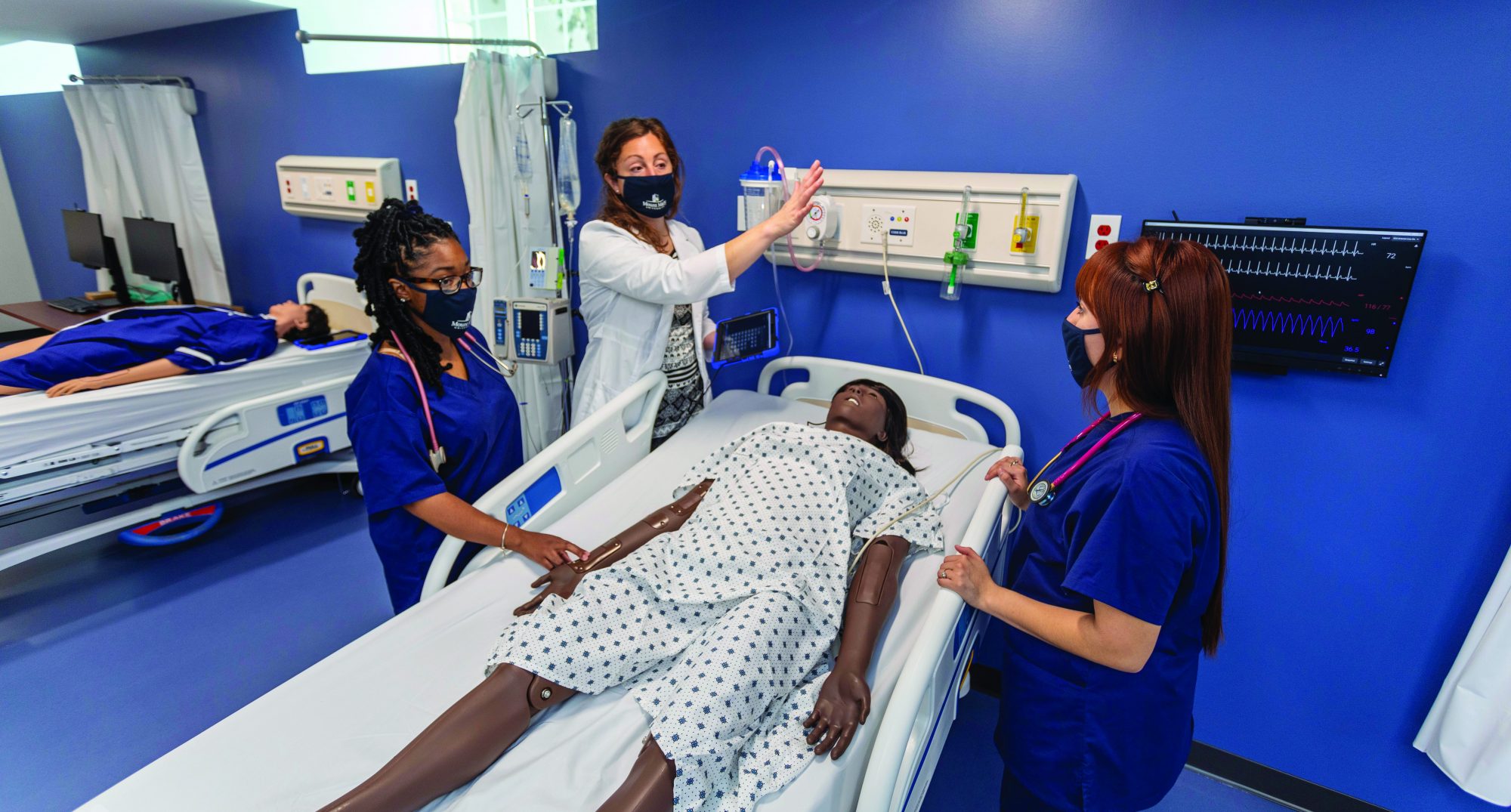 In fall, Mount Mary will open the doors to a new four-year BSN program designed to fill an important niche in the community: To create nurse leaders who will further equitable health care for all.
The new BSN program is a traditional, rigorous program that meets the state's requirements for licensure. However, Mount Mary's mission-centered curriculum is uniquely prepared to train nurses who:
Address health disparities within the population as advocates for health care equity.
Work effectively with other health care providers within complex health care environments.
"We know that health disparities exist in our community and know that we need nurses who are ready to address these disparities and advocate for the change needed to take the very best care, not just for their individual patients, but for the broader community in general," said Chief Nurse Administrator Kara Groom, Ph.D.
These differentiators are reflected in the curriculum and are evident in the design of the physical space, which will promote reflective and rich learning.
Students learn care through compassion for all
To prepare nurses for this challenge, the first year of studies will include the Leadership for Social Justice seminar course, science courses and liberal arts core curriculum classes.
This lays the foundation for an understanding of the human body – and for the complexities of our world.
"Mount Mary's new nursing program has the distinction of a mission-focused curriculum that encourages leadership, integrity and a deep sense of social justice," said Karen Friedlen, Ph.D., Vice President for Academic Affairs.
Collaborative space ensures collaboration
Nursing coursework will take place in the new, state-of-the-art 6,500 square-foot Health Sciences Center, Nursing Skills Lab and Interprofessional Simulation Lab located in the lower level of Caroline Hall. Construction began last fall, and the labs and classrooms will be fully functional and ready to welcome students in August.
The center will include spaces such as a CPR training facility, high-tech conference rooms and a simulation lab modeled after a real hospital space with high-fidelity, interactive mannequins. The facility has been designed to create an immersive, hands-on learning environment between students and faculty from various fields of health care.
Students across multiple health disciplines, including occupational therapy and dietetics, will also utilize the space, fostering a sense of collaboration around the common goal of providing exceptional healing and care for patients.
"Research has shown that a high-quality learning experience includes more than just time in a simulation lab taking care of patients," said Groom. "An effective learning experience also includes the preparation and debrief after a simulated experience. That's where the reflective learning takes place when we think about simulation activities."
Partnering with the community
Mount Mary has a history of nationally-recognized programs in the health sciences, enabling pre-existing clinical partnerships to expand to the new nursing program.
Clinical rotations take place at partner facilities located in greater Milwaukee and southeast Wisconsin. Students will have clinical training at a variety of institutions including Children's Hospital of Wisconsin; Froedtert; Advocate Aurora; Ascension; ProHealth Care; Milwaukee Catholic Home; and Clement Manor.
Trinity Woods, the new intergenerational housing community for students who are single mothers and their children, the School Sisters of Notre Dame, and seniors from the community, will also create additional learning opportunities.
Nursing options at Mount Mary
Mount Mary will continue to offer the Nursing 1-2-1 and the RN to BSN completion programs alongside this new four-year on-campus BSN.
The Nursing 1-2-1 program is offered in partnership with Milwaukee Area Technical College and Waukesha County Technical College. Students enrolled in the 1-2-1 program take their first year of courses on the Mount Mary campus, followed by two years at a partner institution and their fourth year fully online. Students obtain an Associate Degree in Nursing (ADN), licensure as a Registered Nurse, and a Bachelor of Science in Nursing degree (BSN), all within four years.
This 1-2-1 program is an ideal option for students who want to have a fast pace and streamlined way to both enter the workforce in as little as three years and be on target for their bachelor's degree in four years.
The Nursing 1-2-1 continues to thrive, with a planned enrollment of 30 students.
The RN to BSN program is offered fully online for working nurses with an associate degree who want to obtain a bachelor's degree.
"Each student is unique and needs to find the program that is the best fit for them. We are pleased to offer these distinct pathways so that students can become successful nurses who serve our community," Groom said.
Program design meets the needs of students
Mount Mary will welcome the first class of students into the new, four-year nursing program on campus in fall 2021. Since announcing the program last October, 108 prospective students have applied, over four times the amount of students needed to reach the enrollment goal.
The accredited, 120-hour program is a traditional nursing program and offers direct admission. Students do not have to enter as a pre-nursing student to later compete for a limited number of spaces their junior year, as is often the case at larger institutions. This creates a positive learning environment as well as the ability to graduate on time.
Mount Mary is also dedicated to addressing the diversity in nursing. As the most diverse higher education institution in the area, 60% of undergraduate students identify as persons of color.
"We know the diversity in nursing does not reflect the diversity in our community and we have a mission here at Mount Mary to increase the diversity of the nursing workforce," Groom said.