Celebrating an era of leadership
Board of Trustees Chair Cathy Buck reflects upon years of growth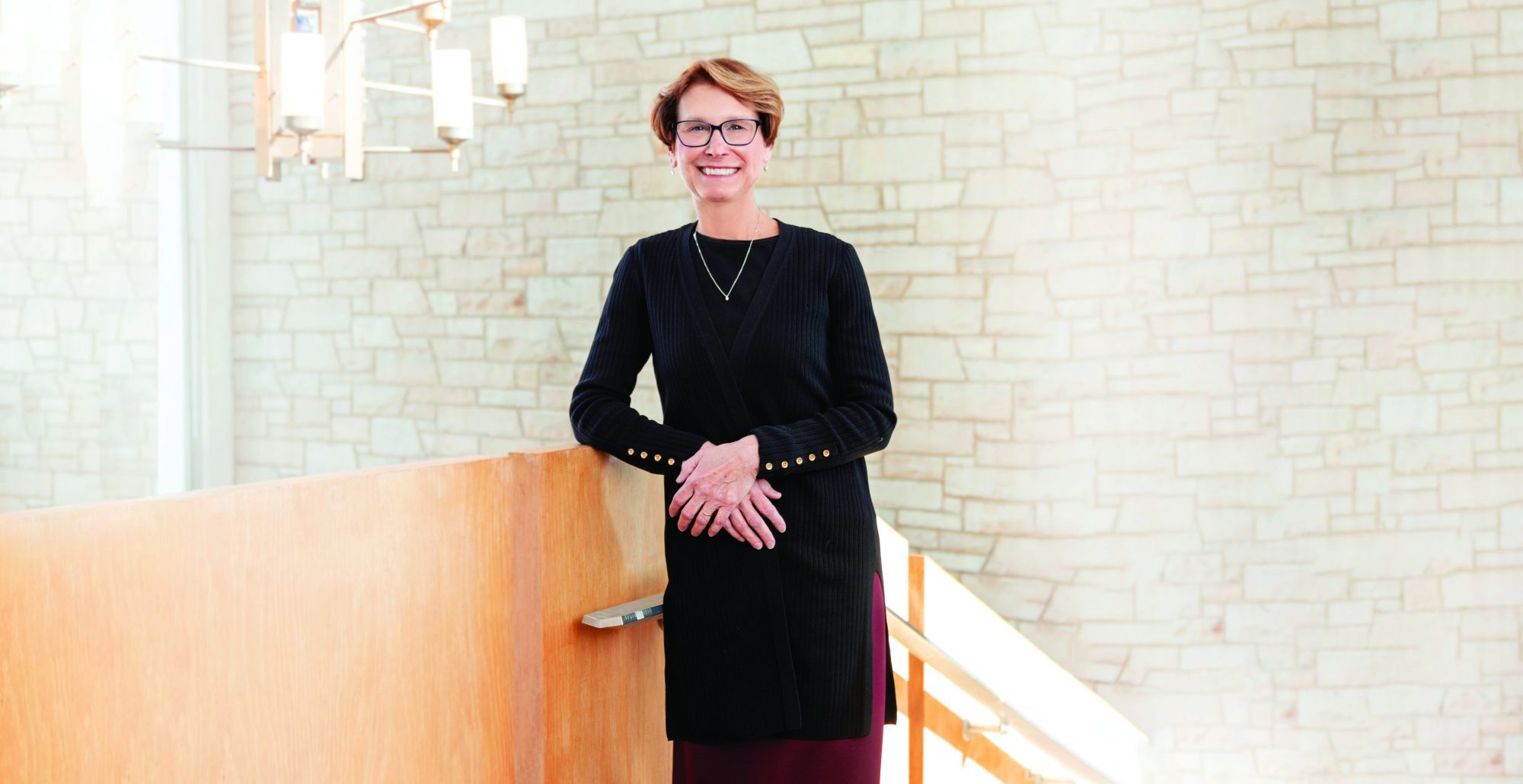 Although she's never studied or worked here, Cathy Buck possesses a powerful understanding of what binds her to Mount Mary, personally and professionally.
Buck joined the Mount Mary Board of Trustees in 2011, approximately the same time that she became president of Froedtert Hospital, an academic medical center affiliated with the Medical College of Wisconsin. She was keenly aware that her hospital and Mount Mary shared the goal of building the diverse workforce of tomorrow, particularly in health care professions predominantly held by women.
She was herself an example of how a woman could rise through the ranks, having begun her career as a staff nurse in the transplant floor of what was County Hospital at the time. Through the years she became a manager, vice president of nursing and chief operating officer.
Shortly after Buck joined the board, Eileen Schwalbach, president of Mount Mary at the time, started a nursing task force to explore the idea of a nursing degree at Mount Mary.
Mount Mary's Bachelor of Science in Nursing on-campus program opens this fall.
"These plans evolved over time to grow the program thoughtfully, slowly and steadily," she said.
This accomplishment coincides with Buck's departure from the board, as trustees are limited to three three-year terms. She steps down from her years of service in June.
Last summer, Buck retired from Froedtert, after serving nine years as president.
While nursing is an obvious connection, Buck's first involvement with Mount Mary began a number of years earlier, when another community supporter, Geneva Johnson, invited Buck to join the Women's Leadership Institute. Here, Buck said her awareness and understanding of the value of all types of diversity grew tremendously.
She brought this deepened understanding into her role on the board.
"As the country struggles with issues of anti-racism, MMU has been ahead of the game," Buck said. "As the Board of Trustees chair, I support an anti- racism agenda."
She and the board have worked to set goals to diversify the board as well as the faculty. During the 2020-21 academic year, two diverse professionals joined the board and for 2021-22 there are more diverse individuals under consideration.
This has been a significant intentional initiative under Buck's board leadership.
"Such goals will be easier for MMU than for many institutions to achieve, because the foundation has been laid by the SSNDs, and the mission of Mount Mary has been active for a very long time."
This mission resonates with Buck, who attended the all-girls Immaculata High School operated by the Sisters of the Blessed Virgin Mary on the north side of Chicago. Because of the strong imprint of the School Sisters of Notre Dame, Mount Mary is "engineered to be a different experience than anyplace else," she said.
"We have an awareness that we, as women, can do just about anything," she said." It is an incredible advantage being educated in this way in this day and age."
During retirement, Buck had planned an active agenda of volunteering extensively. And while she is still able to log in 30-40 miles of running each week and spend time reading, she's honed her focus and spent more time devoted to leadership at Mount Mary.
"I've had more time than ever to read and understand what is happening in the world," she said. "In my desire to contribute and to make the world a better place, Mount Mary has taken that place for me."
Soon, her focus will change again. The mother of four adult sons, she has become a grandmother three times over in March. She will assist with child care for her grandchildren a few days a week, caring for the next generation in a different way than before.
Meanwhile, Mount Mary will carry forth with the vision that Buck – for so many years and in so many ways – helped set into place.