Then and Now: Take a virtual stroll across campus, no matter where you are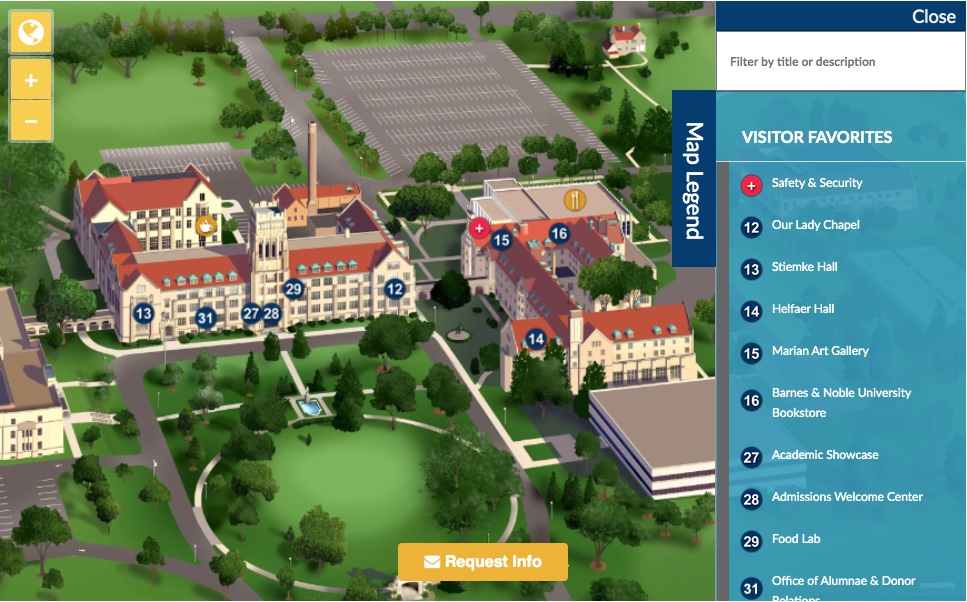 Posted on November 20, 2020
Would you love to revisit campus today? You can see your old haunts and check out our new spaces using our new virtual campus map. The project was completed earlier this spring due to the pandemic, when alumnae, prospective students and visitors weren't able to come to campus in-person.
Now, it's possible to "visit" the Mount Mary campus from anywhere in the world.
The online map is full of interactive content including images, videos, written descriptions and fun historical facts on many stops across campus. Visitors can easily search for a specific location to quickly find what they are looking for. Tour stops are categorized by interests such as student life, dining and athletics, and are narrated by current student guides who work in the Welcome Center.
Not only is it a great way for prospective students to get an overview of campus before they tour Mount Mary in person, it's a fun way for alumnae to see how campus has changed over the years and explore new spaces.
Catherine Loeser '68, found the new map to be both interesting and helpful, noting several impressive changes on campus such as the bookstore, Marian Gallery and Admissions Welcome Center. She also enjoyed the opportunity to virtually visit new additions to campus such as the food lab, which opened in 2017. This state-of-the-art, interactive learning space is used by various disciplines including food science, dietetics and occupational therapy.
"I'm glad for the new food lab; it is wonderful for the students to have such a great opportunity," she said.
Soon to be added to campus is the new 6,500 square-foot Health Sciences Center as part of the new BSN program at Mount Mary. The Health Sciences Center will be located in the lower level of Caroline Hall where the old lockers, pool, and storage area were. The Caroline gym will remain as-is.
"I am excited about the new nursing classrooms," Loeser said. "This is great for MMU. It will be a wonderful program for future nurses."
Explore the map and visit Mount Mary anytime, anywhere at mtmary.edu/map.