Our quest for equity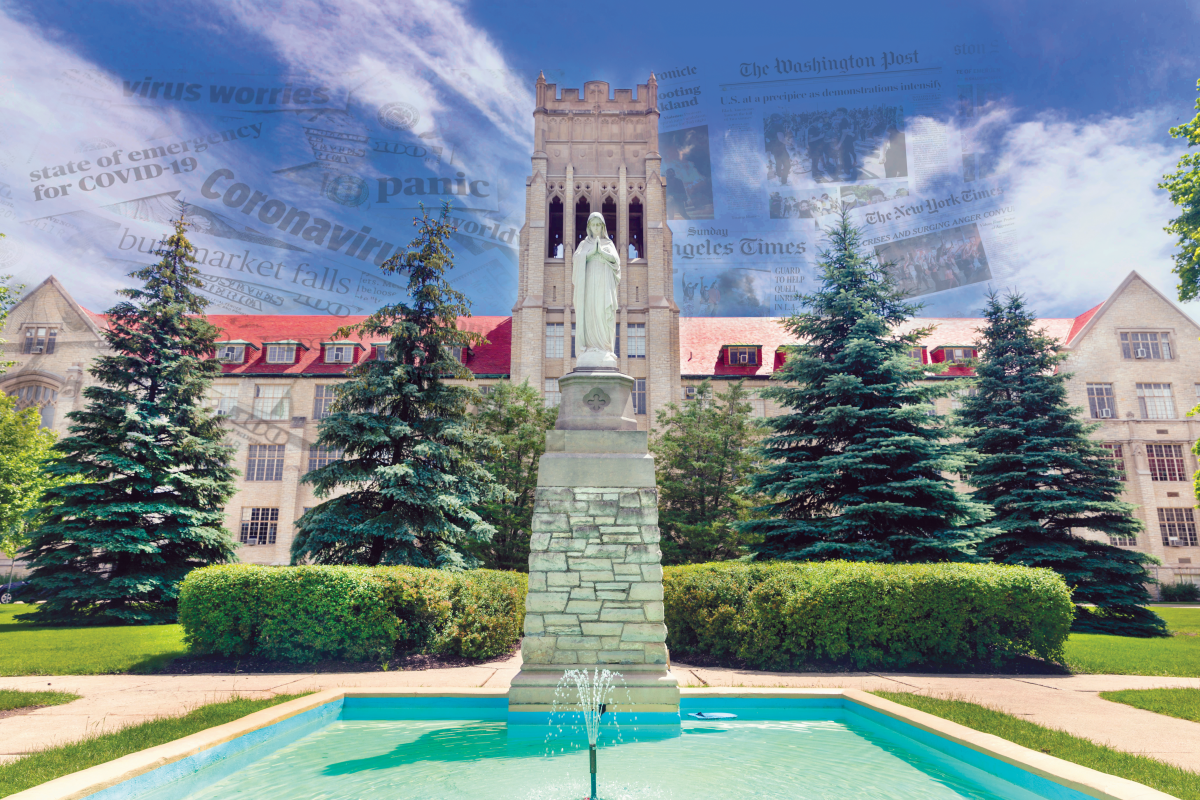 Posted on November 20, 2020
In times of hardship and uncertainty, it's invaluable to have a cornerstone to revisit, both as a source of strength and as a vision for the future. As racial inequality, social injustice and the oppression of marginalized communities continue to occur across the nation, we return to our foundation.
Now more than ever, our core values of competence, community, compassion and commitment have been the guideposts in remaining true to our mission and relevant in an ever-changing world.
These values enable us to foster a learning environment that welcomes and celebrates students from diverse backgrounds. Today, 58 percent of our undergraduate students identify themselves as ethnically diverse. This spring, Mount Mary became a designated Hispanic Serving Institution, a classification by the U.S. Department of Education based upon an institution's ability to enroll and serve at least 25% Latinx undergraduate students.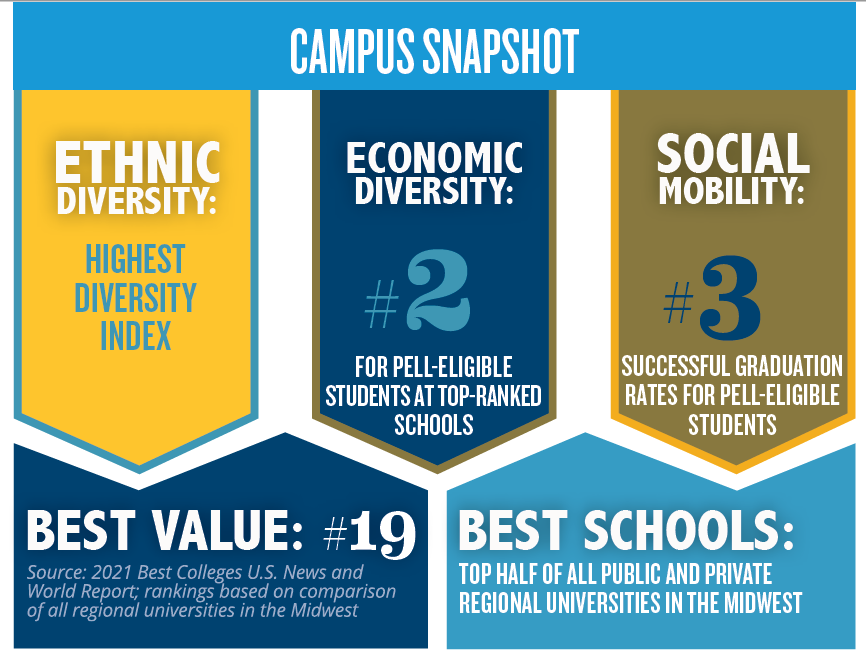 Using our values as a lens, we highlight areas of progress of we've made in the areas of diversity, equity and inclusion and share our vision for the future.
COMPETENCE: STAYING INFORMED
Effective change requires a certain level of knowledge about social issues. Knowledge then becomes the bridge to empathy, understanding and ultimately, justice.
Students are introduced to these concepts in the Leadership for Social Justice Seminar (LSJ), a course that first-time undergraduate students are required to take during their first year. LSJ reviews issues of oppression and privilege, spanning across sexism, racism, classism, religious oppression, heterosexism, trans oppression, as well as youth and elder oppression. Students learn about the intersectionality of issues and analyze the viability of proposed solutions.
In the employee realm, faculty members receive ongoing education and training on inclusive and equitable teaching, covering topics such as microaggressions in curriculums to equitable test-taking practices.
Inclusive Excellence Curriculum Specialist, Aza Baylor, Ph.D., guides faculty through trainings to learn about the social and historical context of exclusionary practices in higher education in the U.S. Her work is funded through a grant from the Howard Hughes Medical Institute. This grant also funds ongoing professional development programming. Past discussions have included Milwaukee's civil rights history, the historical and sociopolitical context of Latinx Milwaukee, and the health disparities affecting LGBTQ youth and young adults.
An important contributor to community knowledge is the Haggerty Library. In response to racial injustices, the library staff recently compiled and continues to curate a list of antiracist resources. Library staff members are also committed to updating collections to be more inclusive, and the staff works closely with faculty to inform them of diverse options that can supplement their curricula.
"While MMU is making headway on issues of diversity, equity and inclusion, we would do well to continue our efforts as lifelong learners," said Jason Meyler, Ph.D., an associate professor and chair of the World Languages Department. "The fact that there is much more to do with our time on earth should not impede us from working harder right now."
COMMUNITY: WELCOMING ALL
A sense of community and connection is as important as ever during these times that may leave us feeling isolated and alone.
Shortly after the death of George Floyd, the Mount Mary community came together to hold a peace vigil for change, equity and justice. Over 70 individuals from all parts of campus gathered to advocate for change.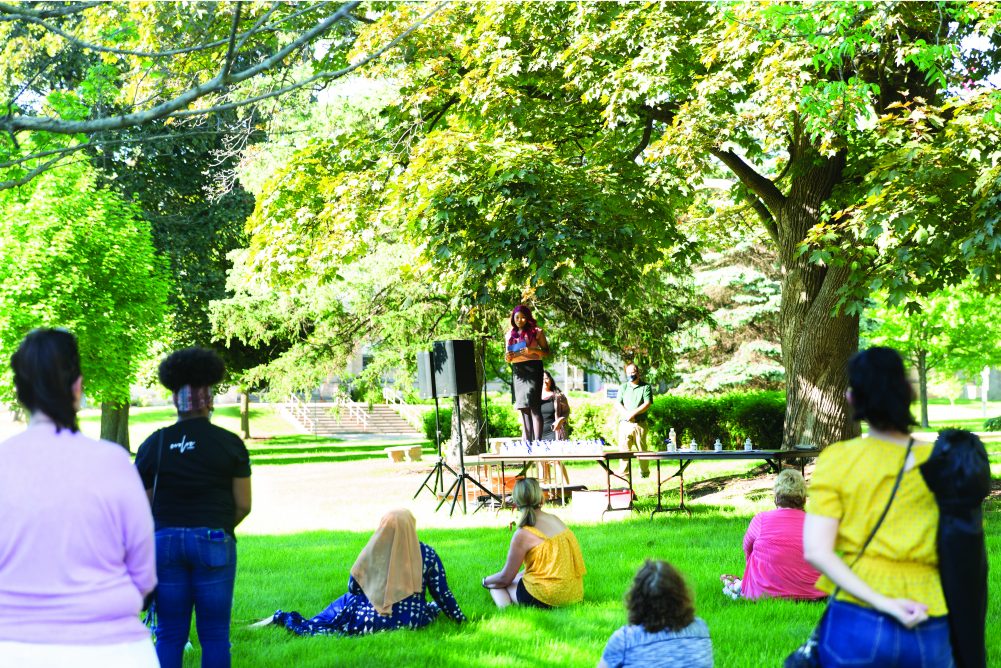 Another response to the increased visibility of social and racial injustices this year is the development of reoccurring, campus-wide internal discussions. Community members have also created their own discussion groups and book clubs.
President Christine Pharr, Ph.D., also held a listening session with student leaders from Spectrum (LGBTQIA+), Black Student Union, Hispanic Professionals of Greater Milwaukee (HPGM), Asian Student Organization and Students Achieving Leadership through Spanish Activities (SALSA). All discussions are held with the desire to learn how best to serve one another.
These acts of community are aligned with efforts by the School Sisters of Notre Dame, who have taken corporate stances on social justice issues such as immigration reform, racial bias, systemic racism and peacemaking.
Reaching out and finding connection in times like this is critical.
"Find somebody you are comfortable with to have a continual conversation," said Kathy Boyle, Ph.D., assistant professor in the biology department. "This cannot be one-and-done. It's okay to say the wrong thing – you need to keep trying."
Recognizing the needs of our community, we seek to create safe, inclusive spaces for healing and reflection.
To that end, Christ King Chapel, located in the lower level of Notre Dame Hall, was redesigned earlier this year as a shared interfaith space called Place of Peace. The new space offers stations for reflection, meditation and private prayer.
"It's not in spite of our Catholic identity that we have an interfaith center, it's because of our identity that we created a space for every student to explore their relationship with God, seek silence and promote peace," said Campus Ministry Director Katie Coffey.
Our Lady Chapel, on the second floor of Notre Dame Hall, remains a Catholic chapel.
Additionally, a religious observance policy will be added to all syllabi in spring, outlining provisions that respect religious practices for students.
COMPASSION: SERVING ONE ANOTHER
Service and social justice are interwoven into the Mount Mary mission and identity.
From the Caroline Scholars, who are required to complete 300 hours of service learning each year, to the many service-oriented clubs and organizations on campus, our students recognize the need to serve.
One of the many Mount Mary student organizations dedicated to service is Bold MKE. Bold MKE puts the four values into action by focusing programming around two values each semester. Past events have included dinners with the SSNDs. Participants viewed documentaries on social issues together and discussed ways they can effect change.
"One of the reasons why I started Bold MKE is to allow students to make a change, both in ourselves and in the community," said Bold MKE founder and biology health sciences major Jaqueline Reyes.
COMMITMENT: ENVISIONING THE FUTURE
Mount Mary's strategic plan spells out our commitment to creating a thriving university community in which learning, living and working together brings forth the greatest potential for all. We recognize the progress that has been made on campus and acknowledge the work that still needs to be done.
Earlier this year, Mount Mary University pledged to advance diversity and inclusion on campus in partnership with CEO Action for Diversity & Inclusion™. Diverse hiring practices are one way to help us to fulfill this goal. All advertised positions are posted on at least one job board that is focused on the recruitment of diverse populations in higher education. All interviewees receive at least one question related to diversity, equity and inclusion to assess if candidates are a good fit with the mission and goals of the university.
The Diversity, Equity and Inclusion Council, chaired by Aza Baylor, is collaborating with every department on campus to set goals that support diversity, equity and inclusion. By doing so, DEI will be interwoven into every aspect of the university. The Council works closely with University leadership in support of creating a positive, inclusive campus community for all.
"Diversity, equity, and inclusion is the work of every individual on this campus," Baylor said. "In the spirit of the South African concept of Ubuntu, I am who I am because of who we all are.
"Ubuntu reminds us that we are all connected and should always aim to respect, trust and care for those in our community."