Leading Lady: Anne Kahl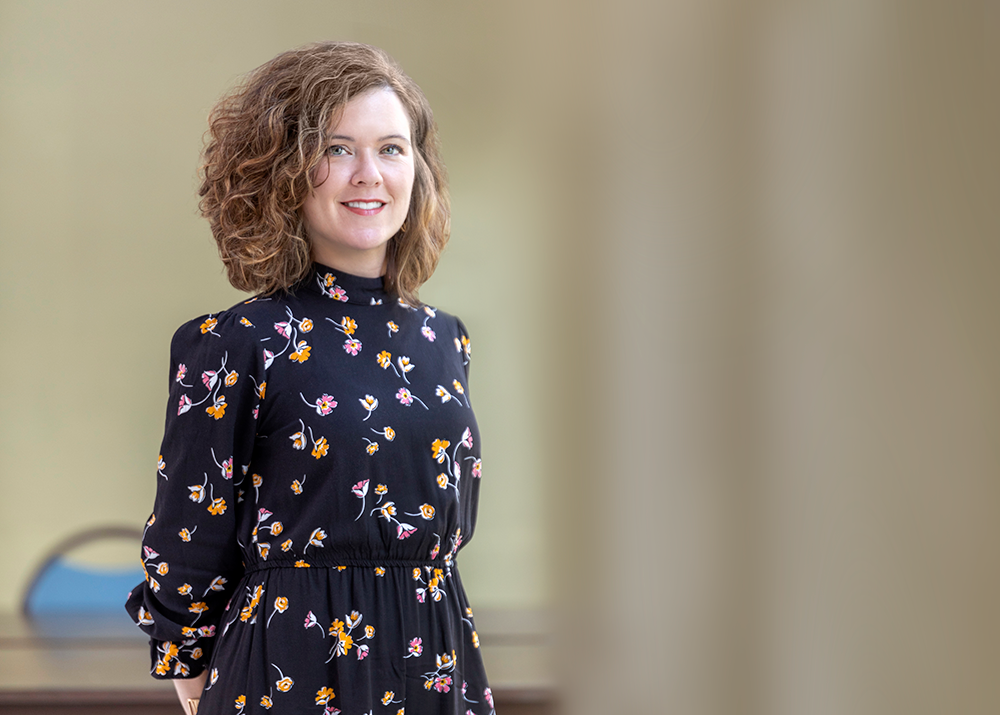 Posted on November 20, 2020
Mount Mary's vision is to educate students to transform the world in partnership with local, national and global organizations. And Anne Kahl, executive director of the Leadership Institute and corporate partnerships, plays an important role in fulfilling that vision.
Kahl joined Mount Mary seven years ago as the director of corporate & foundation relations, and her primary focus was relationship development with foundations and corporations for fundraising purposes. Today, corporate relations has expanded to include connecting Mount Mary's academic programs with business industry experts and other learning opportunities for students, such as internships, research projects and mentorships.
These ongoing partnerships, which continue to grow thanks to Kahl's leadership and expertise, create unique opportunities for students to gain hands-on experience with the changing market and better equip them with the skills they need to succeed in their chosen fields after graduation.
"Business professionals are working in the field on a daily basis and in tune with the latest trends. Allowing businesses to inform the curriculum helps us educate our students in ways that are most relevant to industry," Kahl said.
Kahl also oversees the Women's Leadership Institute (WLI), which offers activities, resources and programming for leaders of all ages and backgrounds. Keystone events include the community Voices of Leadership (VOL) event, the Summer Leadership Academy for highschool girls, and the Visiting Fellows Program (VFP) in partnership with the Council of Independent Colleges.
The themes of the WLI programming are integrated into many curriuculums, and Kahl works with faculty and staff to bring WLI into the classroom. She also orchestrates the student-facing WLI events, which often include several days of networking with the guest speakers and industry experts featured at VOL and VFP.
A key trait of a great leader is the ability to be flexible and change when needed, and Kahl had to quickly restructure this year's WLI programming from in-person to virtual in the midst of COVID-19. The events were still engaging and successful, based on the positive feedback from the participants. One of them wrote:
"I have gained many different leadership skills. I feel a lot more confident about the steps I need to take to succeed in and after high school. The sessions I attended cleared up any confusion that I was having about the future while also teaching me new skills."
Kahl holds a bright vision for future possibilities of the Women's Leadership Institute. Her team recently launched the LEAD program, which is an ongoing leadership program for past participants of the Summer Leadership Academy who now attend Mount Mary. Her department is currently looking at opportunities for the intergenerational audience that will be on campus soon as a part of the Trinity Woods housing project.
When asked what inspires her career in leadership and influences the WLI programming, her answer was unexpected.
"In high school, I participated in a variety of leadership camps that got me out of my comfort zone and connected me to individuals across the state of Ohio. I went into these experiences not knowing a soul and left with lifelong friends; a network, if you will," Kahl said. "Interestingly enough, what most informs the programming and content WLI offers, especially to our high school and college audience, is what I didn't learn or experience during those years and really wish I had."
Yet that's often how leaders are made—by solving a problem they experienced so others don't have to experience the same. And now Anne Kahl has become a leader in equipping others with the tools, skills and knowledge they need for success.
Alums are always welcome to share their industry knowledge with students through mentorships, panel sessions, WLI events and more. To connect with Anne Kahl, contact her at kahla@mtmary.edu or (414) 930-3248. To learn more about the Women's Leadership Institute, visit mtmary.edu/wli.