From the President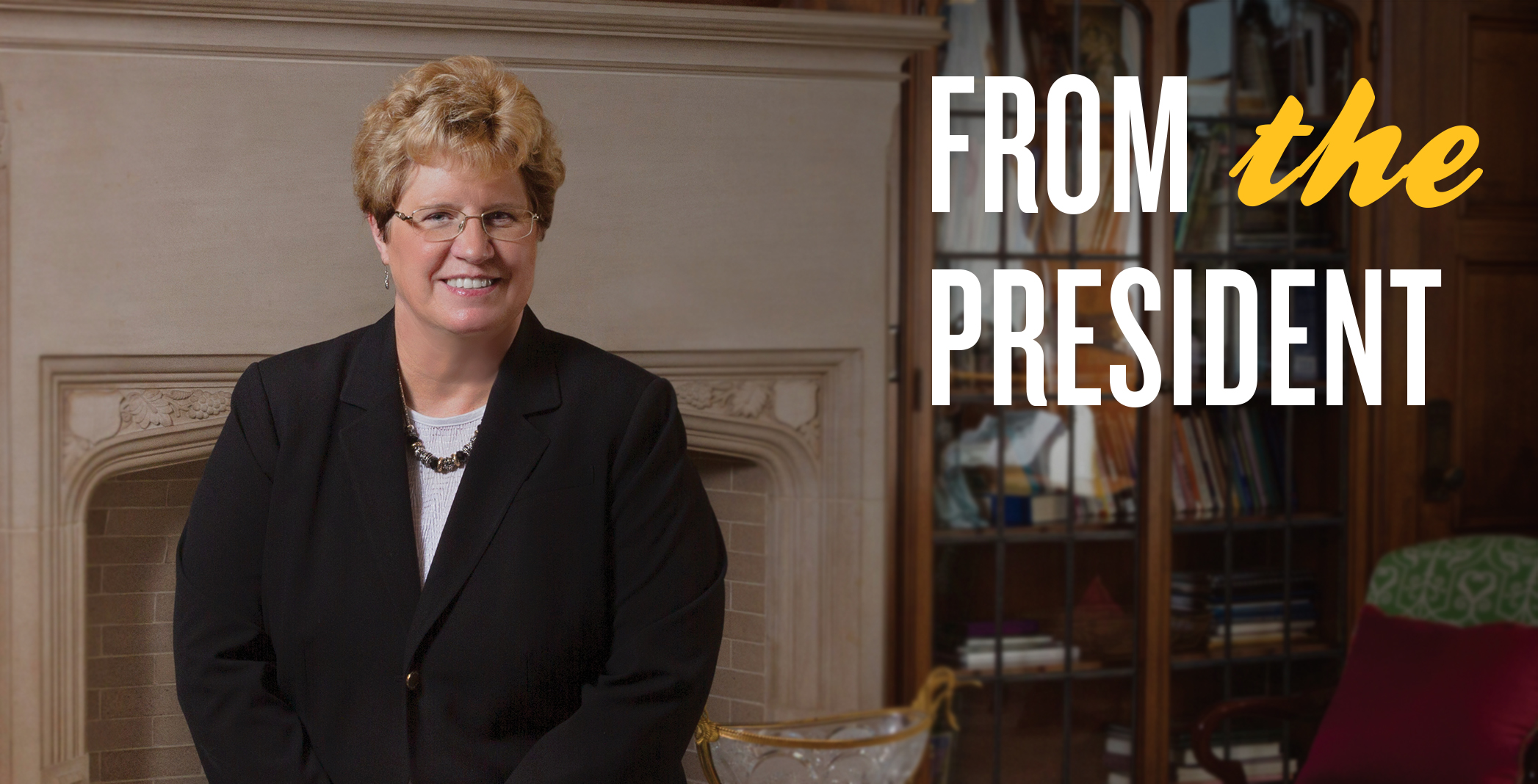 Posted on November 20, 2020
Dear Mount Mary Alumnae and Friends,
We are making history! They say that history is told through the lens of the author and certainly we know that to be true based upon historical records where many uncomfortable truths are omitted. As I reflected upon the last eight months while preparing for this magazine, I am struck by the multitude of perspectives that this magazine will present about our current situation and yet I wonder what perspectives we are missing. In these challenging days we are searching to ensure we are part of portraying the truth.
Certainly we are living in unparalleled times. Some have named it the age of two pandemics: COVID-19 and racism. Regardless of your perspective, this time has challenged the university in ways we have not previously encountered and has called upon us to think and act with new and inventive approaches. In many ways, it has been a truly humbling experience.
As we strive to meet our students' learning needs while keeping them healthy and safe, the creative nature of our faculty and staff has been admirable and determined as is described in the article on coronavirus and campus adaptations (page 6). As the issues of racism have become increasingly visible in the Midwest, our state and the very neighborhood of Wauwatosa surrounding our campus, we have grown in our desire for reflection, discussion and a need to truly address issues of inequity and injustice in our society in alignment with the core values instilled in our institution by our founders, the School Sisters of Notre Dame. The article, "Our Quest for Equity," on page 4 details some of our successes, but much work remains to remove all barriers for people of color. During these past months many students and employees have struggled with both of these pandemics, however, there are some silver linings becoming apparent.
What have we discovered? We have learned that we are far more adaptable than we realized when it comes to serving our students. We developed
and implemented new technologies and teaching methodologies that would have taken months or years under more "normal" circumstances. We have created broader and deeper safety nets for students than those that were already present. By that, I mean financial, academic, technological and emotional safety nets. We have found and utilized extensive communication to keep people informed — email, text messages, announcements, Zoom, Skype, Teams and the list goes on! We have realized we can do a lot of work from home and still stay connected as individuals and as a community. We have effectively engaged students in addressing our challenges through new types of work study positions. And perhaps most importantly, I believe we have grown as a community, which sometimes happens during difficult times. Seldom have I seen people work so hard to serve and support students and each other. Rarely have I observed so many selfless gifts of time, talent and treasure. Not only those people on campus, but our larger community of alumnae, friends and our Board of Trustees have provided tremendous support to Mount Mary through these challenging times. The outcome is that we are going to emerge stronger and more resilient than ever. These pandemics have prepared us to be more versatile educators, more empathetic and united to our students and employees of color, better communicators and more creative problem-solvers.
I have never been more proud to be the President of Mount Mary University than I am today. I am exceedingly grateful to our campus community and our commitment to one another. These unparalleled times will ultimately serve us well as we humbly seek to transform lives though education and service to each other.
With gratitude,
Christine Pharr, Ph.D., President, Mount Mary University