Coronavirus and campus adaptations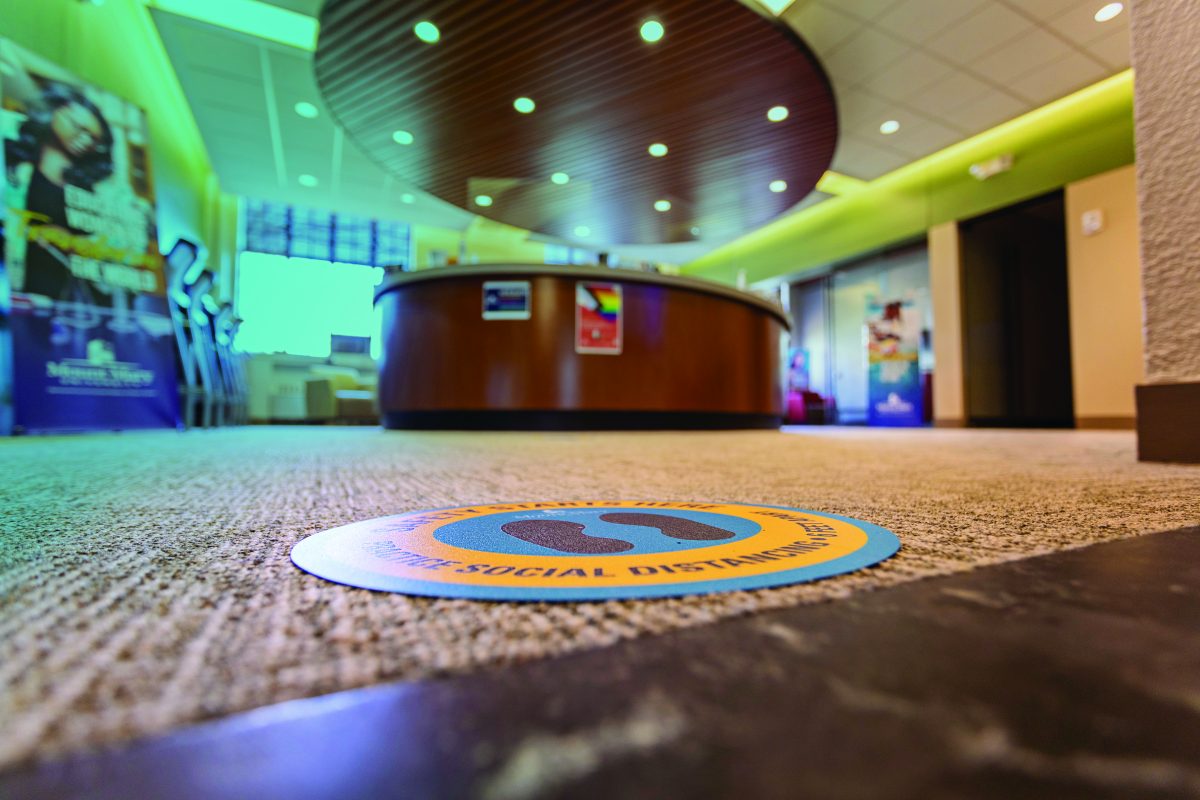 Posted on November 19, 2020
On March 13 campus closed abruptly in compliance with the city's order. But we never stopped engaging with one another. Through spring and summer, our learning community switched gears and faculty and students transitioned to fully online.
Campus reopened bit by bit in summer, and in fall we petitioned the city to reopen, based upon stringent cleaning and social distancing protocols in place. This was approved and life returned to campus.
The reopening required enormous support efforts. Some of these measures benefitted students directly, while so much else took place behind the scenes, unseen yet essential.
Here, some key leaders from the university provide a behind-the-scenes look at the challenges and triumphs achieved by engaging in our core competencies — agility, ability to navigate complexity, resilience and responsiveness.
FACULTY AND ACADEMICS: MAKING SURE NO STUDENTS ARE LEFT BEHIND
How do you teach a sewing class virtually? How does an emerging occupational therapist learn to administer a standardized evaluation with a patient?
These are just a few of the dilemmas Mount Mary faculty have encountered over the past eight months — and overcome on a daily basis. Last spring, when faculty members took their classes online, many found that engagement and discussions among students actually increased, albeit in an altogether different form. Even today, face-to-face instruction looks and feels different than before. Professors have found strategies to deliver their curriculum safety, through various hybrid, in-person and online meeting formats. Even if students cannot attend in-person, through modern technology and the sensitive teaching practices of our faculty, their presence is seen, felt and honored.
Not a single student should have to decide between their education or protecting the health of their children or immune-compromised loved ones. All are equally important. We educate for the growth and development of the whole person; this understanding infuses everything we do.
It takes courage to enter into a classroom and teach through the discomfort of social distancing and face masks, to students who are apprehensive in these uncertain times.
Karen Friedlen, Vice President for Academic Affairs
BUILDINGS AND GROUNDS: REOPENING CAMPUS WITH STUDENT ASSISTANCE
This summer, we piloted a new leadership program for student workers. This hardworking crew of seven students assisted in remaking the campus, working alongside everyone from the Buildings and Grounds team to academic deans charged with re-envisioning classroom spaces.
These students were part of a team that measured and assessed every inch of campus for optimization. Spaces such as Stiemke Hall were repurposed and turned into classroom space (it can accommodate 40 people and is now our largest classroom space). The academic faculty, led by deans Cheryl Bailey, Wendy Weaver and Barbara Armstrong, thoroughly assessed and directed the setup for every one of our classrooms.
These students were part of a team that logged thousands of miles over the summer. They hung posters in every hallway and doorway, and in every classroom they measured and taped precise spots on the floor where tables, chairs and desks can be located. They filled hundreds of bottles of disinfectant and hand sanitizer, and distributed ample supplies to every student and employee on campus.
We appreciated having our students work with us, as they are intimately familiar with student behavior and with how classrooms must function. They told me they felt much safer knowing the work that goes into making sure all of the right measures are taken. Under the most challenging conditions they have learned what it takes to be servant leaders.
Beth Bartelt, Facilities and Events Coordinator, Buildings and Grounds
COVID-19 TASK FORCE: BUILDING UPON OUR EXPERTISE
Having worked as a clinician, I was already very familiar with the safety protocols associated with infectious disease protection, and I share this expertise and experience through Mount Mary's COVID-19 Task Force.
I co-lead this group along with Jennifer Dahlman, assistant professor of nursing. We, along with representatives from human resources, student affairs and the president's office, provide safety recommendations for campus.
This is one of two groups that have sprung into action to address the many issues related to COVID-19. The Emergency Response Team, a group of 22 leaders from across campus, also confers with Dr. Pharr as necessary (at some points this group has met daily to address the many ways COVID-19 has affected operations).
I've seen firsthand how many ideas and creative approaches have gone into our preparations and our ongoing efforts. Each day I am amazed to see how much, in a time of uncertainty, this community has pulled together with care and concern to say, "We can do this."
Kari Inda, Ph.D., Professor and chair of Occupational Therapy
ALUMNAE AND DONOR RELATIONS: PROVIDING STUDENTS WITH SUPPLIES, JUST IN CASE
Through the uncertain nature of the virus, one thing has been sure: The support of donors who respond to the needs of our students.
Particularly thoughtful initiatives to enhance the student experience include donor-funded supply kits for students, to keep them involved in hands-on learning in case there is a need to return to off-campus learning. These kits maintain academic integrity even while offsite.
Educational materials that would normally be available in labs and studios will now be available for students at home. Occupational therapy students, for example, received kits with goniometers (to measure joint mobility) and gait belts (used to help lift and transfer people), enabling them to perform their competencies from home. Kits for design students include tailoring materials and art students receive the appropriate materials and supplies for their classes.
This type of emergency measure provides students with the supplies essential to their learning, and brings great peace of mind to the faculty, who are assured students will have everything they need to carry on. Students can feel confident as they persist in completing their degree, no matter where they need to be due to the pandemic.
Our donors understood the level of need during this pandemic and responded with care and thoughtfulness to the needs of our students. This, combined with federal CARES Act stimulus relief funds, was able to ease the burden for 757 students.
Pam Owens, Vice President for Alumnae and Donor Relations
INFORMATION TECHNOLOGY AND INSTRUCTIONAL DESIGN: CONNECTING VIRTUALLY THROUGH HIGH-TECH CLASSROOMS
Participatory, collaborative and active. Before the pandemic, these may not have been words some educators would have used to describe remote learning.
But there's been a discovery that online learning can be meaningful and productive, and Mount Mary faculty have been particularly creative in attending to the evolving situation that requires them to accommodate students in-person and remotely.
Mount Mary has directed over $350,000 of COVID-19 relief funding to enhance the technology in all classrooms. Two classrooms are fully immersive, four now have enhanced technology and the remainder of the classrooms are equipped with cameras for remote/hybrid learning. Our IT department rose to the challenge and spent the summer upgrading classrooms and technology all over campus.
How do some of these upgrades help faculty teach better? Here are a few ways:
Screens in the back of the classroom allow professors to see all students, including those participating from home.
Microphones make it easier to deliver lectures that might otherwise sound muffled by face masks.
Tracking cameras focus on the teacher, even as she or he moves around the classroom.
Professors can use iPads to show close-up demonstrations and work, which can be projected on the screens in the classrooms or viewed remotely.
Integrated multimedia software makes the coursework easy to access for students.
Multiple monitors allow professors to display material for in-class and at-home viewing.
John Futterer, Instructional Designer
STUDENT AFFAIRS: CELEBRATING MILESTONES, DESPITE THE DISTANCE
When we sent out a poll to our spring graduates asking them how they would like to celebrate their Commencement, they overwhelmingly asked us to postpone the ceremony until August, in hopes that we would be able to gather with one another "as normal."
As the summer months progressed, we knew that even an August ceremony would require strict social distancing measures. At the same time, we realized how important the experience would be for students who had worked so hard to don a cap and gown and walk across a stage and pick up their diplomas.
I knew we had to find a way to honor their achievement.
On a bright blue Saturday morning in August, we welcomed 95 graduates into the Alumnae Dining Room, which was carefully set up to accommodate the group. As each of their names were called, they walked across the stage, while their families witnessed the event on enormous screens set up in the parking lot outdoors, or livestreamed at home.
It was the first drive-in commencement ceremony in Mount Mary history!
I thank God for this moment of joy amid uncertainty, because it brought such happiness to graduates and deep satisfaction to me.
I sometimes reflect upon what in my 25 years of higher education leadership prepared me to guide an institution through a pandemic. The answer is dichotomous, nothing and everything. My background in science taught me enough about infectious diseases to be dangerous. My teaching career taught me that uncertainty can lead to fear and great anxiety. An emergency planning meeting that happened to use the example of a pandemic taught me enough to know that the reality of the situation would be extremely complicated.
Putting all these experiences all together I realized nothing seems certain.
We are not out of the woods, so to speak, and we are in the process of determining what our December Commencement will look like. But I have learned that the collective efforts of people who care about each other bring sufficient clarity to focus on our goals and persevere until the day we can once again be physically together. And through the hard work of good people, and with tremendous faith in God, we have come a long way.
Christine Pharr, Ph.D., President