Faculty
Professor, administrator, creator: Kapitan steps out from behind the desk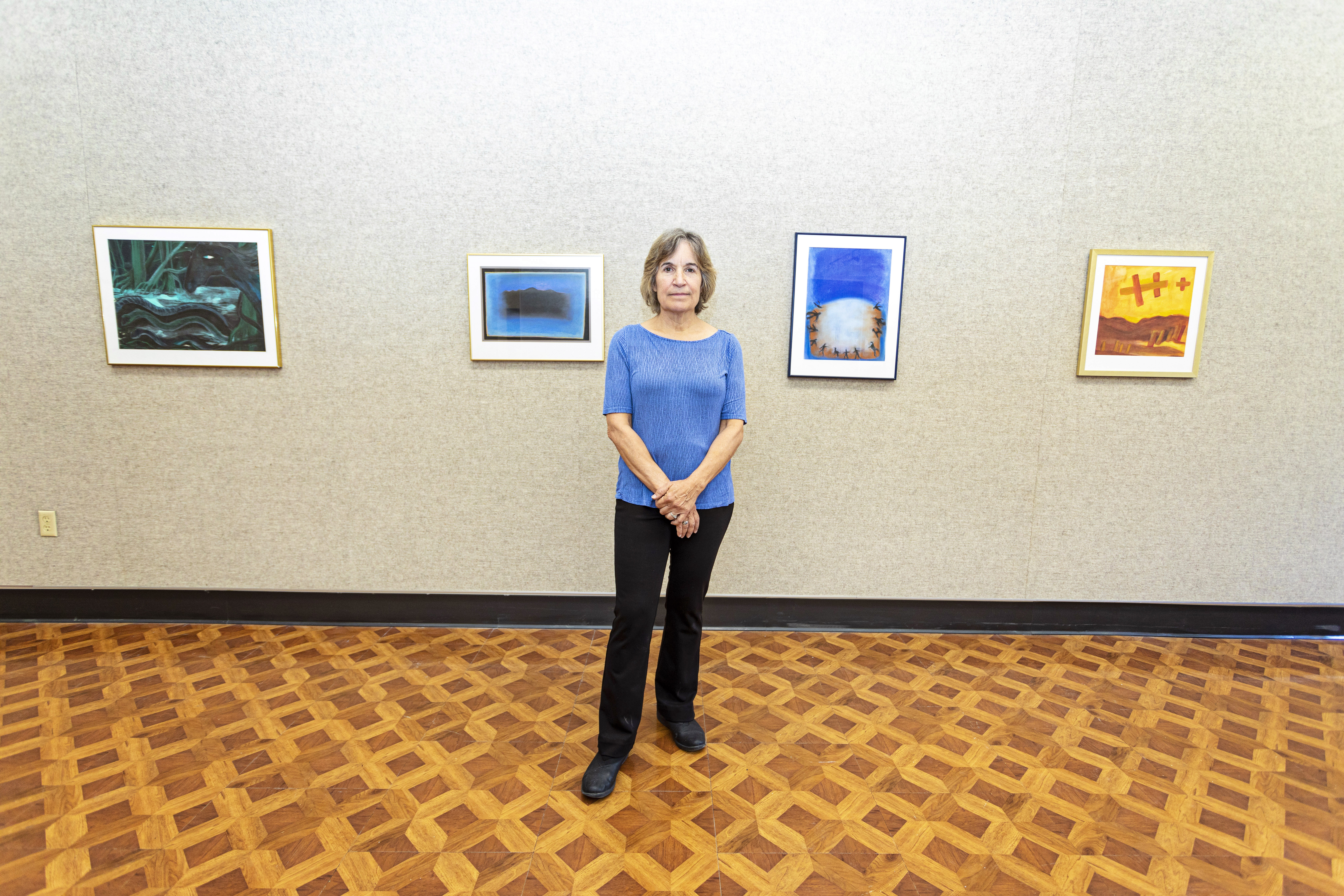 Posted on November 18, 2020
As Lynn Kapitan prepares to retire at the end of the academic year, her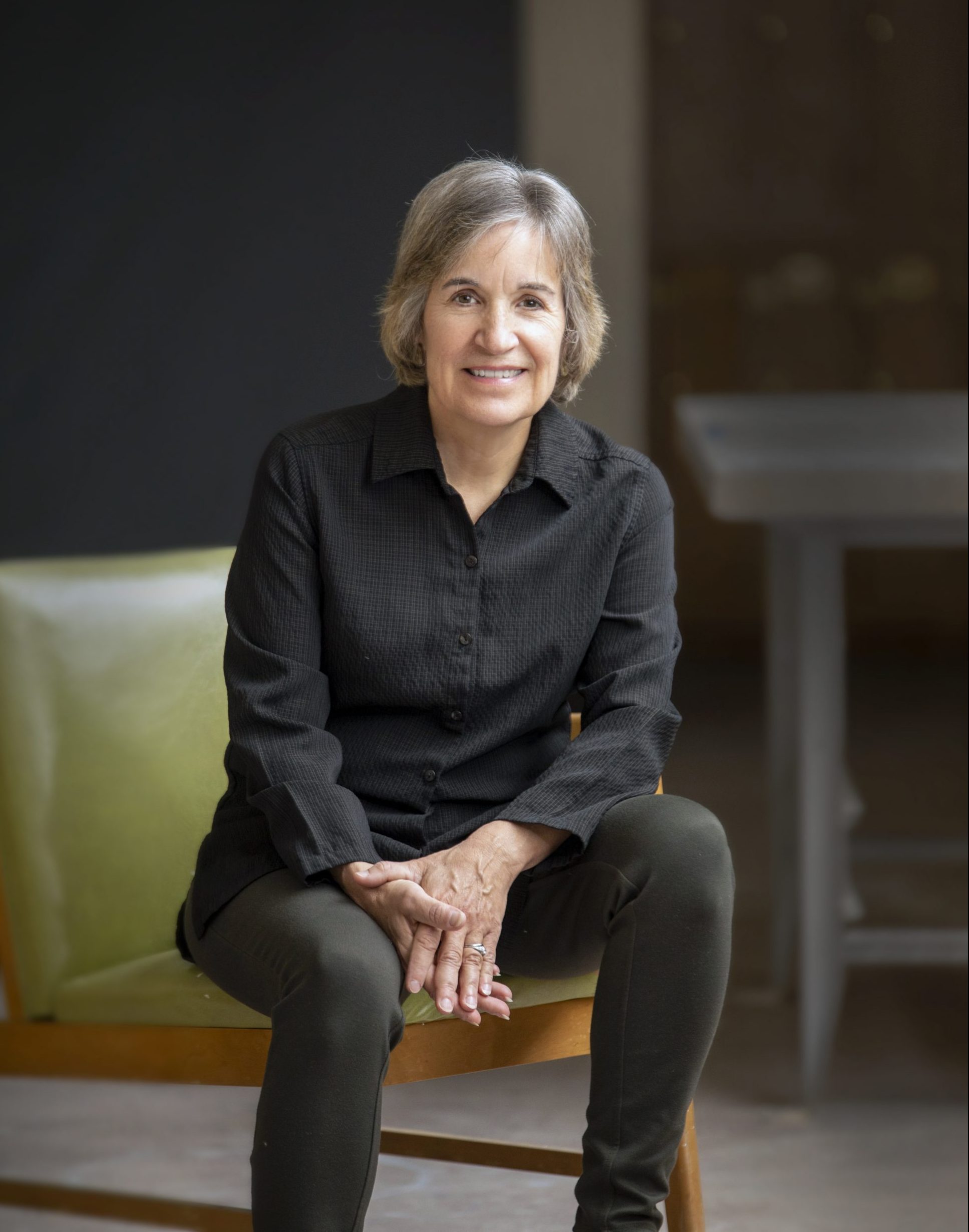 exhibit this fall in the Marian Gallery visually captured the creative energy that has been her constant companion.
Her ongoing drive for creative expression has nourished her through 35 years of teaching, serving in leadership roles and "through countless hours of meetings," said Kapitan, professor and director of Mount Mary's professional doctorate in art therapy.
Artmaking has accompanied me through all my various roles," she said. "In this exhibit, I wanted to show the range of these experiences through art."
The theme of balancing day-to-day life and creativity could be seen throughout the exhibit. The largest object that proves her point is her very own desk, which was transported from her office in Fidelis Hall, across campus and into the gallery for this exhibit. Artifacts from her career, such as a gavel from her tenure as president of the American Art Therapy Association, sat alongside hand-bound journals of her sketches and watercolors.
The exhibit underscores the act of Kapitan stepping out from behind the desk, in a very literal and figurative way.
Kapitan joined Mount Mary in 1985 as the director of the pre-master's art therapy institute, and then founded and directed the master's program and subsequently the doctorate in art therapy. When she started at Mount Mary, she was the mother of one, with another child soon on the way. She is now a grandmother with two grandchildren.
Some of Kapitan's pieces represent the push-pull of having a career and parenting. A sculptural object in the image of a barbed-wire fence speaks to the topic of separation. "The themes that touch me on a personal level are ones that I express on a transcendent level," she said. "The image of a fence speaks to the larger notion of sacrifice, of being caught up in something."
One wall was dedicated to the drawings she created during faculty and other meetings. Having her sketchpad enabled her to focus better and tap into creative and visual thinking. Some of them still have the ragged edges from the spiral-bound notebook. These were mounted to the wall appropriately — using office supplies such as push pins and binder clips.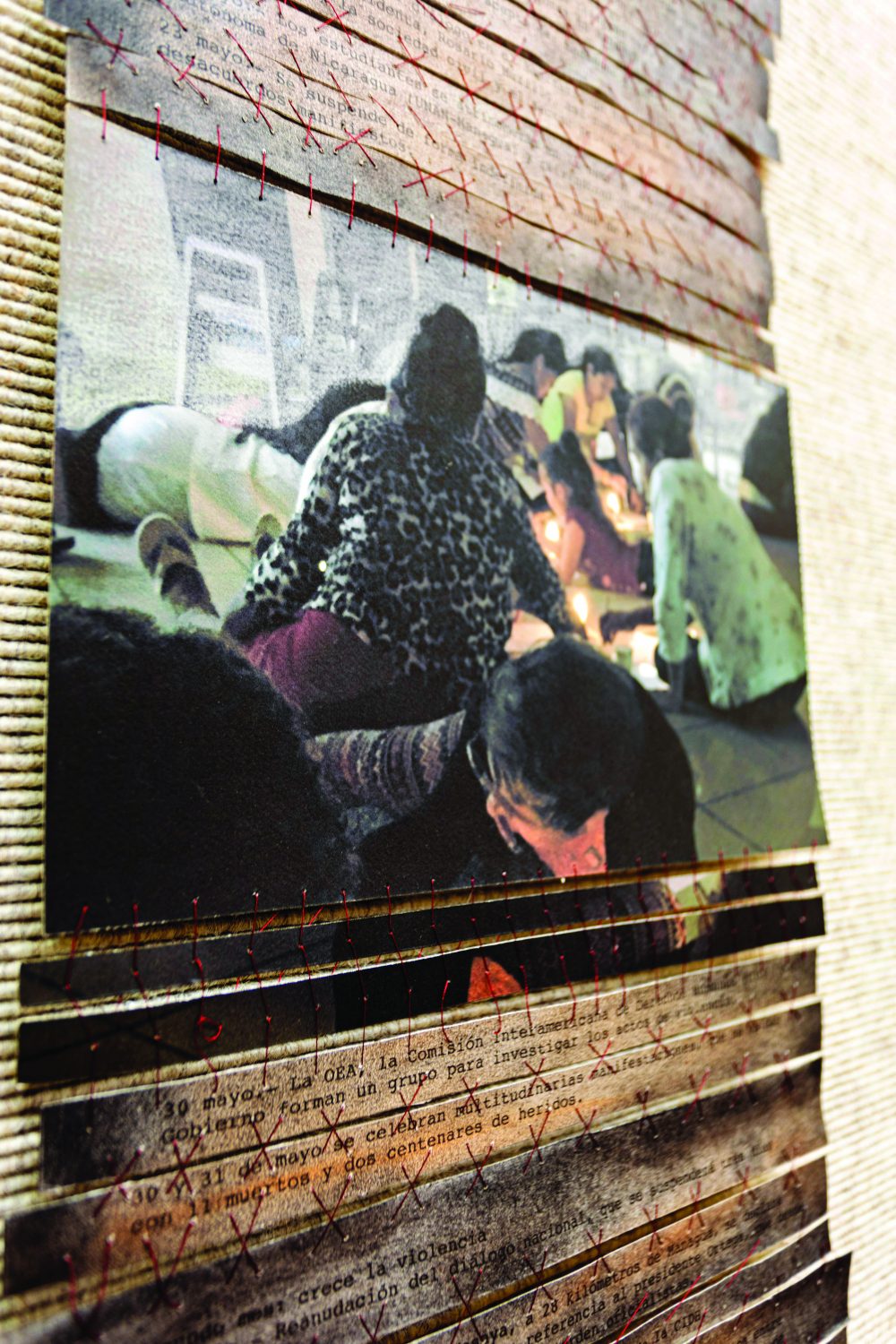 Kapitan has held an active presence in art therapy, both nationally and around the world, writing, editing academic journals and actively contributing to the emerging field. She established a professional relationship with Cantera, a nongovernmental organization in Nicaragua almost two decades ago. In addition to her research and consulting work there, she brought many art therapy students to intern and work in urban and rural communities throughout the country. She incorporated art therapy into hundreds of Cantera's social action projects, from programs for street children and mural making with rival gangs, to leadership training for a rural women's cooperative, post-trauma interventions, and more.
Her art from these experiences captures the sense of turmoil and hope she has encountered. One piece, "Managua, Nicaragua (December, 2018): Refuge," displays an image of a peace vigil, framed by a news account of community violence. This news account is sliced into thin slats and painstakingly stitched together, showing the fragmentation of Nicaragua's postwar, post-conflict society and efforts to mend it again.
Kapitan says that each piece of artwork reflects a piece of her heart and mind, but one small drawing in particular illustrates the origins of the creativity that has taken her through life.
The picture is a small lithograph self-portrait from the age of 5. She is smiling and wearing a large straw hat.
"Who am I now compared to who she was?" Kapitan paused to reflect.
"She was looking for her way into the world, she wanted to journey," Kapitan recalled.
"She wanted to be out from behind the desk." Surrounded by the creative output from her many years of professional life, Kapitan has reached that place indeed.
Learn more about Lynn Kapitan's accomplishments here: "Retrospective exhibit reflects phases of Kapitan's life".