News
Making Milwaukee ready to work
New campus initiatives align with regional efforts to increase college graduation rates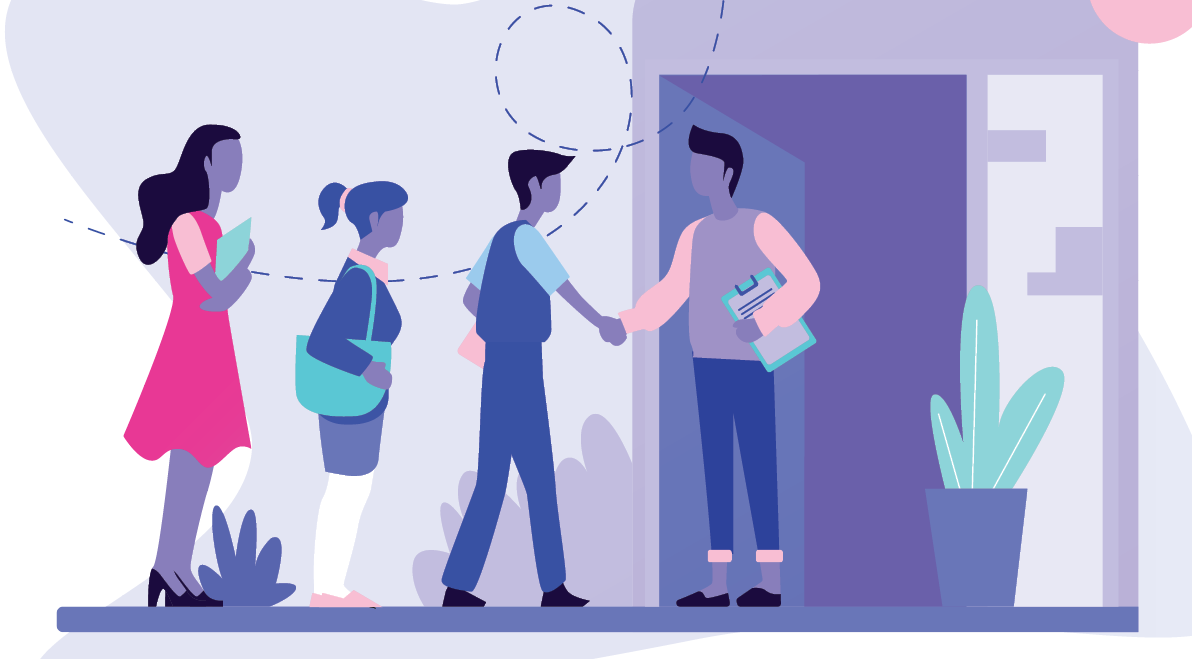 Part 1 of 2
Plugging the leaks in Milwaukee's talent pipeline is an effort being waged across the region, and Mount Mary is engaging in community initiatives and developing strategies within the institution to support more students.
In fall, Mount Mary and 17 other public and private universities, along with a network of private industries and foundations, announced a new Higher Education Regional Alliance (HERA). The group pledges to be responsive to the future needs of the region's industries and create strategies that ensure success for all students.
This story, the first of a two-part series, focuses upon Mount Mary's Momentum Year, and other initiatives designed to support HERA's first goal, to increase college completion.
Building Milwaukee's talent 
The problem that begins with a low rate of college completion extends into the workplace. For example, 75% of the members of the Wisconsin Manufacturers & Commerce reported being unable to attract and retain talented employees, particularly employers in the seven-county metro Milwaukee region known as M7.
The HERA group has set about leveraging the resources and coordinating the efforts of all the two- and four-year institutions in the region. Together, these institutions hold 150,000 students who could funnel into Milwaukee's talent pipeline.
This regional initiative has generated national support. Complete College America, a group that advocates for institutional change to address barriers to college completion, has identified HERA as one of three most promising initiatives in the nation and is supporting HERA with training and other measures of support.
As this issue is addressed regionally, Mount Mary administrators and faculty are launching new strategies within the institution for streamlining the pathways that support the student journey.
"We have focused by creating a structure around practices that best support our students, and that connect to our region's larger focus of building a workforce that is educationally equipped to meet the needs of the future," said Mount Mary President Christine Pharr, Ph.D. Pharr is also an active member of the HERA regional leadership team.
Increasing college completion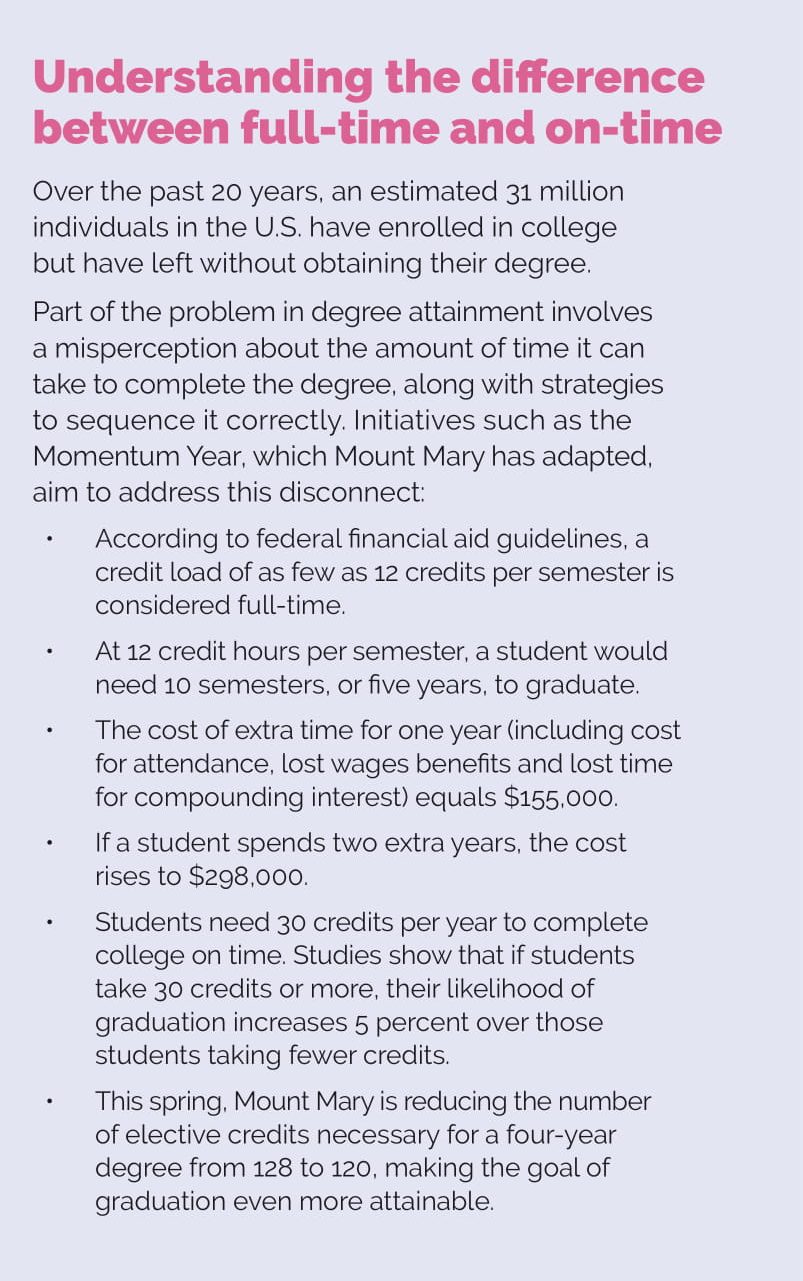 Mount Mary has a goal of increasing the rate of college completion by assessing practices already in place and developing the Momentum Year initiative, a framework that connects strategies of support.
Giving students a solid sense of academic direction helps them start strong, and the Momentum Year provides students with specific deliverables. These practices include proactive academic advising, electronic four-year academic planning, a courseload of 30 credits per year, the completion of gateway math and English classes, and early academic and social support.
To successfully complete college, Mount Mary students have long benefitted from academic and social support from their first days on campus, particularly through programs such as Grace Scholars and the Promise Program, and the retention and completion figures for these programs reflect the success of these practices.
Students who were not being served by the Promise and Grace programs who needed developmental education were not faring as well, said Vice President for Academic Affairs Karen Friedlen. But, as of October 2018, Mount Mary has received Title III funding, which has extending the same types of support services provided to Grace and Promise students to an additional 179 students, or 27 percent of the student population.
Mount Mary has recently been recognized for this success. In U.S. News and World Report's 2020 Best Colleges report, Mount Mary was the top-rated private institution in Wisconsin and #33 among colleges in the Midwest for social mobility.
Social mobility, a new ranking for U.S. News and World Report, measures how well schools graduated students who received federal Pell Grants (those typically coming from households whose family incomes are less than $50,000 annually).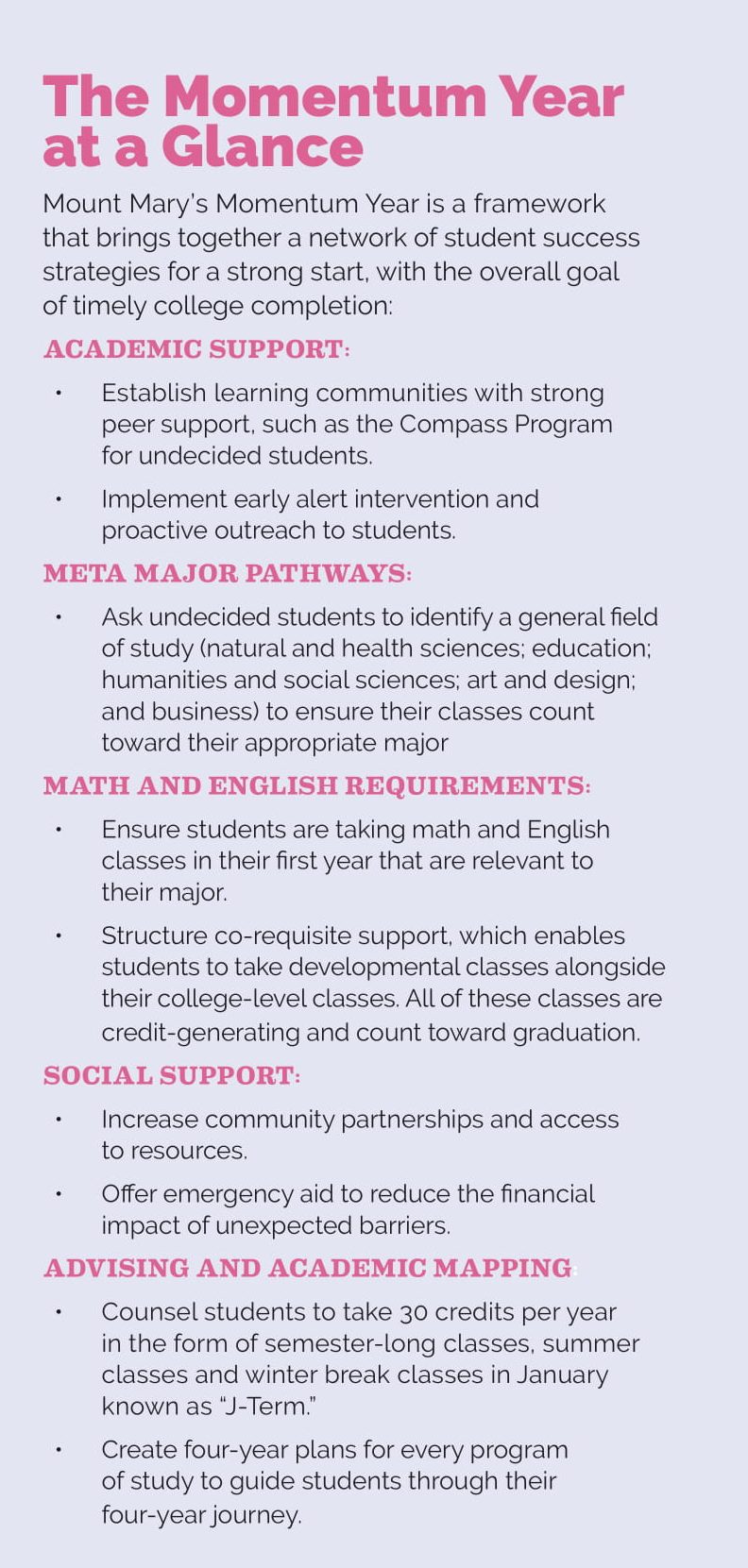 Launching the Momentum Year
Moving forward, the Momentum Year will extend these measures of support to all students. Building early momentum will enable students to meet key first-year benchmarks. While our Grace, Promise and Title III programs provide support to groups of students, the new Momentum Year connects with a host of new initiatives that support students campus-wide.
An interesting facet of the Momentum Year will be encouraging undecided students to declare a "meta major," a category of interest (see sidebar) so they can start taking classes that will count toward their major as early as possible.
Bundling these strategies together will create a process for what Mount Mary does best, said Vice President for Student Affairs Sarah Olejniczak.
"As an institution, Mount Mary excels at being responsive to a variety of student circumstances," Olejniczak said. "This deep level of support from Complete College America allows us to implement strategies in the way we do best – through student-centered, equity-based design."
This fall, in a move designed to support efforts toward college completion, Mount Mary's Faculty Assembly voted to reduce the number of credits needed to graduate from 128 to 120.
This puts Mount Mary in greater alignment with institutions in the area, making it easier to transfer here. UW institutions require 120 credits to graduate, and tech colleges require 60 credits. Half of the 24 members of the WAICU college consortium require 120 credits as well. This does not represent a decrease in the quality of education since the general education core, the foundation of our majors, has not been changed.
This credit reduction will not affect the price of college for students, as full-time tuition (which can be anywhere from 12 to 18 credits) is fixed per semester.
"Our SSND mission calls us to build equity through education," said Vice President for Mission and Identity S. Joan Penzenstadler. "Even in our efforts to channel students into our region's talent pipeline, we are carrying forward their legacy, and ensuring a better future."
Coming in Part 2: HERA's other two goals for the metro Milwaukee region involve aligning educational programs with the needs of a rapidly changing economy; and building a talent bridge between colleges, universities and regional employers. In the next issue, read how Mount Mary is ensuring that student skills meet employer needs.