News
From the president: Mount Mary Strategic Plan Flies Forward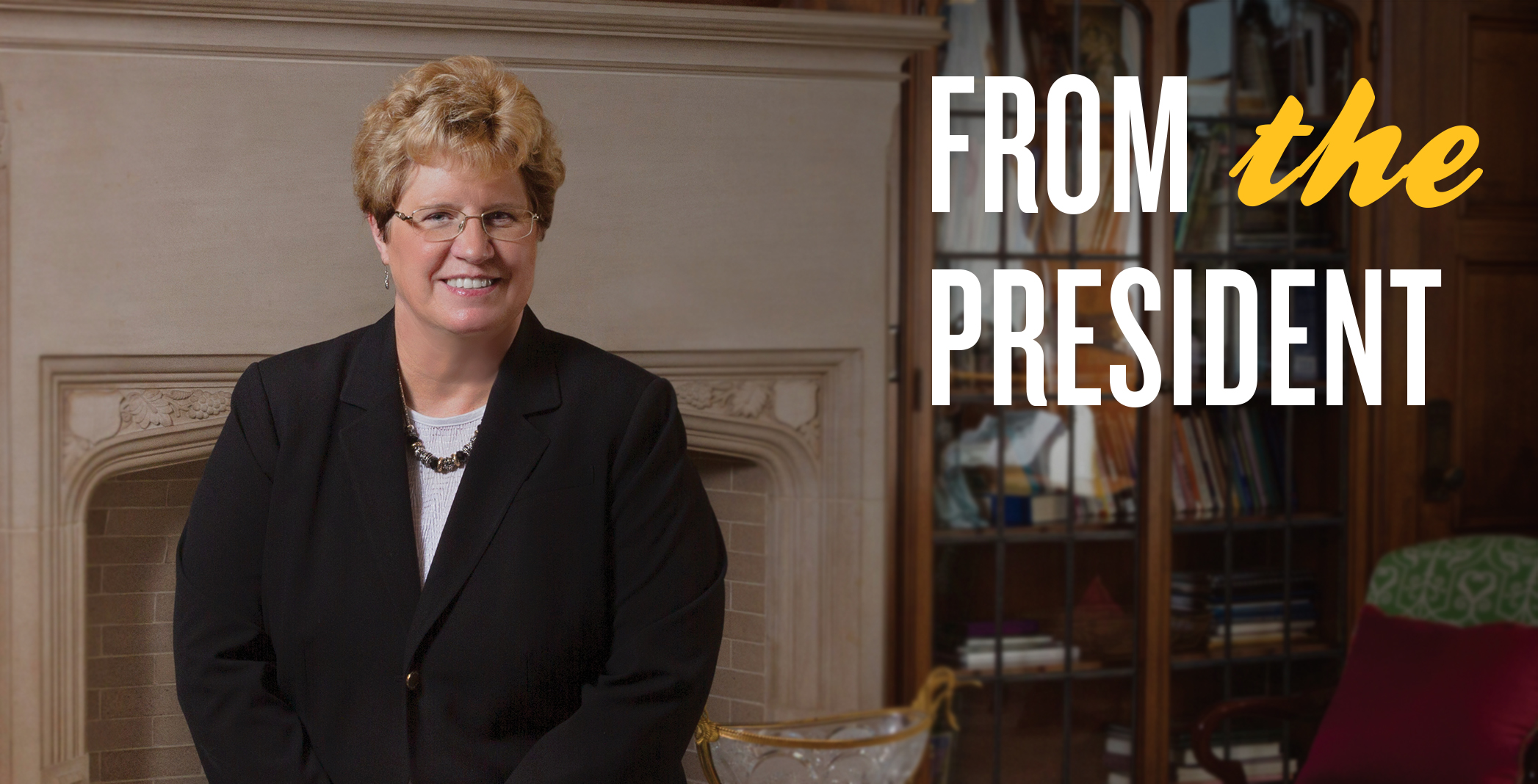 The strategic plan that was approved this past summer is moving forward at a swift pace. In fact, at times there is a dizzying amount of great work being accomplished by many engaged people! This is a brief rundown of the work being done in each of the categories of the strategic plan:
Facilities That Attract and Engage
The SSND, Mount Mary and Milwaukee Catholic Home venture to move the Sisters to campus is progressing nicely and plans to break ground in July 2020. We are working on a plan to create nursing simulation laboratories and classrooms in the old swimming pool and locker room area for our new Bachelor of Science in Nursing program (BSN). The Alumnae Association donated $150,000 to put an elevator in the front entrance of Bergstrom Hall to make it more accessible (see page 22). All of this will happen this summer and fall. WOW, and thank you!
Academic Programs and Delivery Systems
New program development includes the new BSN and Ph.D. in Counseling already approved by the Faculty Assembly and the Board of Trustees. Karen Friedlen, Ph.D., is working with the business faculty to move their programs
to online as well as on-campus delivery, and to consider a new Human Resources emphasis.
The increased use of technology to deliver curriculum is gaining traction as our new virtual reality classroom is being used by multiple programs (see page 4). One example that I found to be quite realistic (as did students, I'm told) was a simulation of what it feels like to be homeless. Staff are also researching the development of high-tech digital classrooms where students from across the country could participate in real time. We plan to develop one such classroom to determine how it will meet our needs and
then pursue others if this works well. We have staff on campus who are exploring e-sports, a new areas of competition that is gaining popularity across the nation with tech-savvy Gen-Z students.
Enrollment Growth
There are many projects underway including creating weekly updates for all Milwaukee Public School (MPS) counselors that document the status of MPS students who have applied to MMU, shortening the college application and using the Common Application. All this has led to over twice the number of applications to MMU for next fall that we had in fall 2019.
Campus Culture and Wellness
S. Joan Penzenstadler SSND has started a Campus Mission Committee which will engage employees and students in creating more community and more mission-building events and experiences. Sarah Olejniczak has been a tremendous help in planning the new early childhood education center as part of the joint venture with the Sisters. This center will be open to children of students and employees of the University as well as the community and should serve between 90-100 children. There is tremendous support for this venture from the campus.
Culture of Diversity and Inclusion
Our D&I group has much work underway on campus. The D&I Council has created four work groups, each of which is tackling different aspects of the D&I work on campus. For example, the "All Things HR" group has agreed to join the Higher Education Recruitment Consortium to promote equity and excellence in the higher education workforce. The "Visibility" group has improved the webpages related to D&I, presented to campus twice and is currently conducting a campus climate survey of all employees
and students on campus.
There is much more important work underway on student retention, marketing initiatives, fundraising and partnerships, to name just a few. The work to make Mount Mary a thriving community in which to learn, live and work is well underway!