News
Thrive 2025: our plan for the future
For a plan to be truly strategic, it must take us from the status quo to a new and different state. The Strategic Plan delivers, and will sustain our vision through 2025.

Posted on December 2, 2019
By Christine Pharr, Ph.D., Mount Mary University President
Envision with me, if you will, a diverse, thriving campus community of 1,600 students, employees who are happy, healthy and well compensated, where School Sisters of Notre Dame, alumnae and other seniors live on campus and actively engage with students …
Imagine a blueprint that will not only envision a future, but one that outlines the steps that will help us reach this new place. After one year of ideation, consultation, writing and revisions, I am pleased to unveil the plan that will sustain our vision through 2025: "Living, Learning and Working in a Thriving Community." This multifaceted plan identifies the building blocks for the future, while allowing us the ability to paint our future in bold strokes.
Imagine a renovated theater that becomes the most sought-after fashion show venue in the greater Milwaukee area, where CREO is staged each year. In addition, this unique, intimate venue will serve well for campus and community performances and gatherings, with a stage that extends into the audience, bringing the speaker closer to the audience for a more intimate experience.
Now picture the first floor of Caroline Hall as a student union, with a café/pizzeria open into the evening and niche study and recreation areas spread throughout it. While we're envisioning improvements, wouldn't it be wonderful to have restrooms easily accessible on the first floor of Bergstrom Hall and an elevator in the entrance off the parking lot? These accommodations will make alumnae gatherings, campus events and all the amazing offerings of the Women's Leadership Institute more accessible to people from all walks of life. 
These are just a few of the many facility changes that will create an environment competitive in attracting students.  But what of new programs and culture on the campus? This plan calls for examination of existing academic programs to create differentiation and modifications that will set Mount Mary apart. It calls for new programs in areas where there is student interest, employer demand and a lack of sufficient regional offerings.  
We intend to pay careful attention to the programs in which we have a competitive advantage. The formula for success is promoting and growing niche programs such as interior design, art therapy, fashion and others where Mount Mary has less competition and a strong reputation.  
As an example, our occupational therapy program continues to be highly subscribed, and our Nursing 1-2-1 program has taken off very well, with 75 students currently enrolled in only its second year in existence. Our offerings in mental health (counseling, art therapy, social work and psychology) are also quite successful. Health care is clearly an area where Mount Mary can thrive and grow. 
Mount Mary will develop classrooms with state-of-the-art technology so we can serve students near and far, using methods that will create online classes that feel as if they are delivered in-person, and in classrooms using simulations and virtual reality that feel very lifelike. Imagine interior design students creating virtual sample homes that occupational therapy and nursing students use to teach handicapped patients how to operate effectively when they return home from the hospital. Or, can you envision an empathy simulation of an end-of-life conversation for a nursing student with a patient and their family? Students can take the role of patient, family or health care provider to develop a better understanding of the impact of this conversation. The opportunities to make education relevant to real life and work will be abundant in the future and our imaginations and creativity will be the only limits to what we can deliver.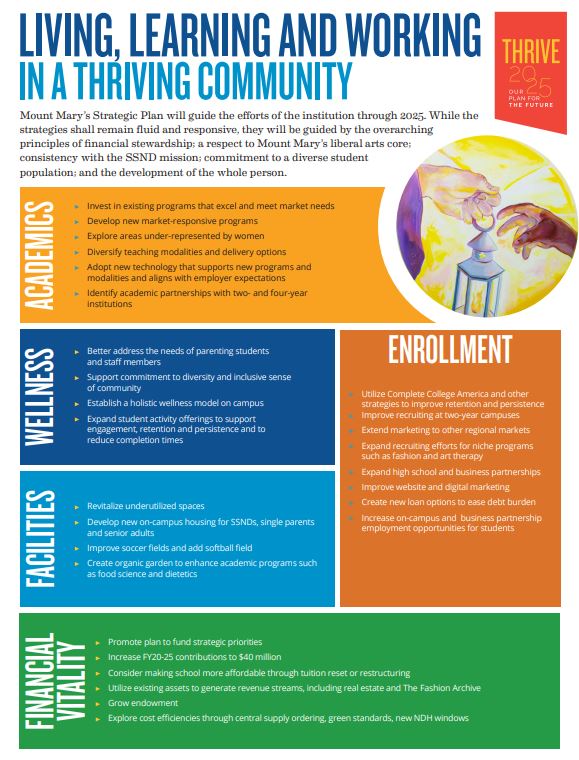 With all these new places and programs, there is the important aspect of strengthening the campus community. The initiative around culture and wellness is probably the biggest portion of the Strategic Plan. It encompasses themes of building the Mount Mary community to make it family-friendly, while addressing diversity, inclusion and wellness. What you can envision here is housing for single mothers and their children in the same residence with the SSND and an early childhood education center for children of students, faculty and staff as well as the outside community. Imagine high chairs in the cafeteria and children growing up in an environment that supports education. As a side note, in case you are not aware, single mothers and their children are the largest demographic in the Milwaukee area to live in poverty, so providing housing and education for them could have an amazing impact. If determined feasible, the plan may also involve creating a health care clinic on campus, and all of these can result in programming and clinical/fieldwork placements for our students in education, health care, mental health and many more disciplines.  
Perhaps most importantly Mount Mary will continue to address the needs of our students of color. We will strive to make our employees and board members more representative of our student population. We will create policies and procedures that embed inclusion into our practices for the long haul. The University will become known as a model of an inclusive environment that welcomes people of all ages and ethnicities, so that we can set an example for the city of Milwaukee of what true integration looks like.  
Our final two initiatives are integrally intertwined. Enrollment growth and financial vitality go hand in hand, in that Mount Mary is tuition-dependent for our financial well-being. Thus, strategies to promote the University depend upon not only the enrollment staff but also upon those many advocates we have in the community – which includes all of you! Partnerships are a large component of this work, as is effective marketing. We are collaborating with a company called Collegis, which will help us move our enrollment and marketing to the next level. We are very optimistic that, given their track record, they can provide solid guidance and expertise. 
In the end, our financial well-being is dependent upon a large number of factors. Donations are critical not only for student scholarships, but also because without them we will not be able to do all of the items described above. Mount Mary is a majestic campus, but it is aging. Creating the changes described here will likely lead to larger enrollments, greater revenue and hence a stronger bottom-line for the University. 
So is this plan a stretch? Yes! Is it achievable? I believe it is! As I said in my earlier message, we need your prayers, your interest and your financial assistance. As the leader of this fine institution, I see daily the lives we transform, some almost unbelievably. This plan, if orchestrated as we hope, will take Mount Mary from being a good place to learn, live and work to being a great place. We believe this is truly strategic!