News
A Place to Call Home
SSNDs to move into an intergenerational housing complex at Mount Mary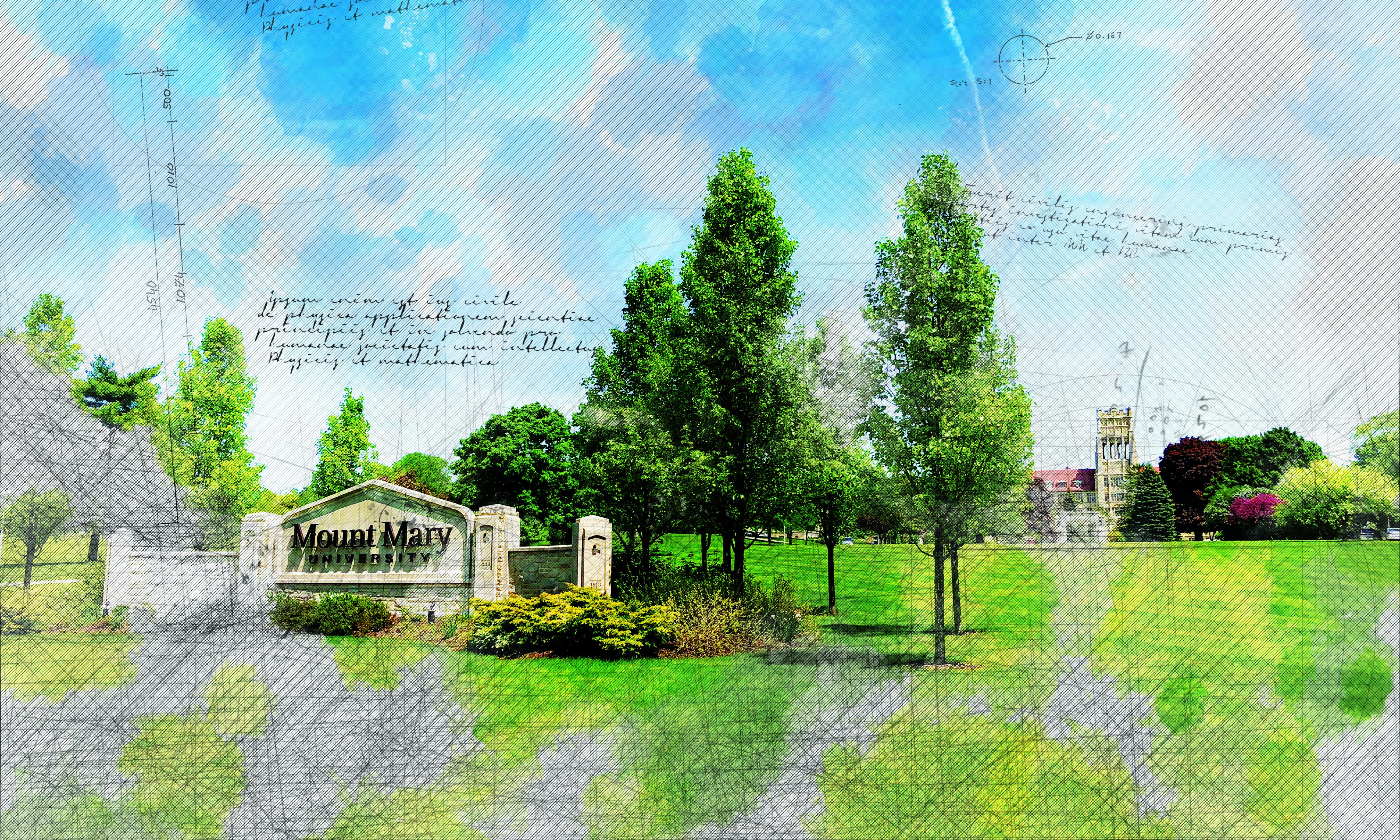 Posted on December 2, 2019
The School Sisters of Notre Dame, whose presence and leadership have powered the spirit of Mount Mary, are returning to campus for good.
After receiving affirmation from the Sisters of the Central Pacific Province at an Assembly of the Whole in the summer of 2018, the Provincial Council has now formally agreed to move their residence from Notre Dame of Elm Grove to a residence that will serve the needs of the sisters – as well as Mount Mary – well into the future.
The new housing complex, which has yet to be named, will accommodate the spectrum of care needs for the sisters. It will also offer independent senior housing units to the public, and dormitory units for single mothers who are studying at Mount Mary and their children. There are plans for an early childhood education center on the premises as well.
While many details have yet to be determined, a key design theme is to create spaces that inspire what Mount Mary President Christine Pharr, Ph.D., calls "intentional and serendipitous interactions" between these different groups in this living space.
"An intergenerational home that will include Sisters and students is a wonderful fit for the campus," said Pharr. "There are so many synergies with academic programs, including nursing, dietetics and occupational therapy. It provides many ways to bring us together."
The $40 million project is expected to break ground in mid-2020 following and contingent upon city of Milwaukee review and approval as a three-way venture between the School Sisters of Notre Dame, Mount Mary University and the Milwaukee Catholic Home, which currently manages the care provided to the sisters in Elm Grove.
The project will be financed through a three-way partnership between the Schools Sisters of Notre Dame, Mount Mary University and Milwaukee Catholic Home, as well as fundraising and tax-exempt bonds.
One hundred Sisters currently live at Notre Dame of Elm Grove, with another one hundred living throughout the Milwaukee community. All of them will have the opportunity to move to the new facility.
"This new endeavor gives us an opportunity to belong to something bigger than ourselves, to create a place to call home and build community with others," said S. Debra Sciano, provincial leader for the Central Pacific Province of the School Sisters of Notre Dame.
Plans call for 52 assisted living units for sisters who require care, 90 two-bedroom apartments for SSNDs and other seniors, and 16-24 family units for undergraduate single mothers and their children. The assisted living units, family housing and the larger, 90-unit independent senior living structure would connect to a common area, called a "town center," that will provide services accessible to seniors and students living in the facilities.
The 52 assisted living units are designed to accommodate current needs of the Sisters and to convert into student housing at an unspecified future date.
While it is relatively uncommon, a handful of other institutions currently offer housing for single mothers. One of them is the College of St. Mary in Omaha, Nebraska, where Pharr served in multiple leadership roles, including vice president for academic affairs.
"I have participated in a program to provide housing to single mothers and their children and it is one of the most life-changing experiences I have ever witnessed," she said. "Educating single mothers who often live in poverty breaks that cycle and provides their children with a firsthand experience of the value of education."
The move to bring religious orders back to their home campuses is happening in other communities  as well. The Sisters of St. Joseph  of Carondelet have recently built  a retirement community next to  St. Catherine University in  St. Paul, Minnesota.
"We look forward to partnering with our sponsored ministry, Mount Mary University, and the Milwaukee Catholic Home to provide a unique space that offers us the ability to live out our SSND mission and charism, with a focus on education, spirituality and interculturality,"said Sciano.
Mount Mary leaders Pharr and Vice President for Finance and Administration Bob O'Keefe, have represented Mount Mary in the initial planning phase, along with S. Debra Sciano, SSND, Provincial Leader, and Dana Russart, chief financial officer for the Central Pacific Province of the School Sisters of Notre Dame, and Dave Fulcher, chief executive officer of the Milwaukee Catholic Home. The group has toured other senior housing facilities in Milwaukee and other parts of the Midwest to gain insight into current trends in senior housing.
The partners are making significant progress with the project and have already engaged an architectural firm, PRA (Plunkett Raysich Architects) of Milwaukee, and an owner's representative, Senior Housing Partners of Minneapolis. This group is actively engaged in numerous Milwaukee senior housing projects, including Dickson Hollow in Menomonee Falls and Fairway Knoll in Germantown.
In early fall, Pharr, Fulcher and Sciano held a series of meetings to unveil the plans to the Mount Mary community, and Sisters at Notre Dame of Elm Grove.
At Elm Grove, they detailed some of the features such as a wellness center and the possibility of an organic garden modeled after Clare Gardens, a partnership between the Assumption BVM Franciscan Province and the Milwaukee Catholic Home, to provide organic produce for its residents.
"This more formal partnership at Mount Mary University will expand and honor the legacy and charism of the School Sisters of Notre Dame through expanded ministry in intergenerational programming, educational experiences, land use stewardship and service to the retired Sisters of the Central Pacific Province," Fulcher said.
"We are honored to be part of a process that truly leverages our collective ministries to enhance the experiences of retired Sisters, elders and young women and their children being served by this new intergenerational community."
While the prospect of a new home is exciting, it comes with some sadness about leaving what has, for so many years, been home for the Sisters. The SSNDs have set up a transition team to help Sisters work through the complex emotions that come with such a move.
A curator has already been carefully logging all of the artifacts as they begin the process of packing up, and another group is busy taking photos that will visually document all of the spaces of Elm Grove.
At the SSND meeting, one of the sisters, S. Carol Lesch, commented that she not only looks forward to the move, but she also eagerly anticipates being part of a community where there are students and children.
"We are teachers, after all," she said.