Faculty
Notre Dame Hall Redesign
Every building has a story. See how a refreshed Notre Dame Hall communicates our community's past, present and future.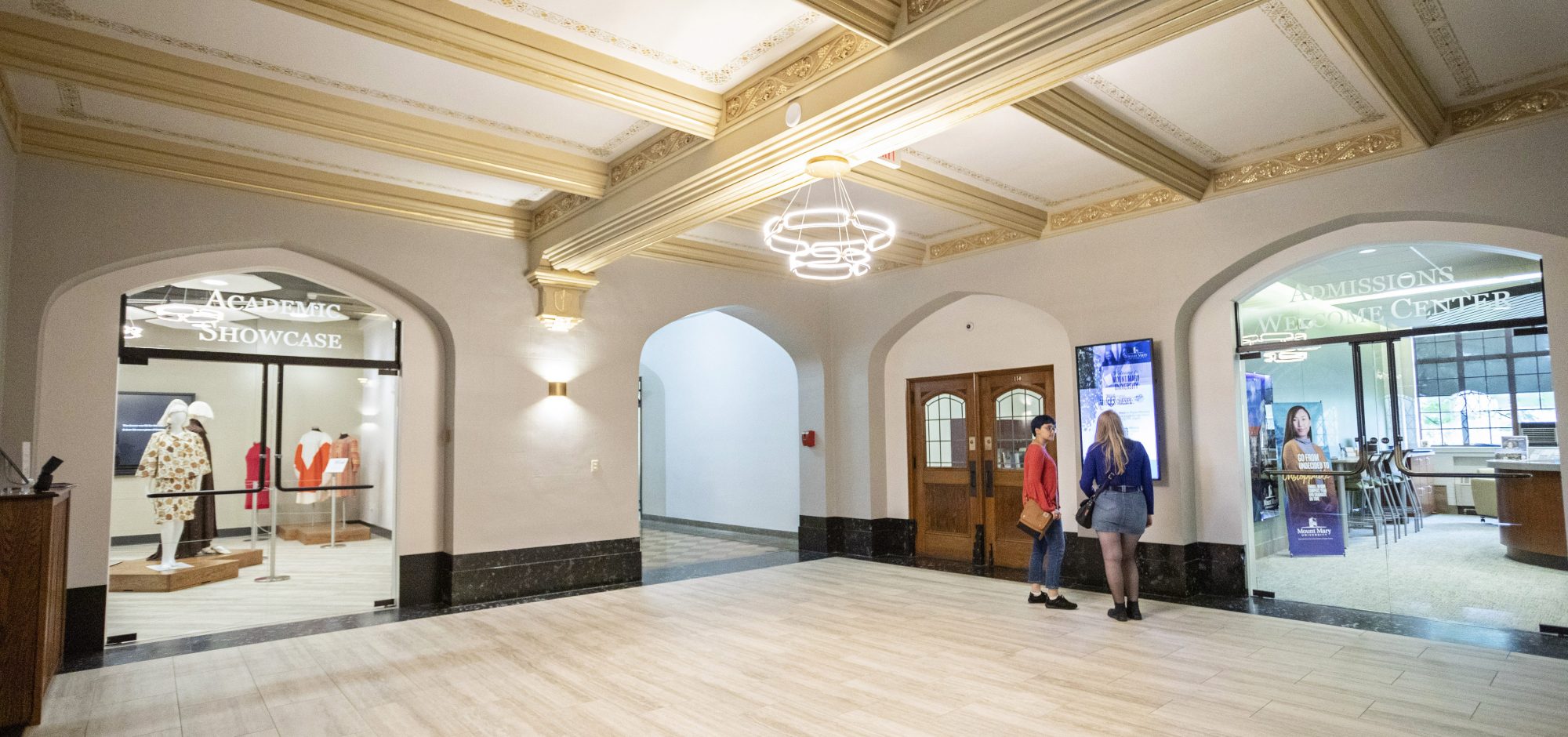 Posted on November 28, 2019
By Gigi Szeklinski, M.Arch, '00
After a busy summer of construction, a renovation that lies at the very heart of our campus is complete.
As the project manager and designer, it was my job to lead the effort to modernize and visually strengthen the first floor hallway of Notre Dame Hall to reflect the Mount Mary story. I worked carefully with Mount Mary's leadership and community to identify key objectives in order to develop a design that would withstand significant changes through time. Our challenge was this:
How can this beloved space transform into a vibrant and timeless place for us to express who we are and what we do?
As we began the design process, we knew this re-envisioned space would need to honor the history and respect the functionality in equal measure. Notre Dame Hall is both a historic place and an active nexus of day-to-day activity. As the front door to our campus, it greets prospective students to the Welcome Center and welcomes back alumnae and friends to the Alumnae and Donor Relations office just down the hall.
The design choices highlight these intentions in a purposeful way. For example, visitors don't always realize that our iconic tower is located directly above the main lobby. To reinforce the significance of this space, we used darker hues on the walls to make the space feel more grounded and provide more visual weight. We refreshed the ornamentation on the ceiling, adding vibrant shades of blue, green, burgundy and gold leaf embellishments to the design. This important area now has the distinctive detailing it deserves.
Our iconic arches, in highly stylized and abstract forms, are a motif echoed throughout the hall, through the glass doors and painted arches over doors to make the public spaces more welcoming. Two accent panels with soaring arch designs anchor each end of the hall, cohesively connecting the two hallway spaces.
One of these end-of-hallway panels on the south side of the hallway displays what we call our "Celebration Wall," showcasing portraits of community members who have been recognized for service and excellence. The panel on the north wall commemorates our campus history and SSND heritage, our tribute to "Spirit in Stone."
As you walk down the hallway, there is no mistaking our shared values, known as the 4 C's: Community, Commitment, Compassion and Competence.
There are modern touches throughout the hallway, serving as constant reminders of our quest to innovate and inspire. Digital displays with touch technology provide dynamic and on-demand messaging for those traversing from place to place.
At the same time these hallway renovations were taking place, we were carving out another special area adjacent to the lobby, by renovating an office space into a museum-quality gallery space that includes a large-screen video monitor and architectural elements that blend with existing adjacent materials and introduce modern touches. The Academic Showcase is a multidisciplinary space that currently features a display
from the Fashion Archives.
Over the summer, this project kept me very busy; I typically use the summer break every year to work on a design project or two as a way of staying up-to-date with current design industry developments, products and technology.
This project has been an interesting mix of personal and professional experiences for me. When I was a student here 20 years ago, I took my environment and the Mount Mary story for granted. Through the design of this project, I became a student again, learning a little more at each meeting about what makes Mount Mary University so unique and special.
The opportunity designers have to turn our clients' vision into concrete, tangible designs is not something any designer takes lightly. This project gave me the chance to tell an important story, one I knew from many perspectives, in three dimensions. I could marry my expertise, celebrate the story I now see all around me, and create a space that Mount Mary students will take along with them, in some small way, for the rest of their lives.
Gigi Szeklinski, M.Arch, '00, is an assistant professor and chair of Mount Mary's interior design department.