News
Founding Mothers: Reflecting upon the SSND legacy in Elm Grove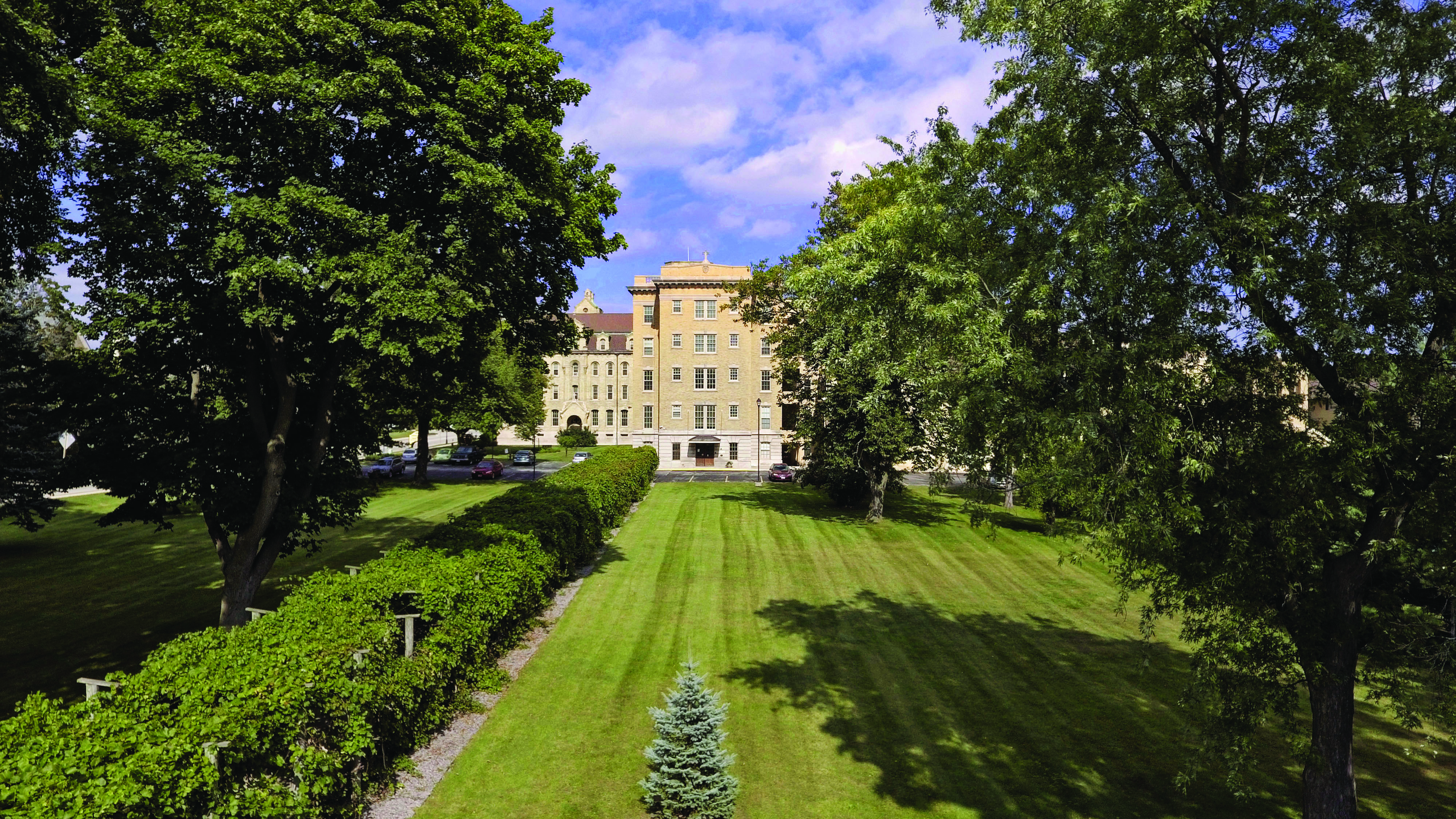 Posted on November 28, 2019
The year was 1855 and Mother Caroline Freiss, who had come to Milwaukee five years earlier, was searching the countryside for additional land to support the order's growing mission.
She was traveling west on Watertown Plank Road by carriage when the horse refused to move from a bend in the road. Considering this to be a divine sign, Mother Caroline decided that this was the location where she was meant to build. The following year, she purchased 40 acres of land and established an orphanage and home for elderly and ill Sisters.
In the 163 years that have passed, the community of Elm Grove has developed around the complex. The castle-like structure resides on the current campus, and the historical landmark serves as a testament to the Bavarian heritage of the founding sisters. The orphanage closed in 1940, but the convent and community of Sisters have remained.
Housing approximately 100 sisters at present, the residential facilities include a chapel, a large entertainment and meeting room, a hair-care room, exercise room, dining room and a gift shop for the Sisters' homemade crafts.
In 2021, the SSNDs will be moving to Mount Mary.
At its peak, the Elm Grove convent complex spanned 280 acres and once featured a fully functional farm with crops, gardens, dairy cows, pigs, chickens, an apple orchard and beehives. The produce from the farm was enough to sustain the residents of the Elm Grove convent, orphanage and the SSND Motherhouse, which took up a full city block bordered by Milwaukee, Knapp, Ogden and Jefferson Streets in downtown Milwaukee.
"The School Sisters gave the community its original culture," said Elm Grove historian Stephen Hauser.
Mother Caroline, who came to the new world in 1850 to fulfill the need to teach immigrant children, died in 1892 and is buried at the SSND cemetery in Elm Grove.
The School Sisters of Notre Dame have served thousands of people through their convents, schools and orphanages across Wisconsin and the world at large. For over 185 years, the Sisters have been a beacon of hope for many through education, employment and other means of social welfare.
While there will soon be changes for the Sisters themselves, they remain rooted, not to location, but to mission.
"What continues to amaze me is how education and community life have changed, and yet how the essence, the soul of what we are about has continued," said S. Joan Penzenstadler SSND, vice president for mission and identity at Mount Mary.