Planning the CREO Show
16 weeks. One show. A million details.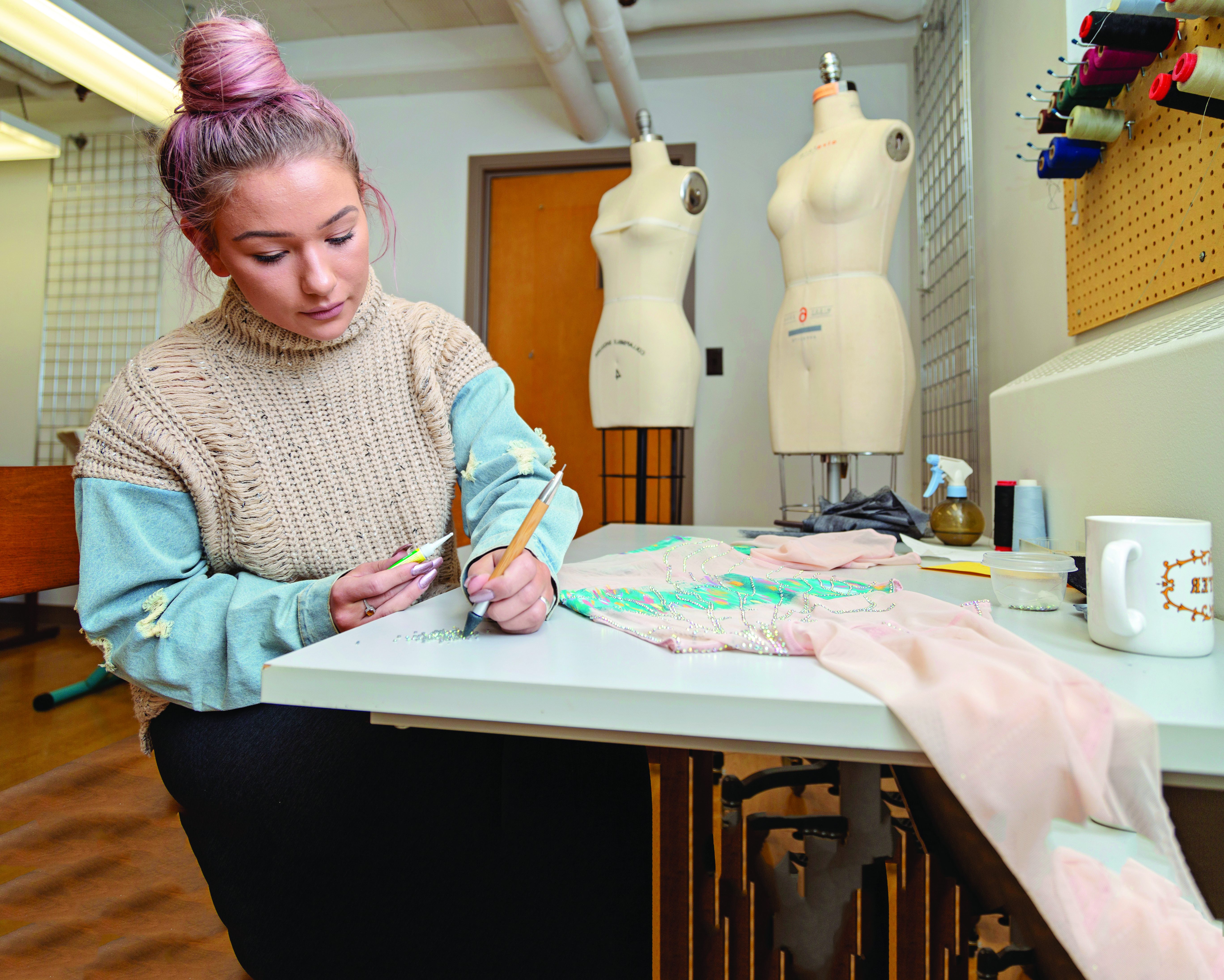 CREO tickets for the 2019 show are now on sale. To view showtimes and to purchase tickets, visit https://creo2019fashionshow.brownpapertickets.com/.
---
At the very start of the semester, the fashion merchandise management students realize they have a life-changing experience ahead of them.
From that moment in January, students in the Fashion Show Coordination class learn about the huge undertaking that will consume their hearts and minds for more than 15 weeks, culminating in the CREO fashion show on May 10.
By the third week of class, the reality of this massive responsibility truly sets in as students join the planning and execution committees. This is when the excitement really begins for the students and faculty.
This is nothing short of a thrill ride.
Powering up the process
CREO is Mount Mary's annual celebration of creativity throughout the School of Arts & Design. It begins with two weeks of senior exhibitions from studio art, graphic design, interior design and art therapy students, and culminates in a fashion show of garments designed by fashion design students and planned and executed by fashion merchandise management students.
The star of the show is the fashion on the catwalk, but it is only possible through the hard work of students in the three-credit Fashion Show Coordination class that is dedicated to planning the show.
"Sometimes we get so hung up on that moment on the runway that we forget to talk about everything that went into it," said Ashley Brooks, chair of the fashion department.
"Merchandise management students put so much thought, inspiration and creativity into making that final product. It's a very long and detailed process," Brooks said.Under the shared leadership of faculty members Brooks, Trish Kuehnl and Stephanie Brown, merchandise management students are responsible for all aspects of the event, from themes and promotions to makeup and staging. Students are broken up into eight committees:
• Models
• Accessories
• Visual Documentation
• Promotion and Media
• Ushers/Dressers/Logistics
• Invitations/Programs/ Commentary/Master Calendar
• Staging/Stage Movement/Music
• Hair & Makeup
"Right away our committees start working together because we have a lot of things to do early in the semester," said Hailey Rohlinger, a merchandise management junior. "For the model committee, the most important thing right away is to finalize the models because we'll need to schedule auditions soon. For the promotions & media committee, we need to meet with Mount Mary's marketing department to start planning how to reach out to the community. We're really anxious to get the wheels rolling."
Setting the tone
The first item on the class agenda is to develop a theme. The group decided on "Unscripted: Off the Cuff," which mirrors a greater fashion trend representing freedom to use a variety of styles on the same stage, instead of being limited to just one. But it also represents the spirit behind Mount Mary's fashion department.
"The fashion design students and merchandise management students come together to work toward one theme," said Rohlinger. "It's a very broad term, but it means we make the event elements and garments come together. As independent women at Mount Mary, we're all different people, but we combine our talents to make it one great show. We bring our ideas together and watch them unfold."
Merchandise management senior Essence Curry is on the accessories committee, so her first goal was to look at the garment designs students are creating, to get inspiration for accessories to complement the designs.
"Once I see the designs and the styles they're working toward, that helps our committee gather ideas and put some Pinterest pages together," says Curry. "I like matching up unconventional pieces together and making a whole look out of it."
For example, fashion design senior Caroline Potter is creating a collection with a glittery, lighthearted feel to reflect her personality. Her collection requires hours of gluing tiny gems onto mesh fabric.
"Right now my focus is time management, having enough time to work outside of class so I can do quality work," she said. "Once my garments are fitted and finished, I think I'll be able to sleep well."
Making tough choices
Throughout the semester, committees present recommendations for the class to vote on, ranging from hair and makeup styles for the models to staging and décor that will transform the Bloechl Center from a basketball court into a fully immersive fashion venue.
Along the way there are graphic designs for the logo, program and invitations to consider. These elements are created by graphic design students in partnership with the fashion show production class. Also there are lighting and music choices to be made that fit the theme.
Choosing garments
In week 13, a three-person jury of industry professionals review and critique the garments. Among those jurors is Donna Ricco, an alumna and 30-year design veteran who brings a perspective that values beauty and practicality. She serves as an advisor to the department in the role of executive fellow.
"I went through the whole process at Mount Mary myself many years ago and have been working in the industry a while, so I can help students understand what's important when someone's looking at their work and what they need to be thinking about as they're designing the final garment," said Ricco.
Creating learning opportunities
Barbara Armstrong, dean of the School of Arts & Design, oversees planning and operations, balancing the business and operations aspects and education needs simultaneously. Armstrong shares the event's financial budget with students and gives them the power to make decisions, often requiring negotiations among the committees to create the show they want within their budget.
The fashion show provides a recruiting opportunity by showcasing student creativity and bringing the community on campus. Plus, it shows sponsors the fruits of their contributions. But Armstrong ensures that education is at the core of the entire experience.
"We have very high expectations set for the students, but throughout the entire process, I need to always come back and determine how every choice helps students learn to manage time, people, process and what goes into making a fashion show. Every choice needs to impact student learning in a positive way."
Fostering real-life skills
While the fashion show provides a portfolio-builder for designers and merchandise management students, the biggest takeaway is often an important life skill: working with different personality types.
"Throughout the planning process, our students learn how to communicate with many kinds of people and resolve conflicts to achieve a common goal," said class instructor Kuehnl.
"They may be working with vendors who do video, lighting or sound, or they may be working with a classmate who has a very different opinion," said Kuehnl. "That's important because companies want employees to have the soft skills to communicate with lots of different personalities,
and the merchandise management students get that exposure. "You can't put a price on that experience."
CREO tickets for the 2019 show are now on sale. To view showtimes and to purchase tickets, visit https://creo2019fashionshow.brownpapertickets.com/.