Faculty
The Strength of Our Stories
Sharing personal narratives helps students find their calling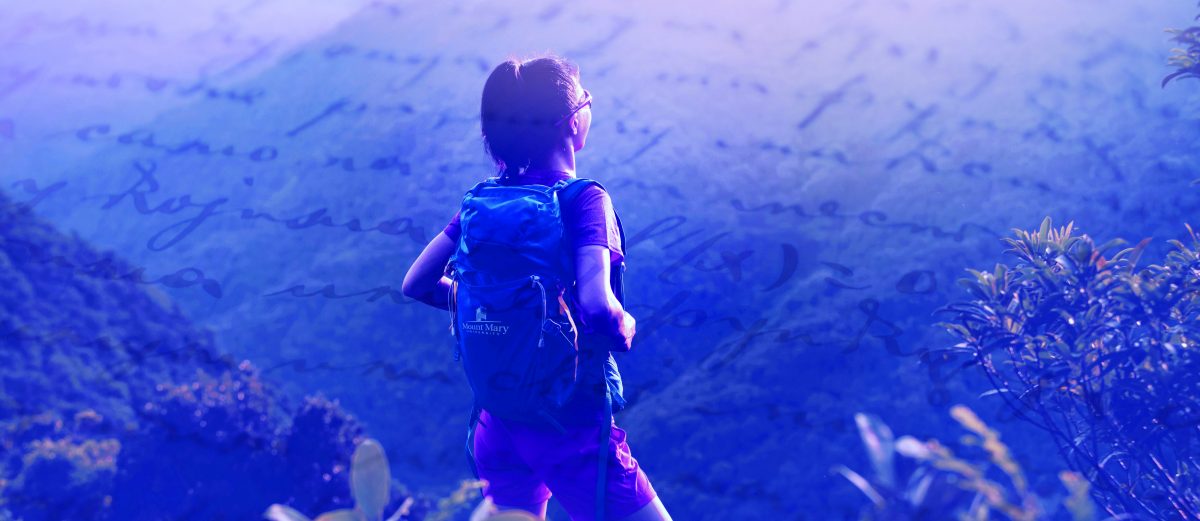 Posted on November 16, 2018
It is one of the most powerful and personal questions a person can ask of another:
How did you become who you are?
The question is only seven words, yet the answer draws upon a lifetime of experiences. In order to help our students through the self-discovery process, members of the faculty, staff and administration are learning to express the stories of their own personal journeys.
These conversations are building blocks that can lead to much larger discussions about vocation and purpose, said Sarah Olejniczak, dean for student affairs.
"Vocation as a topic can be overwhelming," she said. "Breaking the concept down into small, tangible pieces such as narratives can make this feel more attainable to our students, most of whom have had limited experience with the intellectual and theological exploration of vocation before coming here." Mount Mary is part of a select group of liberal arts colleges across the country that are creating pathways to make the topic more approachable. The Council of Independent Colleges-Network for Vocation in Undergraduate Education, also known as NetVUE, has funded a number of campus projects for the last three years.
These projects have included reading groups, retreats, pilot projects and most recently professional development. Facilitators from the local storytelling organization Ex Fabula conducted training in October; by the end of March, some 150 members of the Mount Mary community will be trained in sharing purposeful vocational narratives.
It is not uncommon for Olejniczak to meet with students who are in crisis — it is part of her job to address students' academic and personal issues with them. Sometimes she shares her own story, a turning point that helped shape her identity.
After an unsatisfying first semester of college biology, she realized that she no longer wanted to pursue her childhood dream of becoming a doctor. "It was an identity crisis," she said. She switched first to education, then business.
Through all the changes, she worked as a resident assistant in her college dormitory. She was so successful at her job that one of her supervisors encouraged her to consider a career in higher education.
"Someone saw something in me and helped me turn on the light bulb," Olejniczak said. They helped her  realize that her personal gifts and talents could be used in a way that served  greater good. "It was a pivotal moment in my vocational journey."
Jason Meyler, assistant professor of Spanish and chair of the World Languages  department, has also led the vocational initiative on campus. He said he cannot trace the beginning of his vocational journey to a single moment; his narrative started as an infant, adopted from Bogata, Columbia.
He was raised in suburban New Jersey and spoke no Spanish until some Puerto Rican neighbors introduced him to Spanish food and culture. He studied Spanish in college and studied abroad, eventually returning to Bogota on a Fulbright scholarship at the age of 23.
He tells his story in Spanish and often discusses such topics in Spanish with his students. "There is no better place to share your vocational story than with a college population," he said.
Colleges and universities rooted in the liberal arts are particularly well suited to undertake the task of educating future leaders who are theologically literate, whose attitudes and behaviors are shaped by their values and commitments, and who are eager to sustain a life of service that is guided by a sense of calling, Olejniczak said.
As Mount Mary launches a new initiative in fall 2019 aimed at assisting undecided students to discern their major and career path, the program will be distinctive, in part because the exploration process for students will be embedded in the deeper context of purpose, mission and vocation.
"Our students know that answering the question of who I am isn't just my major," Olejniczak said. "They recognize that life
is a journey."