Alumnae
Sisters come together to create the Luxem legacy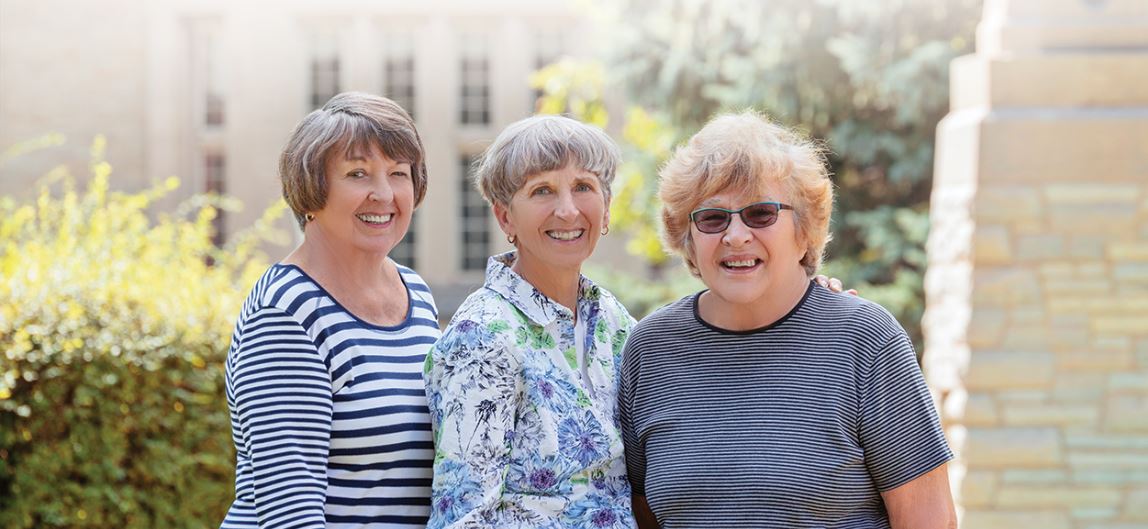 Posted on November 16, 2018
In 1942 she was known as Sister Mary Ignatia, Mount Mary's registrar, but to the three Luxem sisters she was "Aunt Mamie." Every summer the girls would travel from Indiana to visit their aunt, and those fond memories began the sisters' lifelong commitment to Mount Mary.
Staying in the dorms, eating in the dining room with the Sisters and staff, and playing with the switchboard were childhood favorites during those summer visits. It was through these visits Mary Ellen Luxem '68, Nancy Luxem Bynan '62, and Catherine "Kay" Luxem Fogel '58, came to know Mount Mary as a warm and inviting place. During Sister Mary Ignatia's 18 years at Mount Mary, she was able see two of her nieces attend.
Their aunt, Sister Eucharita, was one of the first SSND missionaries to be sent to Guam and frequently wrote letters to the Luxems. She also inspired the sisters' commitment to a Catholic education.
The sisters, all first-generation college graduates, share how their parents worked hard to make their goals of attending Mount Mary come true. A $100 scholarship to Mount Mary was awarded to each sister and influenced their decision to attend.
The impact of this scholarship later led the sisters to establish a scholarship of their own. The sisters donated $26,000 to start the The Luxem Family Endowed Scholarship Fund, offered in various amounts to social work majors, chosen in support of Mary Ellen's and Nancy's careers in social work.
"Scholarships made it possible for us to attend Mount Mary, and we wanted other students to be given the same opportunity," Mary Ellen said. "We also wanted to honor the Luxem family legacy. It started at Mount Mary in 1942 and will continue for years to come."
The sisters fondly remember the unique, personal experience Mount Mary provided, which allowed them to learn, grow and cultivate a lifelong love of learning. This lasting impact inspired the sisters to support Mount Mary, both financially and through volunteer involvement since their graduations.
"We hope others will have the same opportunity to develop their character, find opportunities to better themselves, and contribute to the diverse world they live in."