Alumnae
Downtown Designers: Mount Mary's alumnae set the vision for the city's newest spaces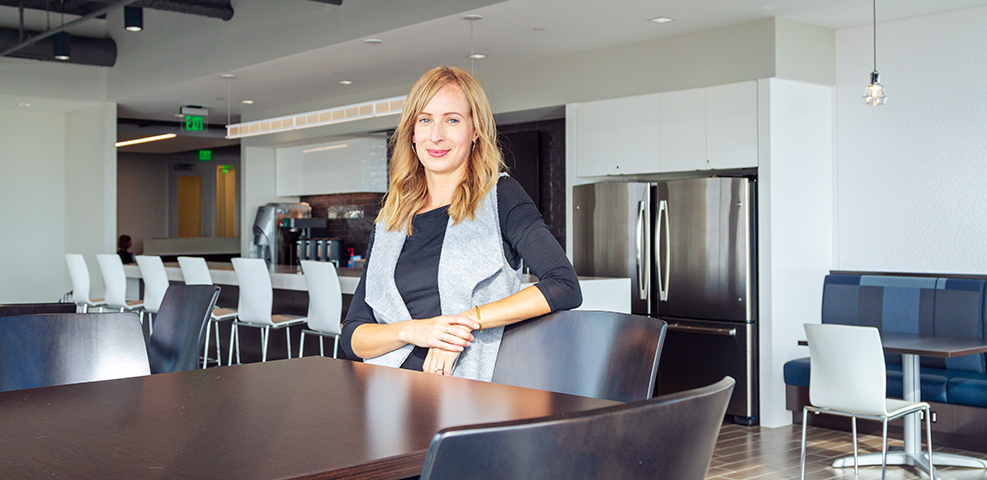 Posted on November 16, 2018
When Colliers International moved into the newly constructed office at 833 E. Michigan St. in downtown Milwaukee, the real estate firm wanted a space that could depict its status in the community — and in the world.
"They wanted to increase employee and visitor engagement by using glass for visual transparency and a central thoroughfare that showcases the hustle and activity of the office," said interior designer Michelle Kempen '11. "They wanted a space that said 'we are a global leader,' one that matched the level of service they provide."
---
Michelle Kempen '11 is comfortable designing residential spaces, such as Vantage on the Park (formerly the Park East Hotel located on the corner of State and Marshall Streets), as well as corporate offices such as Colliers International at 833 E. Michigan St.
---
Kempen led the sleek, minimalist design of the space, clean lines punctuated with stripes of neon blue lighting running across the ceiling. The blue lights visually connect the work center to the spectacular view of
Lake Michigan and the world beyond.
Through her employer, Kahler Slater, Kempen has lent her creativity to the design of Milwaukee's newest spaces, including many other tenants in the building.
The building was named the Milwaukee Business Journal's real estate project of the year in 2017.
She is among the Mount Mary design alumnae who are helping Milwaukee's revitalization to take shape.
"It's an exciting time for Milwaukee," said Meg McKenna, director of development for VISIT Milwaukee. "Developers, entrepreneurs, small business owners, and community leaders are coming together to breathe new life into both the downtown core and the adjacent neighborhoods. We know from our over 23 million leisure and business travelers each year that Milwaukee continues to surprise and delight, and that there is a different energy in the air."
As the co-lead interior designer along with Populous out of Kansas City, Jackie Posselt '98, is at the head of arguably the city's most celebrated project, the Fiserv Forum. As a senior interior designer and shareholder at Eppstein Uhen Architects, she has worked extensively with the Bucks, not only on the forum but also the design of the Bucks headquarters in historic Stock House at Schlitz Park.
---
Jackie Posselt '98 of Eppstein Uhen Architects led the design at the Froedtert & Medical College Sports Science Institute, Godfrey & Kahn's office in the 833 Building & the Milwaukee Bucks headquarters in Schlitz Park.
---
For this project, completed in 2015, the Bucks wanted to accent the warehouse feel and exposed surfaces of the hundred year-old space while accommodating new technology and incorporating modern touches.
"I wouldn't do a design project without Jackie because she is a valued partner, she understands our brand and is integral to the design process," Milwaukee Bucks President Peter Feigin stated on the Eppstein Uhen website.
Many influential designers with ties to Mount Mary continue to foster the creative pipeline from campus to downtown. Posselt and Kempen are regular guest lecturers at Mount Mary.
"Our interior design students benefit greatly from the real-world examples of the alums that have come before them," said Gigi Szeklinski, chair of Mount Mary's interior design department. "It's easy for them to envision themselves becoming part of Milwaukee's new energy. Students and alumnae alike understand that this connectedness is an important facet to our program."
Mary LaFrombois, interior designer for Milwaukee Symphony Orchestra's new concert hall for Kahler Slater, serves on Mount Mary's interior design advisory board. She is also engaged in renovations at the Milwaukee Athletic Club and has worked on several office suites, including ones in the new 833 East Michigan building for WEC Energy Group executive Gale Klappa and for former baseball commissioner Bud Selig.
---
Mary LaFrombois, interior designer for the Milwaukee Symphony Orchestra project on Wisconsin Avenue, blends contemporary design with historic renovations. Pictured here are renderings of the pre-function space (left) and performance hall (right) currently under construction. LaFrombois serves on Mount Mary's interior design advisory board.
---
"Mount Mary designers are well prepared to help lead the growth and future of Milwaukee," LaFrombois said. "It's exciting to see such talented graduates involved in the renaissance of Milwaukee."
Each year, Lisa Blazek '97, an interior designer who serves on the department's advisory board, looks forward to the ASID interior design awards to check out the most recent work of fellow Mount Mary designers, "that's when we get to see the impact they are having," she said.
Blazek is particularly impressed with the trend she is seeing in making each project distinctive through the use of custom-made signature pieces by local artisans.
These signature touches are present, even on the largest of projects such as Posselt's work on the Fiserv Forum.
"I love the shift of the 'Makers Movement,' and I am trying to incorporate handmade and even local products into my designs where I can," Posselt said. "For example, while designing several areas of the new Fiserv Forum, I chose to use Scathain, a local manufacturer in Milwaukee's 5th Ward for various metalwork pieces."
Another key differentiator that sets Mount Mary alumnae apart is a commitment to practicality, Kempen said.
"Creativity is innate in all of us," Kempen said. "But there is a lot of reality to the design work. When I work with another Mount Mary alum I know they will have the ability to meet schedule, budget and understand building codes."
They will know everything that it takes to turn vision into reality, she said.
"That's what makes a great interior designer."
---
For more information about Mount Mary's interior design programs, visit Interior Design and Interior Merchandising.