News
The Case for Common Ground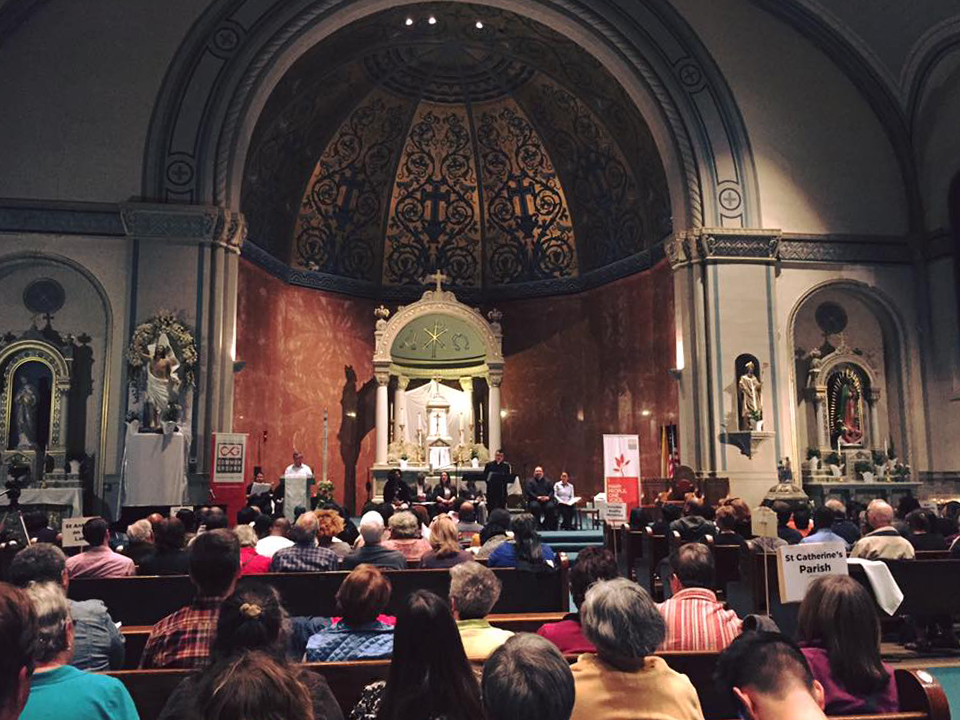 When 750 people packed inside a church on Milwaukee's South Side to hold a structured, respectful exchange with the city's chief of police, they not only proposed safety solutions for the neighborhood, they displayed the power of coordinated action.
The issues ranged from increasing the number of bilingual responders to the need to report crimes without fear.
Common Ground, the non-partisan organization that organized the event, believes that social change takes place through community mobilization, what the group calls "people power."
For almost a decade, Mount Mary University has an active core team on campus that contributes people power to Common Ground campaigns, which involve 40,000 citizens throughout Southeastern Wisconsin.
The unique power of Common Ground is its ability to organize around a single cause, said Sister Joanne Poehlman '65, associate professor of anthropology and a founding member of Mount Mary's core team.
The group identifies a social issue, researches and collaborates with all stakeholders, and then organizes hundreds, if not thousands, around this cause. Their past successes include:
Raising $5.8 million in commitments from local banks to rehab and clean up foreclosed properties in the Sherman Park neighborhood.
Lobbying the City of Milwaukee to increase the number of
summer youth jobs and provide a quarter of a million dollars to
fund the programs.
Working with Milwaukee Public Schools to revamp its after-school tutoring program.
Encouraging tax money through the Fair Play initiative to upgrade school athletic fields.
Asked why she is involved with this group, Poehlman simply replies, "Because I'm Mount Mary. I'm a School Sister of Notre Dame." Poehlman is always looking for ways to acknowledge her roles and fulfill her mission of promoting community and unity.
"It's never one person. Social change comes through transformation when individuals come together."
Common Ground celebrated its tenth anniversary in April. Alumnae can find their local chapter of Common Ground in Wisconsin to participate as an extension of their Mount Mary experience. commongroundwi.org/