News
Mount Mary Makes Room For History
School Sisters of Notre Dame Open North American Archives at Mount Mary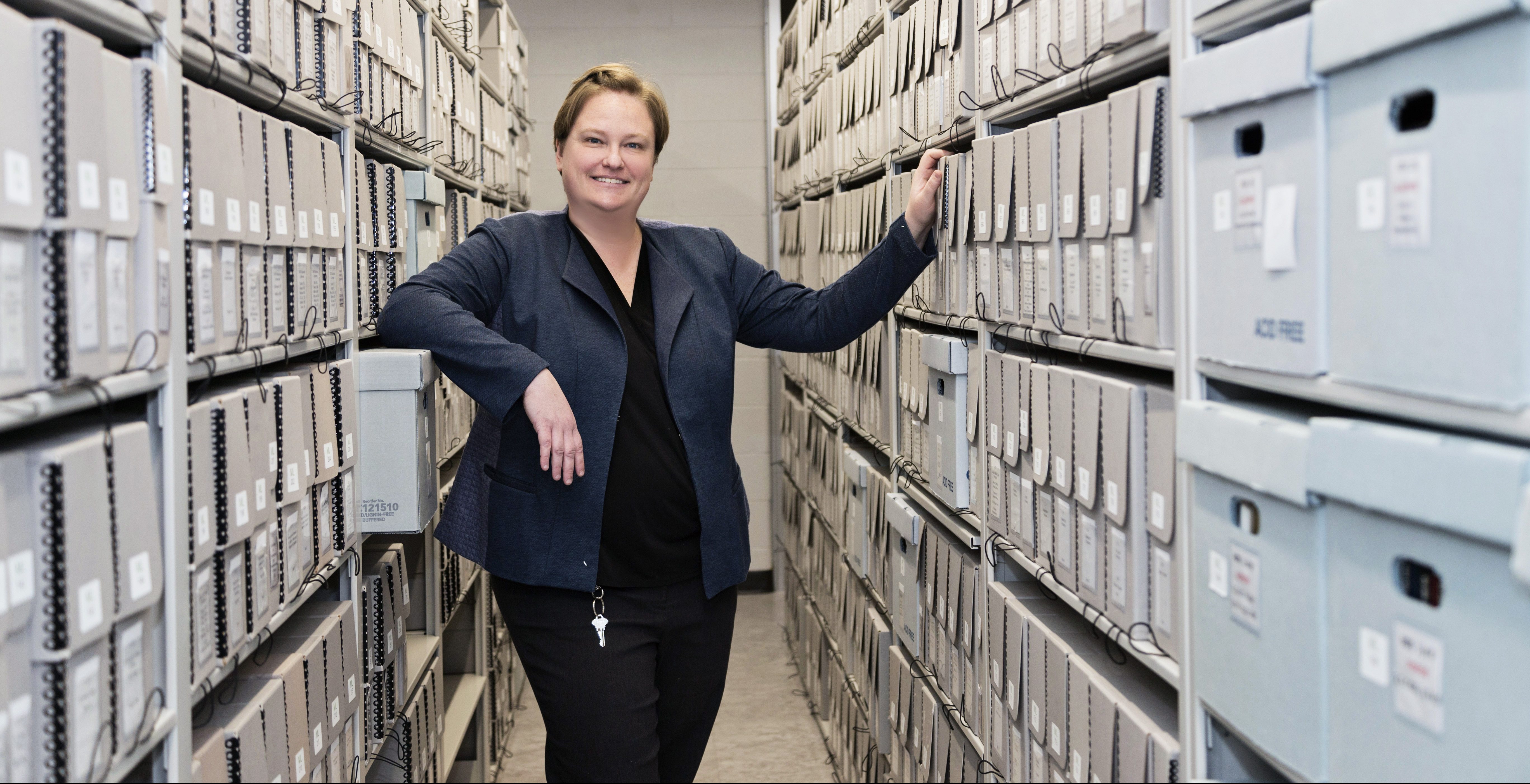 A newly remodeled space in the lower level of Bergstrom Hall now houses the documents that detail the legacy of courage, leadership and vision of the SSNDs in North America.
The SSNDs have chosen Mount Mary University as the location to store 185 years of archival history. The School Sisters of Notre Dame North American Archives stretch over 2,000 linear feet (a length equivalent to five and a half football fields) of materials from collections across the United States and Canada that detail the lives and works of the School Sisters, including the records of 9,000 deceased sisters.
In early fall SSND archivists from the eight SSND campuses in North America consolidated their important documents into packing boxes, loaded enormous moving trucks, blessed them and sent them on the cross-country trek to Mount Mary.
Now that the documents are settled here at Mount Mary, new SSND archivist Michele Levandoski manages the collection and provides the research and guidance in finding primary documents. Anyone interested can learn about the history of the SSNDs, Catholic education and the lives of people touched by the Sisters and their mission.
Among the most-requested items in the archives are records of sisters who worked in schools, she said. In fact, there are so many requests that the archive's staff developed an online form called "Search a Sister." Often, this data request could lead to an obituary record, photo and other details that helps its seeker see the full life of a School Sister of Notre Dame.
The collection continues to grow as the two SSND provinces in North America, Atlantic-Midwest and Central Pacific, continue to provide documents and artifacts that capture their history.
The formal opening of the archives took place on June 2, 2018.
From the Formal Opening of the Archives
Did you know?
The archives hold records from 11 locations across North America and include records from SSND schools and institutions, records for 9,000 deceased sisters, along with books, photographs and other materials.
Some of the largest collections come from St. Louis and Milwaukee.
The growth and history of the congregation could be traced through the languages found in its documents, which include German (the official language of the congregation until well into the twentieth century), Polish, Hungarian, Italian, Czech and Slovenian, followed by Spanish and Portuguese as spoken in South and Central America. A limited number of documents in languages such as Chamorro, Japanese, Nepalese and Ghanaian are evidence of the sisters' response to the call to serve God's people in ever more distant lands.
At the closing of the archive in Mankato, Minn. in late 2017, sisters there lit three candles during a prayer ceremony, one for the past, the present and the future.
The SSND North American Archives is open to the public Monday – Friday, 8:00 a.m. – 4:30 p.m. Appointments are preferred and can be made by contacting the archivist: 414-930-2706 or mlevandoski@ssnd.org.
Further Reading: