Costa Rican Black Bean Soup Recipe
Try Amelia's recipe for Costa Rican black bean soup, Sopa Negra.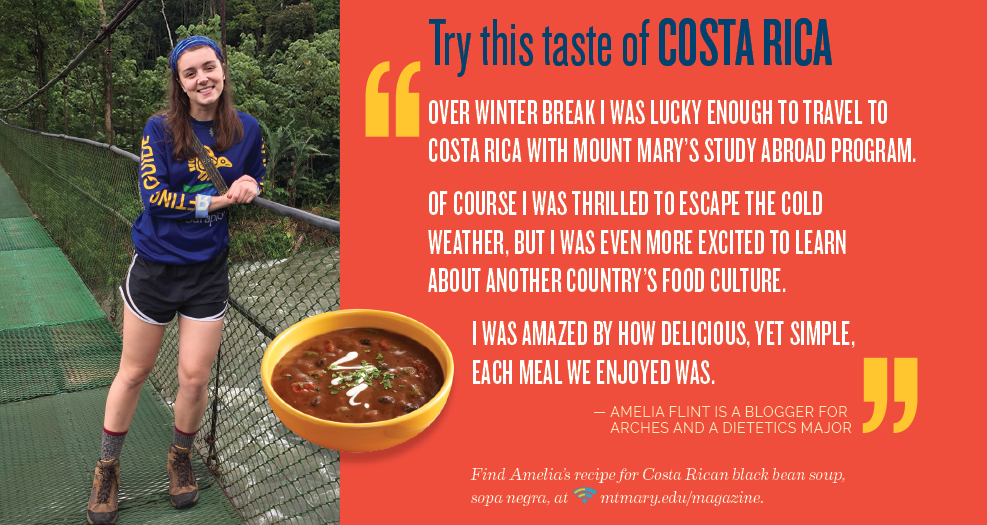 An appetizer or light meal, Sopa Negra, or black bean soup, is a classic Costa Rican dish, and can be found throughout Latin America . This meal provides a quick, healthy and simple way to experience another culture's food!
Over winter break I was lucky enough to travel to Costa Rica with Mount Mary's study abroad program. Of course I was thrilled to escape the cold weather, but I was even more excited to learn about another country's food culture. I was amazed by how delicious, yet simple each meal we enjoyed was. With the help of Gallito and Pinto by Andrea Corrales, I was able to cook this meal from an easy to follow recipe.
To start, add the beans to the blender. A typical 15oz can of beans has about 2 cups of beans and 1 cup of liquid. I use the liquid from both 15oz cans of beans and measure out the 3 cups beans. Add any excess water needed, and blend until smooth.
Add 2 Tbsp of oil, spices and diced onion to the saucepan on medium high heat, and saute until the onions become translucent. When the onions have become translucent, add the peppers, celery, and pureed black beans.
If you are unsure how to properly dice red bell peppers, here is a great video to check out.
Heat for 3-5 minutes on medium, and add the chopped cilantro. If you are looking for more texture in the soup, leave the cilantro roughly chopped. After heating for a few more minutes, and the soup is at a slow boil, you are ready to enjoy! For an extra twist, once the soup is boiling, crack an egg into the soup, and turn off heat. The egg will poach within the soup leaving a delicious surprise.
Add a garnish of sliced avocado and cilantro or hot sauce of your choice, and you are ready to enjoy this Costa Rican staple. Pura Vida!
Yield: 6-8 servings
Prep time: 10 minutes
Cook Time: 10 minutes
Total Time: 20 minutes
………………………………………………..
Ingredients:
3 cups cooked beans
3 cups water
1/2 cup cilantro, chopped
1/2 red bell pepper, diced
1 medium onion, diced
1 celery stalk, finely chopped
2 tsp salt
1 tsp cumin
2 Tbsp oil
4 eggs (optional)
Avocado sliced (optional) as garnish
Cilantro, as garnish
………………………………………………..
Instructions:
1. Puree beans and water in blender.
2. Heat oil over medium high heat. Add spices and onion.
3. Saute for 2-3 minutes, until onions become translucent.
4. Add red bell peppers, celery, cilantro and bean puree. Reduce heat to medium.
5. Cook soup until simmering, 3-5 minutes. Add cilantro.
6. Continue cooking soup until boiling.
7. If adding eggs, crack 4 eggs into soup, and remove from heat immediately. Eggs will cook in 5 minutes.
8. Garnish and serve.
Article by Amelia Flint and written for Arches: Sopa Negra- Costa Rican black bean soup