Events
News
Mount Mary Welcomes 12th President, Christine Pharr, Ph.D
Meaningful Moments and Highlights from the Inauguration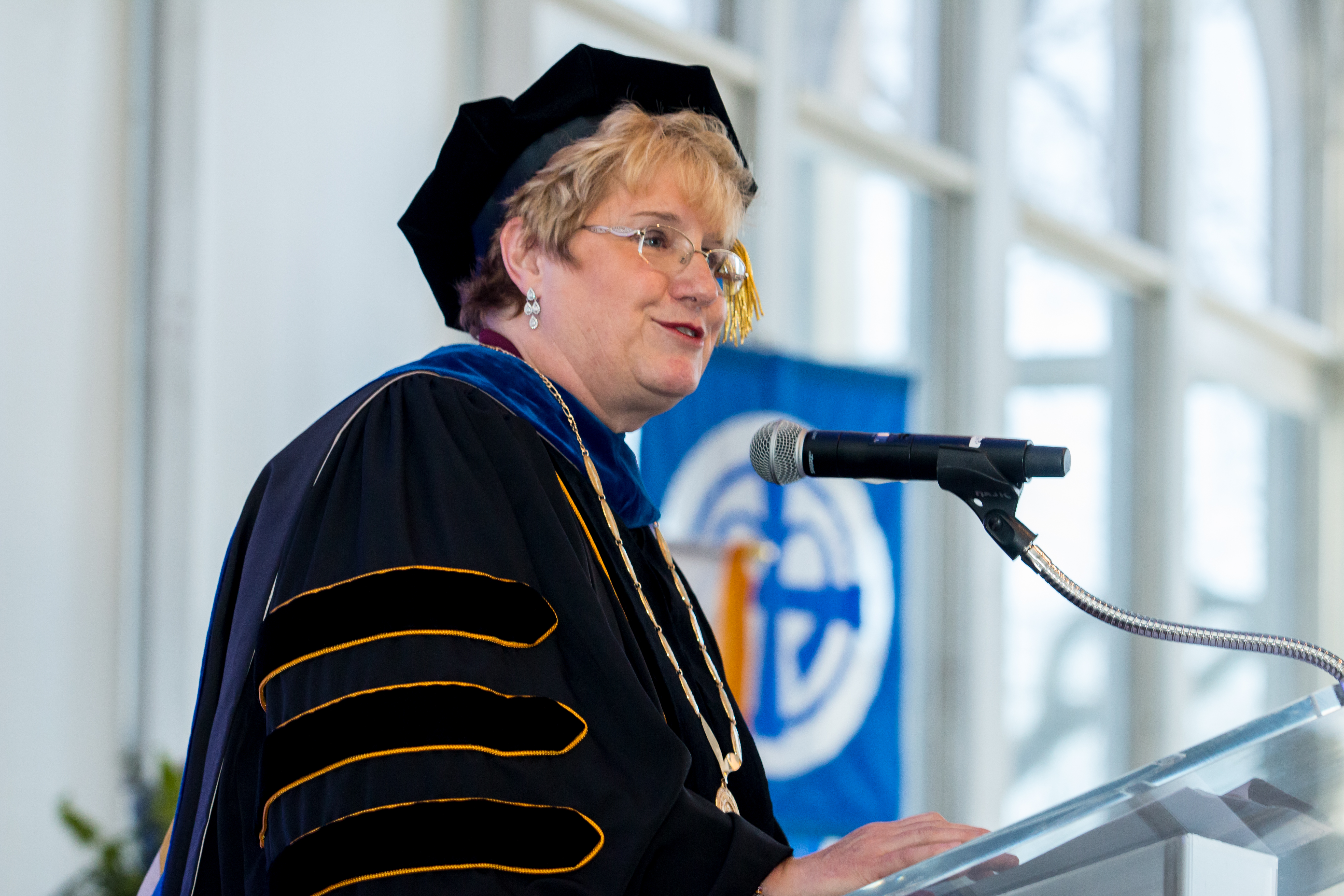 In a ceremony that drew strongly upon themes of community, Mount Mary University officially installed its 12th president, Christine Pharr, Ph.D., on April 20.
The day brought together the Mount Mary community, along with professional and personal connections Pharr has made throughout her life. Having friends, family and professional colleagues from around the country celebrate the day amid her new community at Mount Mary demonstrated her commitment to leading a multi-faceted, connected life.
In her inaugural address, "A Community of Our Making," Pharr explained the empowerment that comes from networks of support – "it takes a community to build a meaningful life," she said. "No one is successful on their own."
Mount Mary, she said, provides these bonds of community for women who set forth to create lives of meaning and purpose. Academic institutions from near and far sent delegates to participate in the event, including all-women's institutions such as Alverno College, Smith College, Wellesley College, St. Catherine University and the College of Saint Mary, in Omaha, Neb., Pharr's prior institution, where she served as academic vice president followed by two years as vice president for alumni and donor relations.
The inauguration came 10 months after Pharr assumed leadership at Mount Mary. She is preceded by Eileen Schwalbach, Ph.D., who retired from the position in June 2017. Schwalbach, Pat O'Donoghue, president from 1997-2006 and S. Ellen Lorenz, SSND, president from 1979-1987, took active roles in the Mass and inauguration ceremony.
The day's celebration included prayer, music and academic pageantry. Mass was held at Christ King Parish, a short walk from campus. Most attendees took advantage of the sunny spring weather to walk from church to the ceremony, held in the Alumnae Dining Room.
Prior to the ceremony, Mount Mary's faculty, leadership, student representatives and delegates from other institutions donned academic regalia and processed across the front of campus and into Caroline and Bergstrom Halls. The bell rang in the tower, mingling with the sounds of the Gospel Choir.
In reflecting on the events afterwards, Pharr said the day was "meaningful beyond words and a memory that will remain with me forever."
Celebrating the official installation of a new president is a milestone achievement for the institution itself, said S. Joan Penzenstader SSND, Mount Mary's Vice President for Mission and Identity.
"We recognize that new beginnings are a blessing," Penzenstadler said. "When a person who embodies the mission and spirit of Mount Mary assumes a position of leadership, we lift them up, not only in our prayers, but for the world to see."
In Her Own Words
The inaugural address of Christine Pharr, Ph.D., provided insight into how she plans to integrate the pioneering spirit of the past with her plans for the future.
"Reading the history of the college over the early years is like reading an epic adventure story with challenge after challenge followed by miracle after miracle. While some of the early challenges faced by Mount Mary have passed, today, more than ever, there are problems in our society in which women's leadership is becoming increasingly necessary.
"As we consider issues of sex trafficking and domestic abuse, health care costs, immigration, gun control, gender and racial equality and a myriad of other issues, women's voices are needed …
"Mount Mary graduates will take their rightful place at the forefront of addressing the most demanding concerns of our city, our state and our nation knowing that one person of conviction can make a tremendous difference …
"As I look into the future, I believe that Mount Mary is now positioned to develop women in ways that will prepare them to take on the many challenges ahead. To do so in the coming months we will be advancing our investment in physical and mental health care programs, in our already well-known fashion design and fashion merchandising programs and re-invigorating our dedication to women pursuing scientific disciplines, particularly our new Food Science major."
Listen to Dr. Pharr's full speech: