Business
News
Science
The Future of Food
Mount Mary's new program increases our expertise in the science of food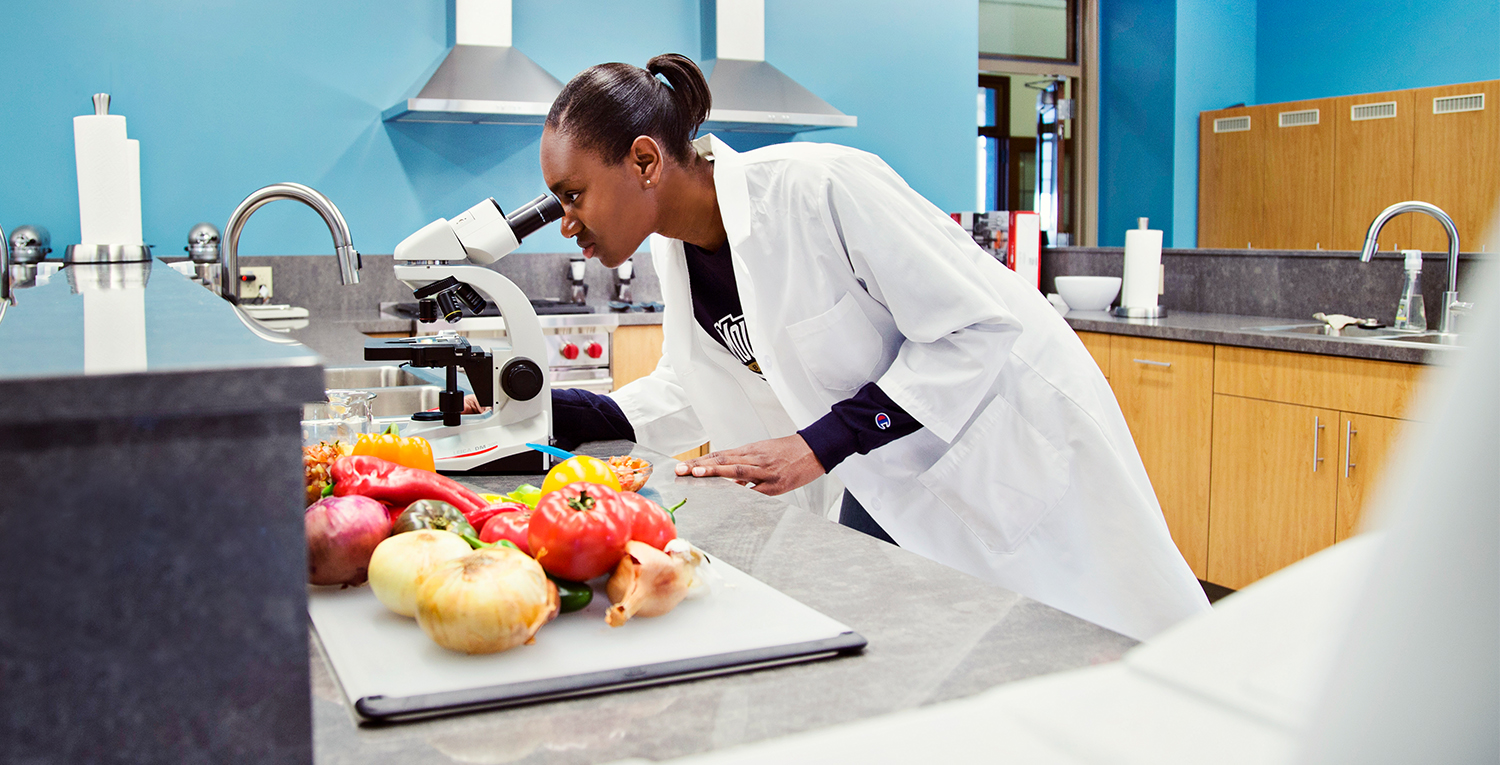 Posted on November 17, 2017
What's for dinner? That is an exciting topic – lunch and breakfast are, too – with Mount Mary's brand new program in food science and the opening of a completely renovated food lab.
Mount Mary has taken the study of food to a whole new level. With the introduction of the new food science program, the study of food delves into the molecular level to assess how the  production, packaging and preparation of food affects its structure and performance.
This programmatic expansion follows the University's well-tested recipe for success: Build upon our existing expertise to meet a growing community need, said Karen Friedlen, vice president for academic and student affairs.
"We found a community and market need, and a talent within our institution to merge the two," Friedlen said.
Like dietetics, the study of food science fills another important mission for the University, to prepare women for leading roles in fields of great impact.
And food, of course, connects us all.
"As science continues to reveal more about healthy food and better safety, companies are looking for food scientists to improve their products and make them healthier without compromising taste and quality," said food science faculty member Anne Vravick.
Expanding our scope
Mount Mary has long been known for food and nutrition expertise through our dietetics program. Dietetics students study food in the context of nutrition and health.  Accredited dietetics programs at Mount Mary combine coursework and supervised practice to allow students to be employed as registered dietitians.
The three major areas of study within dietetics are medical nutrition therapy, community nutrition, and food service management. Food science has always been a component of the dietetics curriculum, as have the foundational courses of biology and chemistry. Yet for most consumers, food science is an "invisible industry," said Natural and Health Sciences Dean Cheryl Bailey, as it takes place in phases of the food chain that tend to go unrecognized, in the form of research and product development, or quality and assurance.
"This is a huge industry, but these are careers people don't know much about," she said.
Food science classes within the new program are taught by Vravick, a former toxicologist with SC Johnson. She worked in research and development on food packaging products such as Saran food wrap and Ziploc storage bags and has played a major role in directing and giving shape to Mount Mary's program. "Vravick brings a passion for applying science to the development and analysis of food," Friedlen said.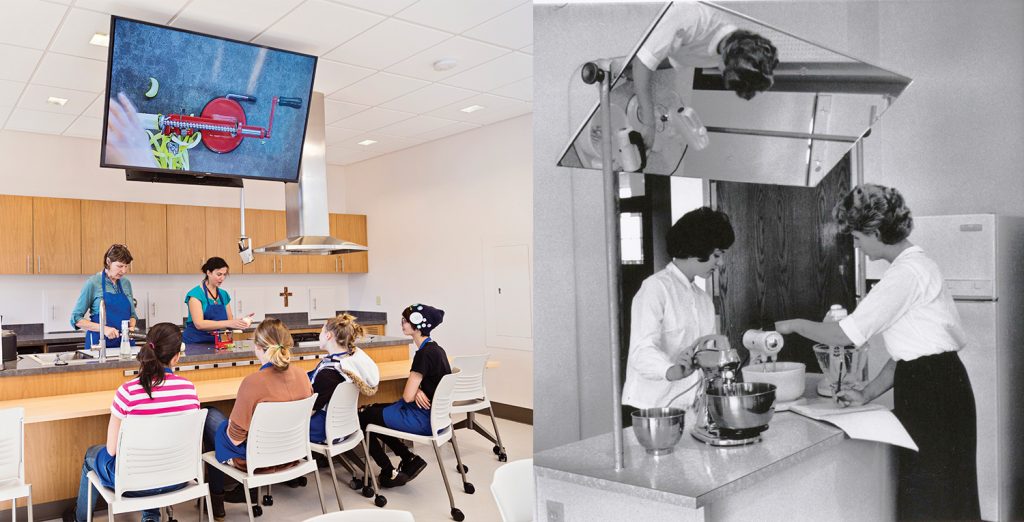 Filling a Community Need
With Milwaukee ranked tenth in the nation for food science career opportunities, Mount Mary sought significant industry input as the program developed.
Members of the Food Science Advisory Board provided input and feedback in making sure the curriculum matched the needs of industry, and food science students have visited the lab and production facilities of the Food Science Partners.
"Students want an education that is relevant, one that prepares them for a career," Vravick said. "This is a solid career-path education for our students."
One industry partnership already taking place is a research project Vravick and three of her students are conducting alongside food scientists and engineers at Hydro-Thermal, based in Waukesha. They are performing tests on the gel strength of pressure-cooked starch and will soon present their findings back to the company.
"It is exciting that Hydro-Thermal is in on the ground level with Mount Mary's new Food Science Chemistry major," said Adam Small, Business Development Food Scientist for Hydro-Thermal. "With the industry booming on a local, national and international level, we are in an excellent position to have strong ties to exceptional students on the cutting edge
of learning."
Building Upon Mission
Creating opportunities for women in the sciences is a goal for Mount Mary's School of Natural and Health Sciences, according to Bailey, and food science is a field with great potential. Career opportunities can range from food scientists, biochemists, food inspectors, quality assurance operators to entrepreneurs. Two students, Emily Boutcher and Stephanie Lopez, held summer internships at Palermo's Pizza and continue to work there part-time. "The enthusiasm of food companies for those who have food science chemistry, in addition to regular chemistry, is very strong, it's exceeding our expectations," Bailey said.
Additionally, a $650,000 grant from the National Science Foundation to expand access to STEM careers for women and underrepresented students, was recently awarded to Mount Mary. The intention behind this funding is to grow the talent pool of highly skilled scientists in the Milwaukee area. There are nine students currently enrolled in the Jewel Scholar program (see page 25 for details); students may major in biology, chemistry or food science.
Introducing the New Food Lab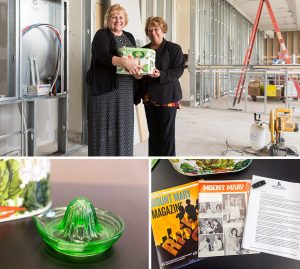 This summer, a $1 million renovation and expansion to the food lab increased the number of workstations, updated the infrastructure and replaced the equipment with high-efficiency, state-of-the-art appliances.
"The old lab was comfortable, it got the job done," said dietetics faculty member Linda Gleason. "But this new lab opens up so many possibilities for us."
Behind the demonstration counter are six tiny doors that connect the food lab to an adjacent room, a sensory lab that enables food to be assessed for consistency, taste and smell in an environment not influenced by other sensory input.
Integral to both dietetics and food science programs, this laboratory provides an opportunity to conduct research and also partner with local food companies for product testing.
Recently, food science students conducted a cheese-tasting experiment, inviting other students and staff members to test samples of their homemade mozzarella cheese to determine whether people could detect differences in salt content.
The real-world learning that takes place in this lab informs students' careers and has an impact the food products of the future, Vravick said.
"The students are able to test actual modifications to a cheese formulation," Vravick said. "The results of the tasting study revealed some interesting results that support scientific literature."
Indeed, the discoveries of Mount Mary's new food scientists may soon provide answers to the question:
What's for dinner?
---
Media Coverage
Milwaukee Journal Sentinel. Mount Mary University's food science chemistry program draws industry support (Oct 28).
Milwaukee Business Journal. Mount Mary University unveils upgraded food science lab (Oct 26).
WTMJ-TV. Mount Mary University looks to break down barriers in male-dominated STEM fields. (Oct 25).