News
Science
Andrea Petersen: Water Science Research
There are three good reasons why Andrea Petersen is almost always wearing a lab coat around Mount Mary's Gerhardinger Center.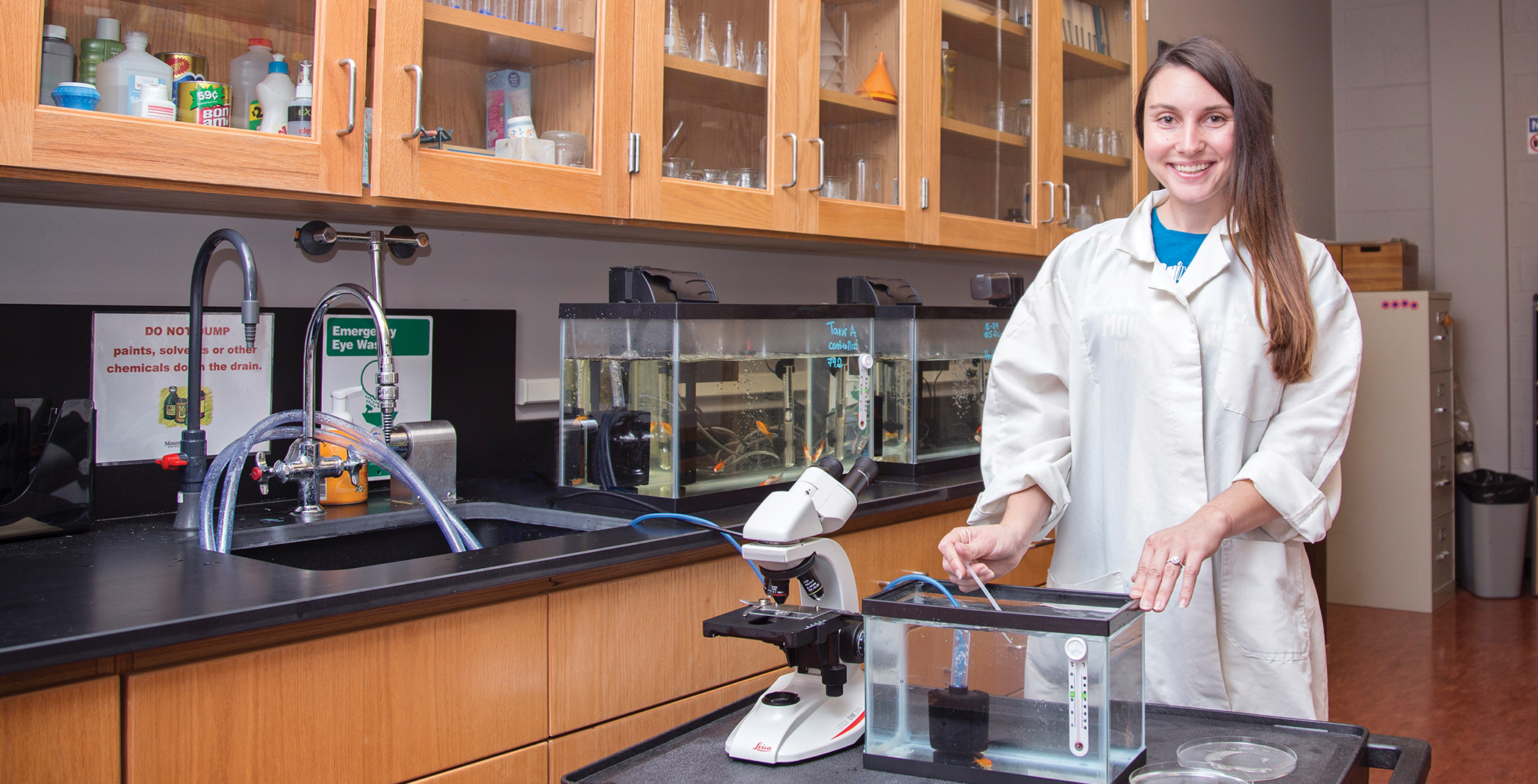 Posted on November 17, 2017
There are three good reasons why Andrea Petersen is almost always wearing a lab coat around Mount Mary's Gerhardinger Center.
As a junior majoring in biology she is taking chemistry, zoology and genetics classes, all of which have required lab time.
She is testing water samples for her employer, Stonehouse Water Technologies in Milwaukee, a company that develops water filtration systems.
She is conducting her own research to develop a technique for removing parasites from water that could potentially benefit aquarium owners.
Petersen has three distinct roles, and each of them hold insight into Mount Mary's transformative power to instill confidence, which Petersen has used to seize opportunities and take action.
Until the fall of 2016, Petersen had been studying at a larger university but decided to change to a school that could help direct her studies better and shape her career goals.  Mount Mary was the perfect fit for her.
Shortly after Petersen enrolled at Mount Mary, she began an internship at Stonehouse Water Technologies which is located at the Global Water Center in Milwaukee.  The company innovated the Water POD™, a smart whole-house water purification system designed for both residential and commercial use.
Thanks to a growing partnership between Mount Mary and Stonehouse, Petersen has had the ability to conduct research which involves evaluating new advanced materials capable of removing nitrates from drinking water.  This work is performed at Mount Mary's chemistry lab under the guidance of Professor Colleen Conway, Ph.D.
Petersen, a long time fish hobbyist, holds a second part-time job at Aquatics Unlimited in Greenfield.  It was because of her employment here that she learned about a common parasite Ichthyophthirius multifiliis, commonly known as "ich."  This parasite, is a major problem in the fish hobbyist world.  If untreated it kills almost every fish it infects.  A fatal infestation of "ich" can be chemically or organically treated, but fish experts are starting to see some immunity or resilience in "ich" to these chemicals.
As Petersen worked on the nitrate project, she started to think: could she utilize her experience as a water scientist and develop a technique to eliminate these deadly parasites from fish water?  Thus she started to embark on this parasite project to develop alternate techniques to remove "ich" from a controlled fish tank.
Petersen started this new project in the basement of the fish store, but soon moved the operations to Mount Mary where she could work under the guidance of Associate Professor Maureen Leonard, Ph.D. Early results have been promising. The parasite project is being sponsored by Mount Mary University, Stonehouse Water Technologies, and Aquatics Unlimited.
Dr. Moe Mukiibi, an internationally recognized water expert with Stonehouse, believes both the parasite project and the nitrate project could be refined to serve as the foundation for a master's thesis.  Petersen credits Mount Mary for her deep dive into water science.
"My professors gave me the confidence to set in motion my future as a professional," Petersen said.