Art
Business
News
Science
Rise up
How we stand up to Milwaukee's greatest challenges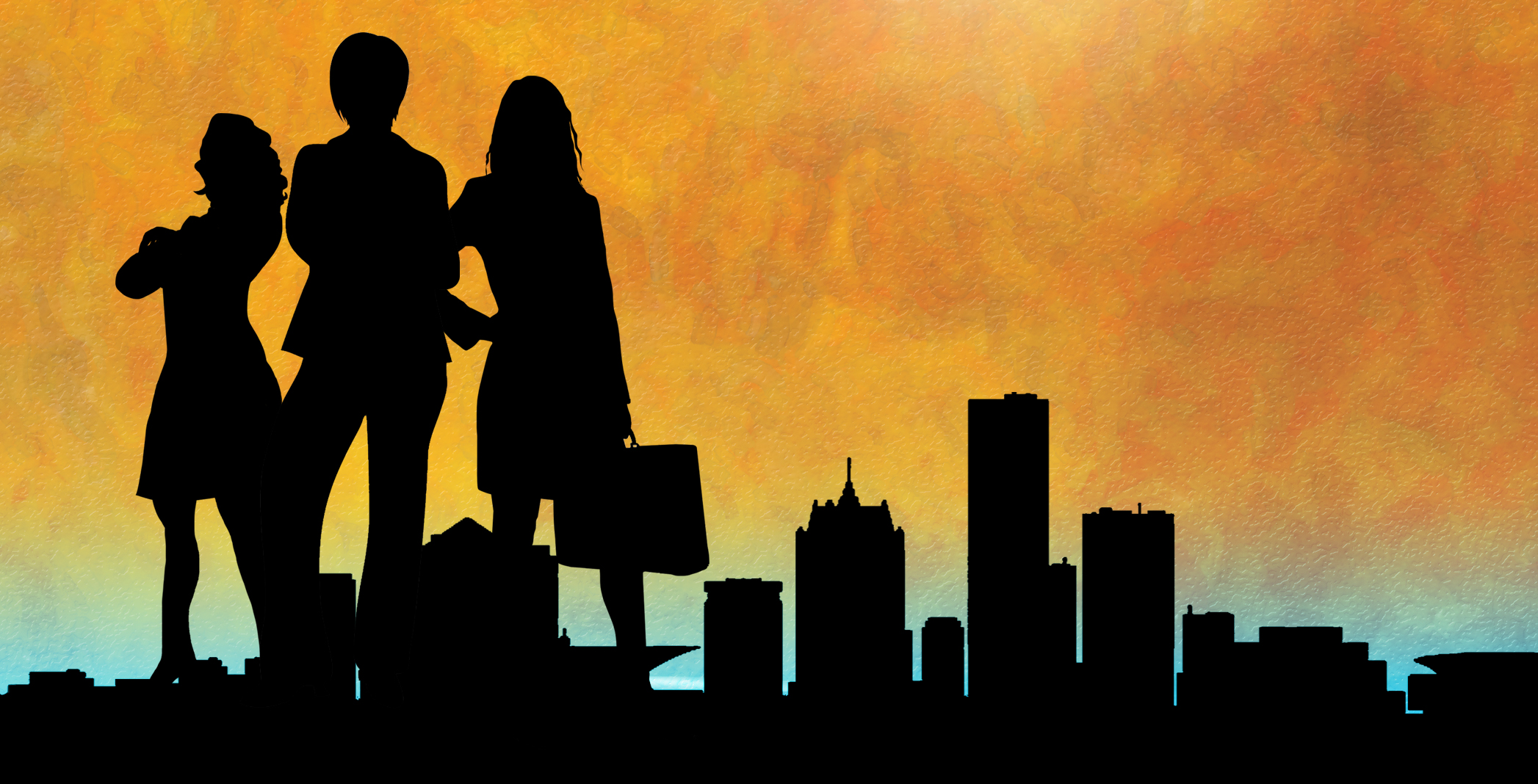 Championing change in the face of profound social and economic challenges requires a fortitude of spirit.
Women around the world are awakening to that realization — and to the power they hold within. What better time to highlight the Mount Mary women who make mission happen, every day and in every corner of
our community.
The Milwaukee metro area is home to both the institution and the majority of the campus community. Most of our students (70 percent) are from the region, and continue to live in Milwaukee after graduation.
Here, we lift up some examples of Mount Mary women who connect their energy, skills and resources to build up the greater good. Through their stories, we celebrate the countless Mount Mary women working to make Milwaukee a better place, applying their gifts in this place we call home.
---
Lea Denny, '16
By addressing the wounds of the past, she heals a community's pain
Our city faces struggles to get past the emotional trauma of generations. In a series of articles detailing the scope of the problem, the Milwaukee Journal Sentinel flatly stated: "Today, the city sets the national extremes of distress."
Trauma has long-term consequences that affect an individual's — and therefore a community's — future prospects for education, social relationships, behavioral and physical health.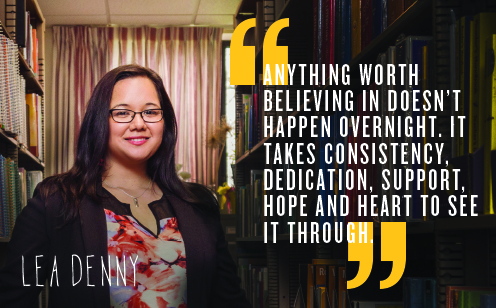 In the face of such dire need, Lea Denny approaches her work as a clinical counselor with a deep sense of urgency. Although she just earned her master's degree in December, she is conducting research, teaching, establishing a nonprofit counseling clinic and raising a family within Milwaukee's Native American (also known as First Nations) community.
As part of her research at Mount Mary University, Denny conducted thorough interviews with 115 members of the Native American community in Wisconsin about their lives, their health and their history. The resulting data drives her determination to create culturally responsive counseling treatment locally. It has gained international interest along the way.
Before coming to Mount Mary, Denny spent 15 years in the mental health field, including Milwaukee Public Schools, and knew that behavioral concerns among Native American youth — chronic absenteeism, suicidal tendencies, human trafficking, homelessness, substance use and sexual assault — were the after-effects of trauma generations in the making.
Next month, she will present her research at an international conference in Cape Town, South Africa, with Mount Mary counseling faculty members Carrie King and Tammy Scheidegger.
By zeroing in on a particular cultural group, she is creating a model to help everyone, regardless of their background. While personal and collective stories are unique, she said, the physical pain and emotional suffering caused
by trauma are universal.
Her nonprofit counseling practice is named the HIR Wellness Center; HIR stands for Healing Intergenerational Roots.
"My vision is that together we will heal all of our nations," she said. "We are an extension of our ancestor's legacies."
---
Amy Ramirez, '12 and '16
MPS students tell inspiring science teacher,  "I can see myself in you"
The scores revealed ninth graders functioning at a first-grade level. They revealed the plight of a generation on the verge of adulthood, with bleak prospects for fulfillment.
"It broke my heart, knowing how difficult it is to get out of poverty and succeed," said Ramirez, a bilingual science teacher at South Division High School on Milwaukee's South Side.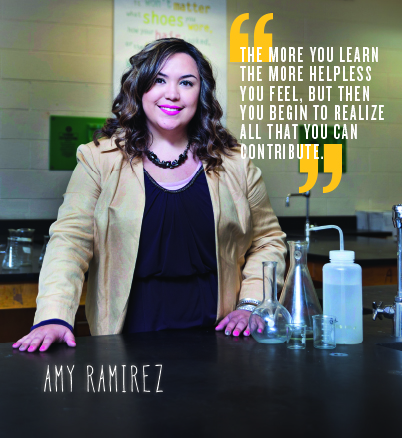 A health science chemistry major at Mount Mary, Ramirez worked as an analytical chemist in a metals lab but found the job "boring." She felt a calling to help students, particularly girls, in Milwaukee. Now in her third year of teaching, Ramirez teaches science to three distinct student groups: Native speakers of English, a bilingual class for Hispanic students and a separate class for non-English speakers, most of whom are refugees.
She has been interviewed on the radio and featured on the MPS website during Teacher Appreciation Week.
South Division is one of nine high schools in MPS that offer pre-engineering coursework known as Project Lead the Way; South Division also offers STEM coursework designed to ignite interest in science and technology careers.
At South Division, she is the only female among the 10 members of the school's science faculty, and is well aware of her need to lead by example. Her classroom is unabashedly feminine, decorated with pink and purple streamers because "a feminine environment is empowering to girls," she said. In her spare time she coaches the cheerleading team.
She takes special care in creating lesson plans for students who are pregnant or caring for children, anything to keep them
from dropping out.
This type of outreach also sends a message to boys, "showing that women are strong and that science is not just for white males."
Students often tell Ramirez she has a knack for understanding — and motivating — them.
"We have to bring them up to succeed," she said.
---
Cynthia LaConte, '84
Confidence in a vision guides business and community leader
Executive leaders such as Cynthia LaConte, '84, shape their organizations by stepping into a void in leadership — a void that calls for women to use their influence in service to a greater good.
Cynthia's vision involves a healthier world and lifting up diverse leaders to champion the needed changes to our health care system. She is CEO of the Dohmen family of companies (Dohmen Life Science Services, Red Arrow, and Dohmen Company Foundation), located in Milwaukee's Third Ward.
This solutions-driven perspective is as clear as the home page of the company website: "Each (company) is unique, but together, the Dohmen family of companies is united in our vision to create a more efficient, effective and easy-to-use health experience," it reads.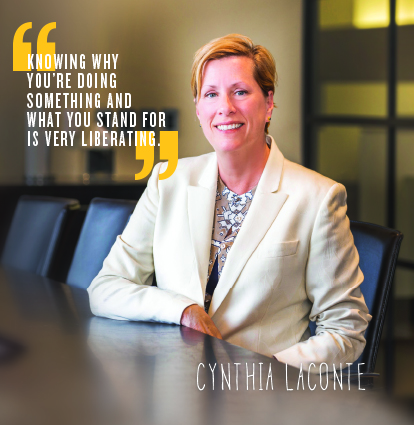 LaConte's ambitious vision is vigorously rooted in practice, within the company and within its home community. LaConte believes positively affecting change in Milwaukee happens when all voices are represented in leadership, and when resources are put in place that build upon wellness.
"I'm very proud of the fact that our Dohmen team looks like the world around us: 49 percent of management are women, 30 percent of management are non-white and 50 percent of our board are women."
The company's philanthropic organization, the Dohmen Company Foundation, focuses on social justice issues through wellness opportunities. It supports Milwaukee organizations such as Meta House, a place for women recovering from drug addiction, and Sixteenth Street Community Health Centers.
The foundation has also generously endowed a scholarship at Mount Mary for majors that will make a strong impact on the community wellness of tomorrow. The Dohmen Health Equity (endowed) Scholarship will be awarded to junior or senior students majoring in either dietetics or food science. The recipients will show an entrepreneurial spirit and aspire to share their knowledge to provide preventative care to the underrepresented in our community.
LaConte has made strides by turning determination into action and says that women of the future must be prepared to employ leadership and advocacy and do the same.
"I think the greatest challenge for women in the next generation is to be aware that rights are precious and hard won," she said. "Yet, history shows us how quickly they can be lost if we don't remain vigilant and involved in shaping decisions.
"It might be time to put down the phones and the Facebook, and instead, use that time to push for full participation in a society that sorely needs our influence."
---
Women who rise up
Milwaukee needs women like you. We want to show how the collective strength of all 10,000+ Mount Mary alumnae are transforming Milwaukee. Comment below on how you're rising up for a greater cause.