News
A win for one, a win for all
Campus spirit is more than sporting blue and white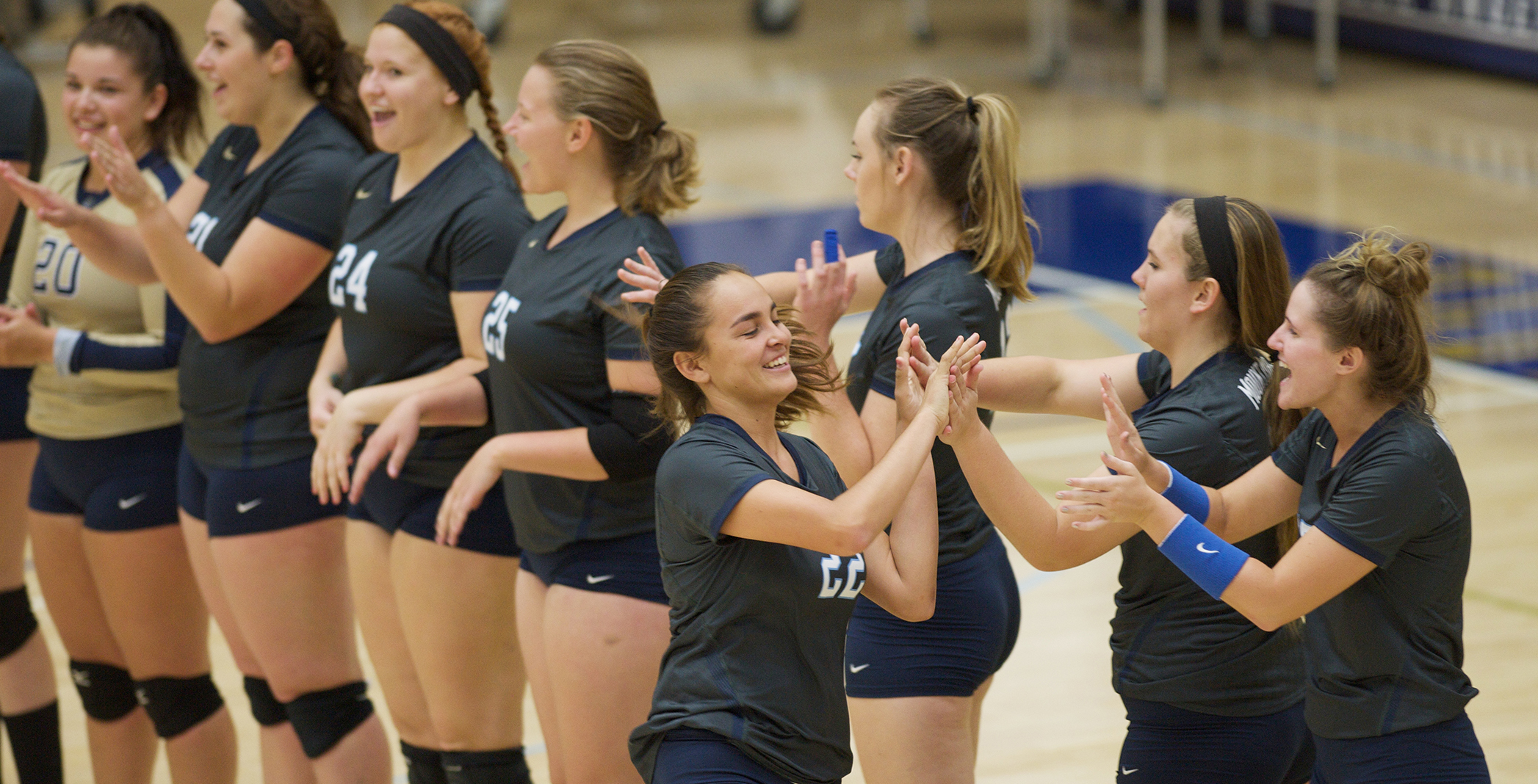 Posted on November 18, 2016
Her body in full swing, Adrianna Nester draws back her elbow, extends her arm and connects with the volleyball. Spike. Point Mount Mary. From the bleachers, there is a tight-knit group of her supporters. You could call them her squad as they are chanting Taylor Swift lyrics: "I don't know about you, but I'm feeling 22!"
Nester, a middle hitter and Blue Angel Number 22, has fans at every home game. And each time she earns a point or aces a serve, they are sure to cheer her on.
Nester, a freshman criminal justice major, moved from California to study at Mount Mary University. Already, she has her own cheering section and embodies the spirit of the team and the community.
"Being around so many other women who support me is just the best feeling ever," Nester said. "I feel comfortable to be myself and speak my opinion without fearing getting shot down."
Campus spirit is about sporting the blue and white to represent Mount Mary, but it is also about being passionately supportive of those around you.
"It feels good knowing all these women want to become someone of importance in the world. We all have one another's back, and that is a support system I would not give up for anything."

Adrianna Nester

Criminal Justice `20
You can find this spirit in those who come from across the nation to pursue their goals. The act of moving across the country is an act of courage. Coaches from various sports specifically target out-of-state students for this reason.
"We're looking for trailblazers," Assistant Athletic Director Kelsey Peterson said. She explained the type of student who fits in well at Mount Mary needs a distinctive personality trait of recognizing the strength in the unity of women. "Once we get a few brave ones, others will follow."
Nester is part of a growing number of student athletes who come from out of state. In fact, 58 percent of student athletes come from out of state, compared to an overall average of 14 percent of undergraduate and graduate students from out of state.
Recruiting out of state students not only increases diversity on campus, but also widens the awareness of Mount Mary. "The more students who become Blue Angels, the bigger our impact will be," Peterson said.
Nester and other women posess courage, making them fierce athletes but also women in the classroom who are eager to know their purpose and make their mark on the community.
Nester smiled. "It feels good knowing all these women want to become someone of importance in the world. We all have one another's back, and that is a support system I would not give up for anything."