Art
Culture and Couture: Hmong Fashion
Mount Mary's Hmong designers integrate and celebrate ethnic styles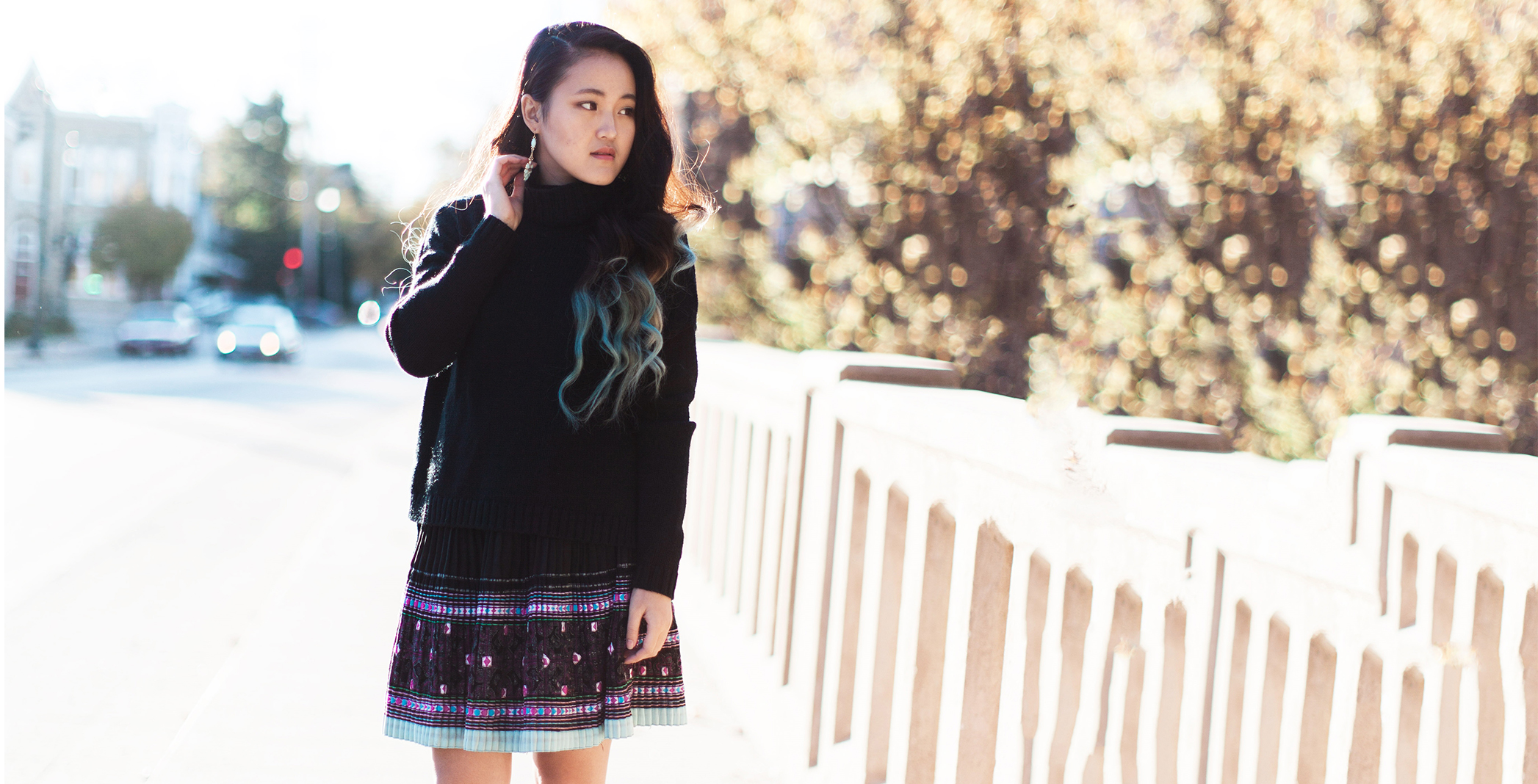 Posted on November 17, 2016
Fashion design students Panyia Xiong and Beth Yang feel exhilarated by what took place at this year's Fashion Week in New York City.
By seeing Indonesian designer Anniesa Hasibuan debut a collection of Muslim-inspired fashion, complete with hijabs, they witnessed a fashion-forward woman standing true to her heritage. And these aspiring designers, proud of their Hmong heritage, are now looking into the future and thinking: "That can be me."
"As a designer I want to bring out the importance of clothing," said Panyia. "It's up to our generation to speak up."
Hmong-inspired fashion is familiar to Mount Mary runways. At the CREO fashion show held in May, which showcases the work of fashion design students, a number of Hmong students have drawn upon their background in designing their collections, incorporating Hmong techniques, designs and colors.
In fact, a quarter of the fashion designers graduating from Mount Mary this year are of Hmong descent. Many of them are eager to address a fashion niche that showcases who and what they are: Hmong, American and proud.

Breathing new life into tradition
Traditional Hmong clothing is distinctive for its highly embellished needlework known as paj ntaub or flower cloth. Traditional clothing is detailed and painstakingly made, with complicated pleated skirts for women that require a keen ability for fabric manipulation.
Milwaukee is home to a significant number of Hmong families, said Malika Lor ' 12, who sits on the board of Wisconsin's Hmong Consortium. When the organization hosts the Hmong New Year at the State Fair Expo Center in early December, some 10,000 people are expected to attend.
Tradition dictates that everyone will be wearing brand new outfits each day. Traditional costumes are optional for men, but most of the women wear traditional clothing, said Lor. Many of these large-scale Hmong New Year celebrations also include fashion shows.
"In California, the celebration lasts a week and 100,000 people will be there," Lor said. "And everyone wears a new outfit every day."
While such outfits have traditionally been hand-sewn by members of the family, not all modern Hmong families have the time or ability to engage in the time-intensive pursuit of hand-stitching this type of elaborate clothing.
"As a designer, I want to bring out the importance of clothing. It's up to our generation to speak up."

Panyia Xiong

Fashion Design
Lor sees both a business opportunity and a cultural imperative. She said the market is ready, so she is launching a line of Hmong special occasion wear this month, called Malika Lauj.
"Ten years ago it wasn't a thing to turn inside and want to get to know that side of yourself," she said. "But now, it is."
Traditional clothing is ripe for modernization. Malika is updating styles to reflect a more modern sense of fit and comfort by using more fitted styles and using elastic, zippers and other non-traditional notions.
"I want to highlight what is so beautiful about our clothing but I've wanted to make it more modern and fit better," she said. "It is what makes us Hmong. We can't lose that."
Integrating into the everyday
Clothing has great meaning and sewing is a skill of intergenerational importance to Panyia, who is a fashion design senior. Her mother still sews traditional outfits for the family. And as a child, Panyia remembers sitting with her grandmother, threading the needles as her grandmother stitched.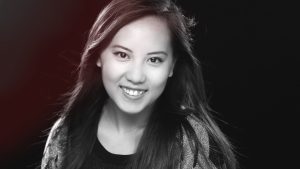 Her parents were proud when she told them she wanted to study at Mount Mary and pursue a career in fashion. "They didn't know that I could do that," she said.
She titled her collection of fashion designs from last year "Stripes of Culture," and she worked insets of paj ntaub into garments that were decidedly modern: A jacket, a minidress and a crop top.
She describes her everyday style as a "London, Annie Hall-look," and is intrigued by the idea of blending ethnic techniques into street fashion.
This fusion represents who she is: "I am Hmong-American, and I design clothing that is Hmong and wearable," she said. "I am drawn to the ethnic look. It connects me to who I am."
The students see a future bright with possibility for Hmong fashion because they also bring a modern edge to their skills, with the ability to leverage everything from 3-D pattern-making, industrial equipment and social media savvy. Beth, for example, is a senior in fashion design and is a fashion blogger active on Instagram, YouTube and other media channels.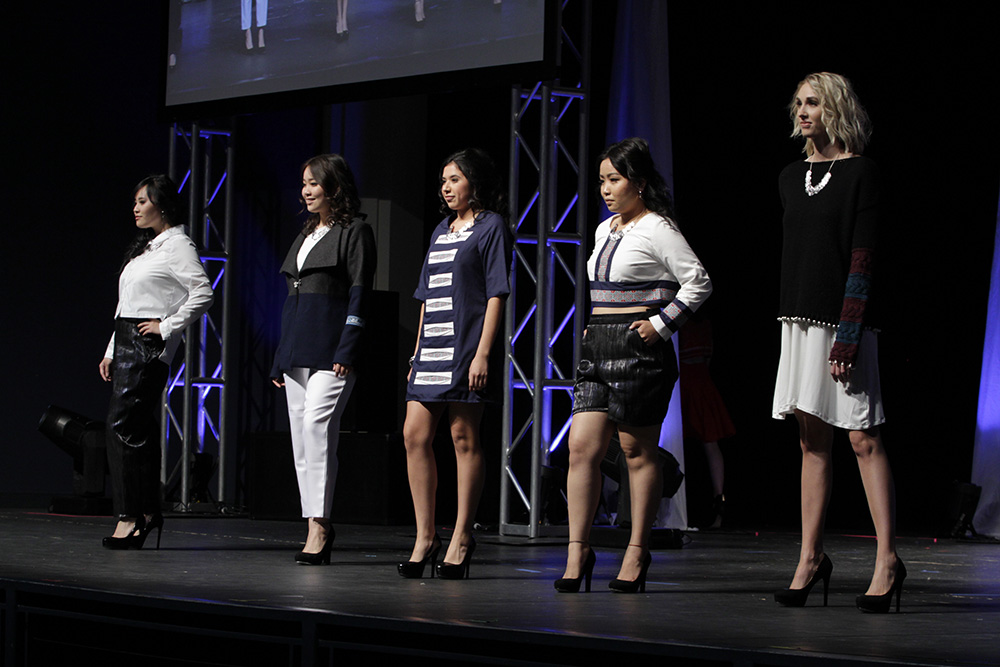 ---
Inspiration without borders
For next year's CREO show, both Beth and Panyia have chosen to design modern streetwear collections that reflect other influences and aren't as reliant on their Hmong heritage as their collections from years past. Inspiration, they say, strikes on many different levels.
It's also a sign of their progression as designers, said Sarah Eichhorn, co-chair of Mount Mary's fashion department.
Mount Mary's curriculum encourages students to expand their interests and abilities, she said. "It's a big world out there and students learn that they're not just designing for themselves," she said. "They explore design for different target markets."
Some other niches students explore can be anything from menswear, designing for children or creating fantasy clothing such as cosplay costumes. "We celebrate a diversity of design," Eichhorn said.
Another Hmong student, Goldhlis Thao, finds inspiration in other aspects of culture. For example, her senior collection that will be shown at this year's CREO is based upon characters from Japanese animation. Eichhorn is pleased when she sees this process of self-discovery take shape.
"By the time they are working on their senior thesis, they have a good idea what they like," she said. "Their work reflects what kind of designer they are."
Panyia has said her experience at Mount Mary has involved opening herself to new things, learning, "and then taking them back to being Hmong," she said.

Bringing worlds together
In the four years since her graduation, Malika has worked at Harley-Davidson as a quality product specialist to ensure that all clothing produced for the company is up to Harley-Davidson standards. She is premiering her line of Hmong-inspired special occasion clothing in her spare time.
Her Harley experience has helped her understand the inner workings of the fashion industry, such as the process of production and the logistics of working with suppliers overseas – "being at Harley has upped my confidence,"she said.
She is starting with a soft launch and will officially begin taking orders in March. So far she has launched her website and will exhibit some of her pieces at the Hmong New Year party. She's also gotten an endorsement from a popular Hmong singer, Maa Vue, who is based in Green Bay.
So far, her plan is to outsource skirts and some separates overseas, and to a sewing company owned by her relatives in Wausau. She will stitch the bodice pieces herself and do all of the needlework by hand.
All of her experiences have prepared Malika for this moment.
"Mount Mary creates strong women who will make a change," she said. "That really stuck with me and gave me the strength to follow my dreams and go for what I really want." Keeping their culture alive is an outreach that transcends fashion, Beth and Panyia agree.
"We have a history of being broken and oppressed, no country is our own," Beth said. After the Vietnam War in the 1970s, the population fragmented as refugees fled to camps in Thailand and have resettled in other parts of the world, including the U.S. Yet thanks to strong community ties with one another and the ability to stay connected through social media, "we have a strong sense of community, and that has helped us as designers."
"I want to connect Hmong people in different parts of the world; connecting them through fashion, that would be awesome," Panyia said. "Everything I make has meaning behind it."
Given how far Mount Mary students and alumnae have taken Hmong fashion and their aspirations for the future, the runways of New York Fashion Week don't seem so far away.
Learn more about Mount Mary's fashion design and fashion merchandising degrees.