Feature Story
News
User Experience Design: This new program really clicks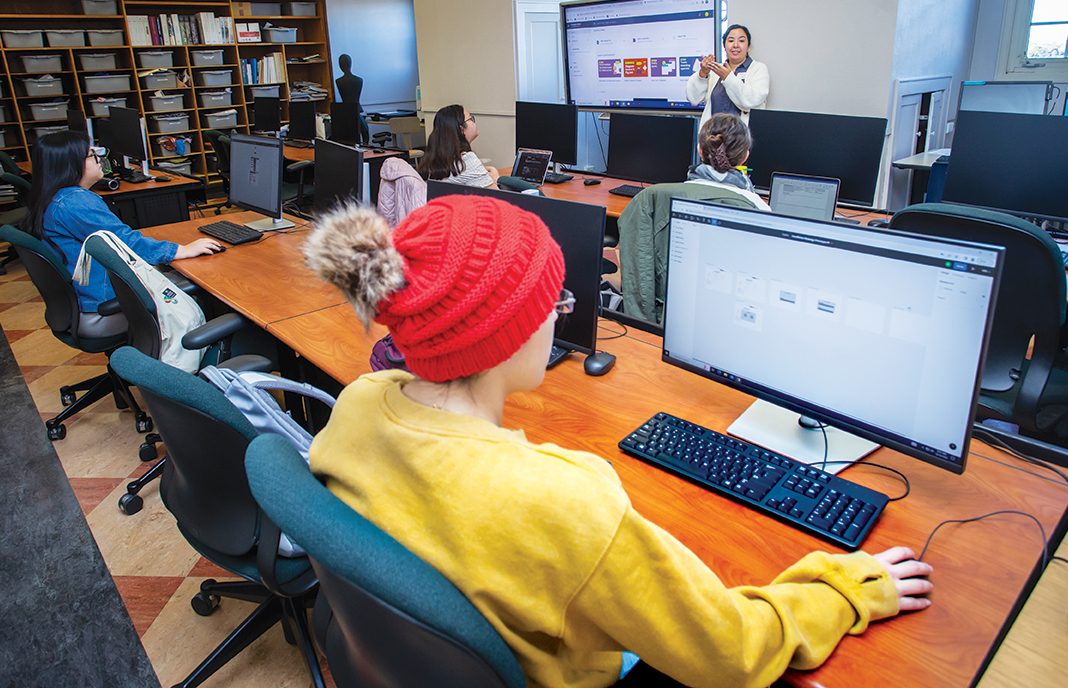 Posted on December 7, 2022
Technology and design come together in popular new program called User Experience Design (UX).
You might not be familiar with the term User Experience Design (UX), but every time you are able to efficiently get what you need online or when using an app, you experience the work of a good designer.

UX designers are the silent heroes of the internet, building the interfaces that help us humans navigate the complex technology of websites, apps and smart devices.
From making it easier for someone to navigate the web page they use to pay their bills to curating the perfect user experience for a person who's finally booking the vacation they've been saving for, the work UX designers
do behind the scenes can make a big difference in the lives of users. Furthermore, there is a huge demand for UX design and research in complex
commercial and industrial fields ranging from aviation and health care to automotive and manufacturing systems.

This fall, Mount Mary began offering a UX design major and students are already recognizing the career opportunities and great potential in this field.
"Without a diverse team, the world will be designed for majorities and not minorities."

Francesca Mason, assistant professor in Mount Mary's new User Experience Design (UX) program

"UX is the starting point to everything," said Jennifer Rebollar, a graphic design senior who is now taking her first UX class. "You start with the problem that needs to be solved, and that's different from graphic design, where you are designing for something that's already been created."

Rebollar is enjoying this class so much that she is considering pursuing a master's in UX design after she graduates in May.

Program supported through federal funding
While campus leaders had identified UX design as a good match for Mount Mary, it became a reality in 2022 due in part to a $3 million grant from the National Science Foundation earmarked specifically for Hispanic Serving Institutions (HSI). Mount Mary became an HSI in spring 2020 and is one of two schools in Wisconsin eligible for such grants.
The new program in UX is one of a number of initiatives embedded in this grant designed to build digital literacy on campus, thus preparing Mount Mary's diverse student body for tech-forward, well-paying jobs.

"Mount Mary seeks to attract and empower diverse women to gain technology competencies and digital technology literacy as a foundation toward the development of a sense of belonging, a confident voice, and full inclusion in the digital STEM workforce," said Bob Schwartz, dean of the Schools of Arts & Design and Business.

These professionals will undoubtedly make their mark upon future technology, said Francesca Mason, an assistant professor in the new User Experience Design (UX) program. Mason explains that the most effective UX
designers are the ones who are committed to building the products of the future
with people in mind – all people. UX is built on empathy, she notes.

"Without a diverse team, the world will be designed for majorities and not minorities," Mason said.

Diverse voices needed in tech
Just 26 percent of the computing workforce were women in 2021, according to the National Center for Women and Information Technology. Within the small number of women in tech, the lack of cultural diversity becomes even more apparent – the same study found that just seven percent of the computing workforce were Asian women, three percent were Black women, and only two percent were Latina.

Because the Mount Mary program is designed for women, the program is committed to creating brave spaces that inspire innovation and creativity while also fostering community with peers. Students can walk away from the experience confident and ready to take on a role in the rapidly growing world of tech.

UX designers create products using a human-centered approach. This requires them to immerse themselves into the user experience so that they can effectively improve it.

Qualities like empathy, strong observational skills, and a detail-oriented approach are sought after in these roles. These qualities related to emotional intelligence can provide our students with opportunities in another emerging technology, artificial intelligence, Schwartz said.

"The vertically emerging area of artificial intelligence will touch every aspect of our lives and how we work," said Schwartz, calling out the need for diverse perspectives.
"There is already a challenge of unconscious bias built in to these developing platforms."

Skilled UX designers are needed in a range of different industries. Most commonly, they find work with software publishers, computer and peripheral equipment manufacturers and financial companies. For those who prefer
working from home, it's also worth noting that much of this work can be performed remotely or in a hybrid work environment.

Solid investment in promising careers
Faculty member Mason knows from experience that a UX degree is a sound investment with a pathway toward a fulfilling career, thanks to the combination of competitive wages and long-term employability.

"As a young girl I struggled to find a career that fit me as a person and held my values," she said. "I wanted to know I was going to be happy, while my parents' main focus was to make sure I was going to be taken care of financially."
This combination of practicality and creativity is resonating with students.

For one UX class assignment, Rebollar has been tasked with redesigning an app she dislikes, so she is redesigning an app that she uses in her job at McDonalds. Her goal is to make the interface easier for pickup and delivery. Once she's done, she plans to share her ideas with the IT department at McDonald's.

"UX design is a great space for creative thinkers, whether you are interested in psychology, strategy, or just love good design," said Mason.

Even for those who don't consider themselves designers, Mason insists there's a place for all in UX design.
"People come from all sorts of backgrounds; there are a lot of specialties and areas to grow," she said. "Visual design and creativity can be learned."